Rochester, N.Y., April 4 2017 – Two local Hilton Garden Inn properties have been recognized as some of the top-performing properties in the world by the Hilton brand.
Both the Hilton Garden Inn Rochester/Pittsford, owned and operated by Widewaters Hotels, and Hilton Garden Inn Rochester/University and Medical Center, which is owned and operated by the DelMonte Hotel Group, were recognized with the Hilton Success Award. The Hilton Success Award is awarded only to those properties that are in the top 5 percent of the brand requirements for customer satisfaction and meeting the Hilton standards 
These two Rochester properties received this honor as best in class performers from among the brand's more than 700 hotels worldwide.
"It's exciting to see that two of the top performing Hilton Garden Inn properties in the world are located right here in Rochester. For two of the top performing hotels, out of more than 700 Hilton Garden Inns worldwide, to be based in Rochester is a reflection of the commitment to excellence by our hospitality community," said Don Jeffries, president & CEO, Visit Rochester.
Both Hilton Garden Inn properties offer amenities including complimentary Wi-Fi, a state-of-the-art fitness center, indoor pool and guestrooms that feature fresh duvets, crisp linens and an in-room "hospitality center" with a mini fridge, microwave and Keurig coffee maker.
Hilton Garden Inn Rochester/University and Medical Center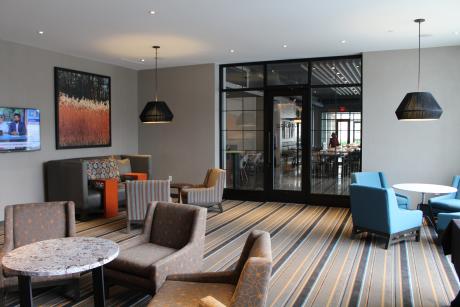 The Hilton Garden Inn Rochester/University and Medical Center newly opened in 2015. The hotel is located at 30 Celebration Drive in Rochester in the newly-developed College Town complex.
Included in the hotel is Grappa, a full-service restaurant and bar offering Italian Nouveau, a modern approach to traditional Italian cuisine.  The restaurant combines an upscale casual setting with a modern Italian dining experience, bringing patrons an opportunity to enjoy a lively dinner with family or friends or sit at the bar to have a drink off the restaurant's inventive craft cocktail menu. During the warmer weather, patrons can enjoy the outside bar area with comfortable seating and fire pits. Aside from Grappa, the hotel  also has four meeting rooms offering more than 3,600 square feet of flexible meeting space for up to 300 people.
"It's an honor to be recognized as one of Hilton Garden Inn's top performers in customer service and brand standards for 2016." Said Don Stubblebine, general manger. "Each day, we're motivated to give our guests the best possible service by not only meeting their expectations, but by exceeding them."
Hilton Garden Inn Rochester/ Pittsford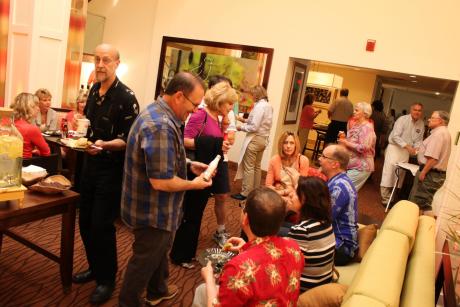 Located at 800 Pittsford-Victor Road, Pittsford NY 14534, Hilton Garden Inn Rochester/ Pittsford is near the historic Erie Canal and just steps away from the village of Bushnell's Basin. The Hilton Garden Inn Rochester/ Pittsford offers flexible event space options ideal for both social and corporate events. The hotel is 15 minutes from downtown Rochester, and just minutes from Eastview Mall.
"Being recognized by the Hilton Garden Inn brand is a testament to the staff in being committed to exceptional customer service and the highest quality standards," said Corey Dooley, General Manger, Hilton Garden Inn Rochester/Pittsford. "We are grateful to be recognized as one of the top properties within the brand, and we hope to sustain this momentum in the next year."
In addition to receiving recognition for being in the top 5% of the Brand, the Hilton Garden Inn Rochester/Pittsford received the 2016 Best Overall Hilton Honors Award. The property has been in the top 2% of the brand for exceeding guest satisfaction and the number one hotel in the world for enrolling guests into Hilton Honors Loyalty program.
"Corey Dooley, Hilton Garden Inn Pittsford's  General Manager and his team do an extraordinary job of personalizing the guest experience and an exceptional job of executing the brands Hilton Honors program" said Fred Grabosky Regional Director of Operations"
About Visit Rochester
Visit Rochester is the official tourism promotion agency for Greater Rochester and Monroe County. Visit Rochester is a membership organization with over 425 members representing, lodging, retail, restaurants, services, and community organizations. Working together with our members and partners, we strive to provide the best experience to all visitors to our community, including both business and leisure travelers.
About Hilton Garden Inn
The award-winning Hilton Garden Inn hotel brand provides guests with upscale accommodations and the modern amenities needed for a successful and comfortable experience for both business and leisure guests. The satisfaction promise affirms that Hilton Garden Inn will to do whatever it takes to ensure every guest is satisfied, or they don't pay. You can count on us. Guaranteed™. Approachable Team Members operating at more than 700 hotels around the world are committed to guaranteeing today's busy travelers are appreciated and have everything they need to be productive during their stay. Hilton HHonors members who book directly through preferred Hilton channels receive instant benefits, including an exclusive member discount that can't be found anywhere else, free standard Wi-Fi and digital amenities like digital check-in with room selection and Digital Key (selected locations) available exclusively through the industry-leading Hilton HHonors app. For more information about Hilton Garden Inn, visit www.hgi.com or news.hgi.com or connect on social media at Facebook, Twitter, YouTube and Instagram.
#   #   #