Golf!
Pack your clubs; you've got a tee time in Rochester, NY 
Golf Magazine ranked  Rochester, NY as the #10 Best Golf City in the U.S.--and #1 for Golf Affordability. There's so much fabulous golf to play here you may have to make a couple of trips to get it all in!
Here is a complete list of Rochester area golf courses to book your tee times: Golf Rochester Guide
A Golfer's Paradise
Accessibility- Courses are easy to get to and easy to get on--No long commutes or waits for tee times

Over 60 Semi-Private & Public Courses- Available for play for any player's level and motivation--all within a 45-minute drive from the center of the city

Top 10 Golf Courses- Rochester boasts some of the best golf courses in New York rated among the top ten in the state by Golf Digest

Courses In The Top 20- Rated by Golf Magazine's "America's 100 Greatest Courses" created by legends and up-and-coming designers.

PGA & LPGA Championships- In 2013, Rochester, NY was the only city in the U.S. to host both the PGA and LPGA Championship tournaments in one summer. The PGA Championship returns to Rochester in 2023. And the KitchenAid Senior PGA Championship will be in Rochester May 21-26, 2019.  

Book A Play & Stay Golf Getaway with the Rochester Golf Trail-Create a golf trip package that is hassle-free with top courses, advance tee times, and nearby accommodations.
Ready to stay & play in Rochester, NY? Plan your trip today with golf packages, trips, and getaways:
Read on to learn more about Rochester's rich history in golf.
Famed course designer Pete Dye once said, "The ardent golfer would play Mount Everest if somebody would put a flag stick on top." Fortunately, you don't have to go that far to find enjoyable, playable courses. All you have to do is come to the Rochester area.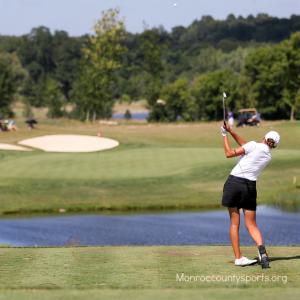 Rochester is a place where golf has thrived and grown for over a century. It's a place that cultivates champions. Rochester is part of golf's great sports history. Legends and future stars have traveled here to test their mettle in the major championships of the LPGA and PGA Tours.
Do you want to play from sun-up to sundown? Love great places to relax and enjoy yourself after your round?  You've come to the right place.
Long known as one of the country's top cities for golf, you can play more gorgeous golf for less money in the Rochester area than in any other American city.
Tee It Up!
It doesn't matter if you're dead-serious about your game and looking to eat up challenging courses - or, you just want to have fun knocking it around with your traveling companions: The opportunities to play here are enormous! Consider these facts:
There are 62 resort, semi-private and public courses for you to choose from - all within a 45- mile radius of the center of Rochester.
The area is rich with courses designed by legends and up-and-coming course architects. Some of them rank in the top 10 of "America's 100 Greatest Courses" by Golf Magazine.
Rochester is one of the most affordable places to play, with superior off-course activities.  After your round, you'll find entertainment, shopping, and dining for every taste -- from family-friendly to the coolest kind of "19th Hole" nightlife. Or just relax at your hotel. In some major golf areas, there are long commutes and waits for a tee time. Not so around Rochester.
Three of Golf Magazine's Top 20 Best Public Golf Courses in NYS are in our region-Ravenwood (#7), Greystone (#14) & Bristol Harbour Resort (#17).
Golfers in Rochester have enough options to play twice a week from spring through fall...  and never walk the same course twice! The courses range from well-designed championship semiprivate clubs to heavily-played municipal courses. Here's just a taste of what you'll find: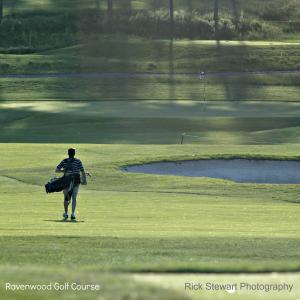 Rochester and the Finger Lakes features many semiprivate/public golf courses. Including, Ravenwood, Deerfield Country Club, Mill Creek, Blue Heron Hills,  Eagle Vale and Greystone. The Finger Lakes Golf Trail includes packages with nearby accommodations at The Woodcliff Hotel and Spa and the Holiday Inn Express among others. 
Ravenwood Golf Club is an upscale, semiprivate facility designed by Robin Nelson, featuring a large driving range and seven target greens in addition to its challenging 18-hole course, made playable for golfers at all levels with five sets of tees. In 2003, Golf Digest rated it #5 "Best New Public Course" in America. Ravenwood was the first golf course in the area to feature golf carts with built-in GPS systems. It's also been host to two NYS Amateur Championships and the 2004 U.S. Open qualifier.
Bristol Harbour Resort on Canandaigua Lake is an 18 hole, 6,692 yard Robert Trent Jones/Rees Jones design featuring a wooded, hilly 9 and a wide-open nine holes that overlooks one of the most spectacular lake views in the United States.  At one time, Jack Nicklaus held the course record after playing a round on a visit.
Eagle Vale is a premier public golf course located just minutes from downtown Rochester. The scenic championship course is designed for all levels of play and is always open to the public.
Shadow Lake Golf & Racquet Club has two great golf courses to choose --The 18- hole, 6,164-yard par 71-course winds through the woods and around the lakes. This main course has become one of the most popular public facilities in the Rochester golf market. The nine-hole executive course is ideal for a quick round or short game tune-up.
Shadow Lake's "sister" club Greystone Golf Club is the only 4.5-star Golf Digest rated public course in the Rochester Area -- an 18 hole Scottish links course with rolling hills, large undulating greens, Scottish-style grass mounding, tall native grasses, and pot bunkers.
One of the oldest Rochester public courses is at Durand-Eastman Park, which opened its first nine holes in 1917 and added another nine in 1934. Churchville Park offers one 18-hole course and one 9-hole course, while Genesee Valley Park boasts two 18-hole courses. All three parks provide a club house, pro shop and food concession area and all are blessed with naturally beautiful settings.
You can pick up a copy of Golf Week - Rochester's weekly golf newspaper for more than 25 years -- at your favorite golf course, or at over 400 other locations. Stay up to date on regional, national and international golf news and views. www.golfweekrochester.com
The Tournaments - The Spectator's Paradise 
When it comes to Rochester's status as a city of great golf tournaments - where do we begin? The roster of professional and amateur tournaments played in Rochester is remarkable. For golf fans, it doesn't get any better for excitement -- major tournaments are played here on a pretty regular basis. 
Since 1949, when Oak Hill Country Club first hosted the 1949 U. S. Amateur, Oak Hill has been the focus of world-class competition. Enormous galleries of die-hard fans and casual golfers get their taste of golf on an international scale.
The 2013 PGA Championship brought record-breaking crowds in attendance at Oak Hill. Rochester and Oak Hill Country Club will once again host the PGA Championship in 2023. 
The Senior PGA Championship 
The Ryder Cup... The PGA Championship... the U.S. Open... The U.S. Senior Open...
The Senior PGA Championship... Oak Hill has hosted them all, again and again.  
Monroe Golf Club hosted The Wegmans LPGA Championship in 2014.
From 1977 to 2014, the world's best women golfers competed in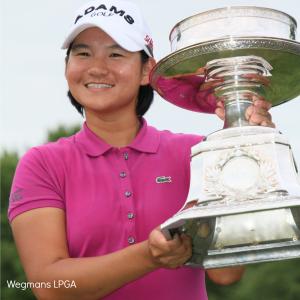 Rochester's LPGA tournament in Rochester -- famous for both the challenge of the courses and the enthusiasm of fans. 
In 2015 a new tournament was added to the LPGA Symetra Tour in Rochester, NY. The 2015 Danielle Downey Classic at Brook Lea Country Club.  
Rochester - Steeped in Golf History & Tradition   
Some credit the great Walter Hagen as the father of the modern golf professional. Hagen grew up here and started caddying at The Country Club of Rochester when he was a just boy. By the time he was 19, he played in his first professional tournament, the Canadian Open. In 1914, he became U.S. Open champion. In his brilliant career as a professional player, he won 16 major championships and captained the Ryder Cup team six times. In 2000, Hagen ranked as the seventh greatest golfer of all time by Golf Digest magazine.
Well-established as one of the best in the world, Oak Hill Country Club's East Course was originally designed in 1926 by Scotsman Donald Ross, one of the most famous golf architects of all time. Incredibly beautiful as well as incredibly challenging, Tiger Woods played Oak Hill East during the 2003 PGA Championship and said, "It's the hardest, fairest golf course we have ever played."
Native son Robert Trent Jones, born in East Rochester, was a prolific designer who created hundreds of golf courses throughout the world, but his earliest efforts were on home turf. Known as the "father of modern golf-course architecture," the first Jones-designed course is Midvale Golf and Country Club in Rochester. He also designed the course at Bristol Harbour and redesigned the second nine holes at Durand-Eastman Park, as well as refining the original Ross designs at Oak Hill and the Country Club of Rochester.
Rochester's Pros - Top of the Leaderboard 
Walter Hagen may be the first and most legendary professional golfer to come out of Rochester, but he wasn't the last! For generations, Rochester has continued to produce champions:
Terry Diehl -- An NCAA All-American and a member of the University of Georgia golf team, Diehl won the New York State Amateur in 1969. In an incredible "last chance" to save his Tour card, he won the 1974 San Antonio Texas Open as a rookie in the last tournament of the schedule. Diehl had more than 20 top-10 finishes in PGA Tour events (1974-1984) and played in two Masters Championships. In 1980, he electrified hometown fans by leading the PGA Championship going into the final round at Oak Hill and finishing in the top 10. After the Tour, Diehl was a commentator for CBS and ESPN. He produced the first TV broadcast of The Skins Game.
Jeff Sluman played college golf for Florida State University and turned pro in 1980. Between 1997 - 2004, he won eight more PGA Tour tournaments and won the 1988 PGA Championship at Oak Tree Golf Club (his round of 65 tied David Graham's 1979 mark as the lowest winning round in PGA history). Sluman has been one of the Tour's most consistent top 10 finishers throughout his career.
At 50, Sluman joined the Champions Tour and was a winner in 2008 of the Bank of America Championship and Walmart First Tee Open at Pebble Beach in 2008 and 2009. He has a career total of just over $4M in earnings, and in 2010 ranked 15th on the Champions Tour. He was the assistant captain for the 2010 Ryder Cup team. Sluman continues to represent the Rochester-based Paychex, as he has done since 1986.
Dudley Hart was born in Rochester and is one of the PGA Tour's most consistent players. He's a two-time winner on the PGA Tour.  Hart owns Rochester's Lakeshore Golf Club with his father, pro Chuck Hart, and Jeff Sluman.
Sam Urzetta won the 1950 U.S. Amateur and served as head pro of The Country Club of Rochester for 37 years.
Craig Harmon recently retired as the head golf professional at Oak Hill after a remarkable 40 years. In 2005, Harmon was named the 51st recipient of PGA Golf Professional of the Year, the highest honor bestowed by The PGA of America on a PGA professional. GOLF Magazine lists him along with his three brothers -- Butch, Dick and Billy -- on its top 50 roster of the nation's foremost golf teachers.
Want to know more about the latest in golf in Rochester? Check out Golf Week, Rochester's free weekly golf newspaper. Published since 1988, Golf Week delivers regional, national and international golf news and views. Pick up a copy at your favorite golf course around Rochester, or at over 400 other locations in the area.   Or to www.golfweekrochester.com
Or visit the New York Golf Trail for organizing your golf trip to the Rochester and Finger Lakes region. Or find more course information and maps on the digital "Golf is Great" Rochester Finger Lakes brochure.