Event Services
Resources, Tools and Support to Make Your Event a Success
From start to finish, the award-winning team at Visit Rochester is at your service, for whatever you may need to make your event a success.
Once your group has chosen Rochester for your next meeting or event, our event services team will work hand-in-hand with you to identify the services, promotional and planning tools and local resources that you may need. When working with the Visit Rochester Event Services team, your organization will receive personalized services from the moment the event is booked until after the group leaves town.
Download our event services offerings, or view the list below. Please contact Visit Rochester's event services team for a full list of resources available, promotional photos, videos and much more.
Event Enhancement: Make your event one to remember and create a unique experience for your vendors/sponsors and attendees.
Promotional Design: We can provide personalized promotional designs for your event that can be used in programs, newsletters, or as a handout at a prior conference. Click here to view our pre-promotional options. 
Video Presentation and Photo Library: Visit Rochester has beautiful, dynamic photos and videos of Rochester's meeting facilities, services, accessibility, and attractions that will generate enthusiasm and build excitement for your upcoming event.
Local Publicity Assistance: Visit Rochester's public relations department is ready to assist with contacts in local print and broadcast media, as well as support with publicity efforts for your event.
Community Connectivity: We are ready with creative suggestions to fit a variety of needs and have 400+ members who are ready to welcome your guests. View some of Rochester's key attractions here.
Registration Assistance: Trained hospitality professionals can be available to assist you on-site or get your event off to a great start and providing a friendly, courteous welcome for your guests. 
Hospitality & Concierge Services: An assortment of information about attractions, restaurants, shopping areas, recreational facilities, detailed maps and special events throughout the Greater Rochester area can be made available for your attendees. 
Special Activities & Offsite Events: There are wonderful opportunities throughout the Greater Rochester and Finger Lakes area for offsite excursions, tours, receptions and program planning.
Dignitary Liaison: Visit Rochester can assist in the request for welcome letters and/or welcome addresses from local dignitaries.
Creative Consulting: Our team is happy to assist with developing social media strategies, designing program books and more. 
Additional Services
Community Give Back Opportunities
Custom Map Creation
General Event Consulting
Participation in Event Organizing Committees
VIP Gifts
Welcome Signage 
Meet The Event Services Team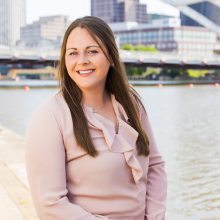 Amanda Fox, CMP

Vice President, Operations & Events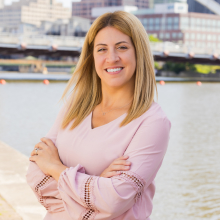 Amber Brewer

Event Services Specialist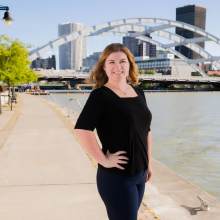 Emma Quinn

Tourism & Events Specialist