FOR IMMEDIATE RELEASE
Rochester Welcomes New York State Recreation and Park Society Conference & Expo
Rochester, N.Y., March 30, 2017 – Parks and recreation employees from across New York State will visit Rochester for a 3-day conference and expo, April 2-4, 2017. The annual conference is expected to draw more than 300 attendees to Rochester. Conference activities will take place at the Hyatt Regency Rochester and throughout the community.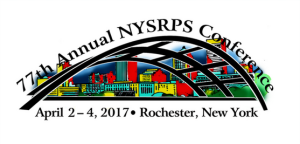 The New York State Recreation and Park Society was founded in 1940 and incorporated in 1960. NYSRPS is the principal organization promoting quality recreation and park opportunities for all citizens of New York State through education, training, technical assistance and other support to local, county, state and federal recreation and park providers.
"We're excited to welcome conference attendees to Rochester to showcase the diverse city and its areas of play," said Jeff Nutting, co-chair of the 77th Annual NYSRPS Conference. "We are especially looking forward to showing recreational amenities such as the Rochester Public Market, the Strong Museum of Play, and Oak Hill Country Club. Rochester has so much to offer and we look forward to highlighting the city with recreation and park professionals from across New York State."
With more than 12,000 acres of parkland in Monroe County, Rochester was an ideal choice for the 2017 NYSRPS conference. The conference will include a wide-range of professional development and educational sessions.
While in Rochester conference attendees will enjoy several unique off-site activities that will take attendees into the community, including an opportunity to tour and discover the Strong Museum and the museum's National Toy Hall of Fame and World Video Game Hall of Fame. Off-site educational sessions include:
Martin Luther King Jr. Park: Attendees will learn about the evolution of urban park design using the City of Rochester, MLK Jr Park as a case study.
Rochester Public Market: For over 110 years, the Rochester Public Market has been a vital part of the City's fabric and food distribution system. In recent years, it has also become a community gathering place for special events, concerts and cultural celebrations as well as an incubator for small businesses. Attendees will learn about the history of this unique venue, plans for the future and the current 10 million dollar renovation project.
Rec on the Move Off-Site at the David F. Gantt Center: Attendees will see the City of Rochester Recreation on the Move our Rec Center on Wheels and learn about the benefits of mobile recreation.
Oak Hill Country Club: Attendees will enjoy a tour of one of the most prestigious golf courses in the Country. Attendees will learn the history, inner workings and best practices of the 16th rated Golf Course in the Country.
"We're excited to welcome parks and recreation employees from across New York to Rochester for the NYSRPS annual conference. There is so much for conference attendees to discover while they are in town for the convention. I'm confident attendees will find there is no limit to what you can do when you meet in in Rochester," said Don Jeffries, president & CEO, Visit Rochester.
NYSRPS collaborated with Visit Rochester to bring this event to Rochester, working closely with Visit Rochester's convention sales and services team.
Who: Parks and recreation professionals, students, community partners, and more. 
What: 77th Annual New York State Recreation and Park Society Annual Conference & Expo 
Where: Hyatt Regency Rochester and other locations throughout the community 
When: April 2-4, 2017
About Visit Rochester
Visit Rochester is the official tourism promotion agency for Greater Rochester and Monroe County. Visit Rochester is a membership organization with over 400 members representing, lodging, retail, restaurants, services, and community organizations. Working together with our members and partners, we strive to provide the best experience to all visitors to our community, including both business and leisure travelers.
#      #     #