Traveling with Kids!
KIDS ROC HERE!
When it comes to kids, Rochester, NY rolls out the red carpet! We believe in play, fun, exercise, exploring and discovery! Your family deserves quality time together. Greater Rochester is the perfect place to create precious family memories - we have an incredible amount of family-friendly attractions, from kid-friendly picturesque parks and scenic outdoor settings, to world-renowned museums and interactive exhibits, historic sites, theater, sporting events, and so much more! There's something for all ages and every interest.
The fun doesn't stop when the sun goes down, either - whether you're looking to hang out poolside or dine out with the clan, the ROC offers affordable fun for all! Exciting, unique, and easy on the wallet -- it's no wonder Kiplinger's and Forbes list Rochester one of the top cities for families.
"Hands on" museums full of fun!
Rochester is known for world class museums catering to kids of every age. Far from being quiet don't-touch places, our museums are hands-on and interactive where learning, exploration and discovery integrate with play, imagination and fun at every level.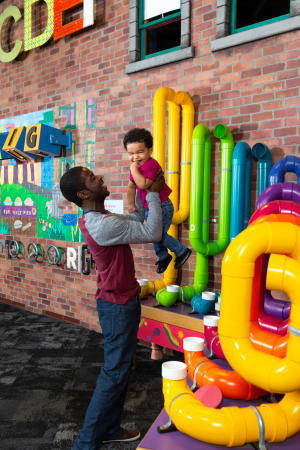 There's so much to see and do at The Strong National Museum of Play. Frommer's calls the museum "A Mega Wonderland," USA Today readers voted it one of the "Top 10 Museums for Families in the U.S.," and FamilyFun magazine named it the number one family-friendly museum in the country. (And, the number four family destination-behind The Magic Kingdom, Universal's Adventure Island, and Orlando-not bad company!). The Strong is the only museum in the world devoted solely to the importance of play and blends the artifacts of a history museum with the high interactivity of a children's museum. 
Get ready for more than 150,000 square feet of whimsical, highly interactive exhibits. Families can go hands-on with exhibits about the history of puzzles, board games, and video games. Step into Sesame Street, visit the Berenstain Bears, walk into a life-size pop-up book, and join forces with comic book heroes. Kids love "shopping" in the pint-sized Wegmans Super Kids Market. Enjoy lunch in a recreated '50s diner. 
The Strong also holds the world's most comprehensive collection of dolls, toys, games, electronic games, and play-related objects. It also houses the National Toy Hall of Fame, the Toy Industry Hall of Fame, and the World Video Game Hall of Fame. Experience the magic of the region's only indoor butterfly garden— Dancing Wings Butterfly Garden.  No matter what age—from toddlers to "the big kid" in all of us —The Strong appeals to young and old alike. 
Explore the fascinating and fun sides of science, history and technology at the Rochester Museum & Science Center. RMSC has 200 interactive exhibits and activities that will capture every member of the family.  Climb a wall. Build a tower. Power a robot. Explore lasers. See the only exhibit on Frederick Douglass in New York State. Kids can create their own TV weather report! Take a break in the light-filled Mario's Café in the Museum (healthy, vegetarian and gluten-free selections are available, along with a kids menu).
Blast off into the stars in ;the ;RMSC' Strasenburgh Planetarium, where the worlds of science and theater come together in computer-animated star shows. The Strasenburgh is one of only seven planetariums to have a Zeiss star projector of its size.  Watch large-format movies on the planetarium's huge dome. Outside the building, a 12.5-inch diameter telescope lets the public probe night skies on Saturdays (weather permitting) from April through October.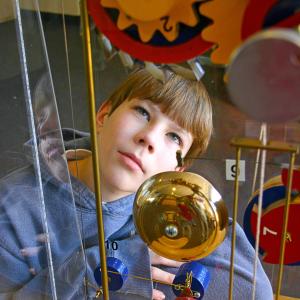 The Cumming Nature Center is part of the RMSC and a perfect place to get outdoors for some fresh air and exercise. Located deep in the gorgeous Bristol Hills surrounding Canandaigua Lake, this 900- acre preserve is about a 45- minute drive from downtown Rochester. Go snowshoeing or cross-country skiing in the winter. Learn about how trees make sap and enjoy some real maple sugar and pancakes in spring. Take a hike through flat trails and enjoy letting the kids make nature discoveries --a great place to stretch little legs! Rest rooms and snacks are available in the visitor center.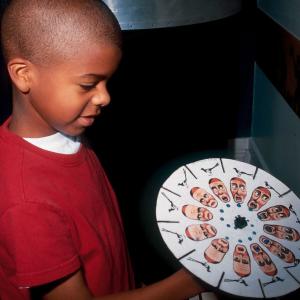 Rochester's so "kid-centric," there's even a hands-on Discovery Room at the George Eastman Museum, where children (admission is free for kids 12 and younger), can make sun prints, animation strips for a zoetrope, and handle dozens of early cameras in the Eastman's Discovery Room . Older kids will enjoy viewing the museum's photographic masterpieces, too, and exploring the 35,000 square foot mansion (imagine having 37 rooms!) -- built by Kodak founder George Eastman. Stroll the gardens, too!
Take a child to an art gallery? Absolutely, when the gallery is the Memorial Art Gallery. Umbrella strollers are available in the lobby. "Art-Spot at the MAG" sheets offer over 50 different scavenger-hunt images. Kids can search for various animals, people, or children and their toys in art throughout the museum, as well as outdoors. Bring your musical protégé to a Sunday recital on North America's only full-size, antique Italian organ -- soaring 22 feet above the indoor Fountain Court at the Memorial Art Gallery. The Centennial Sculpture Park on the Gallery's ten acres brings art and community together - and gives kids a chance to be up close to and touch art (or climb on it!).
Stretch your kids' creative views with a stroll down ArtWalk, an outdoor gallery along University Avenue in Rochester's funky Neighborhood of the Arts. Here, large-scale artworks mingle with whimsical benches, kid-designed sidewalks, and even artistic bus shelters.
Have a great day in the Good Old Days
Genesee Country Village & Museum is the largest living history museum in New York State and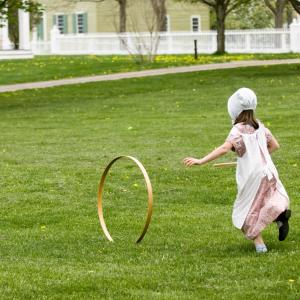 one of the largest in the country. Spend a day immersed in the 19th century in this historic village with 70+ historic structures. Kids can visit animals, make a craft, help do laundry the really old- fashioned way, or find out where food came from and how it was cooked. Outside, they can play 19th century games and visit America's first replica of a 19th-century Base Ball park. (Never seen a real outhouse? There are more than a dozen here in the largest collection of any historic village in the U.S.!)  Twenty-first century kids won't even miss their iPads.  There are lots of special events, too, from May through October, plus daytime and evening hikes all year at the museum's Genesee Country Nature Center.
At Ganondagan Historic Site, families can walk the land of a 17th century Seneca site, visit a full-size replica of a Seneca Bark Longhouse, hear stories and legends, and learn about the crafts, medicine and food of these amazing people. There are plenty of beautiful trails to follow, too - and one of the most spectacular views toward the Finger Lakes countryside anywhere!
For kids with shorter attention spans, try a visit to a smaller historic site: the Stone-Tolan House.  It's the oldest structure in Monroe County, built in 1790 and now maintained by the Landmark Society of Western New York. It's easy to envision a pioneer's life sitting in the tavern where settlers gathered for town meetings, walking through rooms of the attached living spaces once occupied by a family's nine children, and exploring the old apple orchard and herb garden. At the Tinker Homestead in Tinker Nature Park, kids can wander through rooms of a 1830s cobblestone farmhouse, once occupied by a family who came from Connecticut to the frontier that was Rochester in 1812 riding in an oxcart with six kids and all their belongings! (Be sure to check with the sites before visiting - they may have limited hours.)
You might not think a walk in a cemetery is for kids but little history buffs may get a kick out of a guided tour of Mt. Hope Cemetery, Rochester's dramatic Victorian graveyard. It may sound strange, but it's an intriguing way to spend a Sunday afternoon. It's actually laid out like a park, with some wonderful natural hiking paths. Susan B. Anthony and Frederick Douglass are both buried here.
Visiting the National Susan B. Anthony Museum & House imparts the message that fearless tenacity in the face of overwhelming odds pays off. And the younger set may be amazed to hear they are standing in a room where a woman was once arrested for the "crime" of voting!
Kids up to the age of 18 are always free at Corning Museum of Glass. Witness live glass making demonstrations and even design your own glass creation.  
For train-loving kids of any age, check out the Rochester and Genesee Valley Railroad Museum and ride aboard vintage diesel locomotives, or stop by the New York Museum of Transportation and find antique vehicles, model railroad displays and trolley rides. 
The fun isn't done yet! 
Seneca Park Zoo inspires our community to connect, care for, and conserve wildlife and wild places.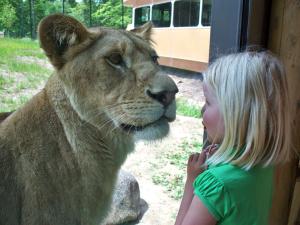 Situated on 15.5 acres along the Genesee River, the Zoo is a gem among Greater Rochester's family attractions. The Zoo leads conservation efforts locally, regionally and internationally. African lions, olive baboons and African elephants that reside in our A Step Into Africa Exhibit inspire guests to care about the Ngorongoro Crater, a unique conservation area in Tanzania. A stop in the ECO Center introduces visitors to the playful North American river otter and living dinosaurs, the lake sturgeon, which help convey stories of successful species reintroduction into the Genesee River. The Rocky Coasts Exhibit offers underwater views of the habitats of our polar bear, sea lions and African penguins. Bornean orangutans, a white rhino, a family of ring-tailed lemurs and a pair of snow leopards round out your memorable Zoo experience. The Zoo is open all year long. Closed only Thanksgiving, Christmas and New Year's Day.

Nothing says "Summer's here" more than a day at Seabreeze Amusement Park! Seabreeze is the 4th oldest operating amusement park and the oldest family owned park in America.  It's pure fun with 65+ family attractions for everyone, from big-kid and adult thrill rides like the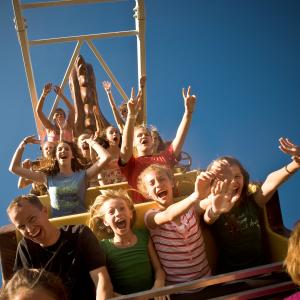 Whirlwind -- one of only three spinning coasters of its type in the U.S. - to gentle kiddie-speed rides! Ride the thrilling "woody": the Jack Rabbit - the oldest continuously operating wooden coaster in North America. Cool off with a splash on the Log Flume. Watch live shows. There's liquid fun at the Waterpark -- filled with tube slides, a wave pool, and kiddie area - overlooking Lake Ontario.
Spend a day digging sand castles at Rochester's Ontario Beach Park on the shore of the Great Lake Ontario. Did you know that the Great Lakes are actually inland seas? Walk the pier, have an ice cream cone, watch for ships and check out the Dentzel Menagerie Carousel. It was built in 1905 and it's been a kid-magnet ever since! And no visit to the beach area is complete without a stop at the original Abbott's Frozen Custard (a Rochester tradition) for a cone or sundae.
While not as developed, the beach at Durand Eastman Park offers 5,000 feet of lakefront along Lake Ontario, with a supervised swimming area and plenty of chances to walk the shore. This park is also one of Monroe County's arboretums with wonderful hiking and scenic vistas.
Or... get your splash on at Roseland Waterpark in Canandaigua. Every member of the family will find a feature to love, from the tiniest toddler wading at the Splash Factory to the bravest dads and teens streaking at top speed down the towering water slides. Experience the new Wake Park, the first and only Cable Wake Park in the northeastern United States!
Adventure - outdoors and indoors!
When the weather outside is frightful (or just too hot in summer) - kids have tons of places for indoor play activities. "Rochester has more active indoor play centers than most cities in the country," says Debra Ross, of KidsOutandAbout.com, an online resource for kids and families. "People don't realize the abundance of fantastic things to do at every turn." Kids can jump, climb, run, and bounce at one of Rochester's many indoor play centers - places like The Clubhouse Fun Center, Bounce-It-Out, Jump Club, Altitude Trampoline Park, Pole Position Raceway (for older kids and adults), Bill Gray's Iceplex, and Rock Ventures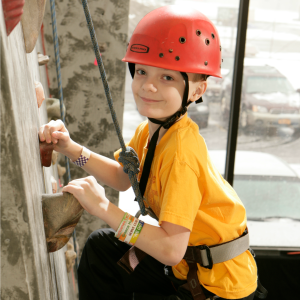 (where mom and dad can climb, too, on the largest indoor climbing wall in the Northeast).
When it's snowy and cold, chickadees will eat bird seed right out of your hands along the Birdsong Trail in Mendon Ponds Park. Wild Wings nearby (that's where you can get the birdseed) is a refuge and educational center for raptors. Kids love seeing owls, hawks, and eagles - and especially the "stinky" turkey vulture, Barf (yes, that's his real name). Watch Tara, the bobcat, play with her toys in her enclosure.
For active winter fun, you can't beat skiing or snowboarding in a supportive environment with excellent instruction at nearby Swain Winter Resort and Bristol Mountain Resort.
And now families can experience challenging ropes courses and outdoor fun in the spring through fall at the new Aerial Adventures park at Bristol Mountain too. With more than 7 challenge courses. 2 kids courses. Over 125 elements, and 5,000 feet of zip lines.
Whispering Pines Miniature Golf, designed in 1929, is the oldest, unaltered mini-golf course in New York, and it still provides challenging fun for young and old. It's listed on the National Register of Historic Places. This is where fun "holes" like the Windmill were invented!
Take a ride on the historic, beautiful Erie Canal aboard The Sam Patch, an 1800s replica packet boat. Named after a 1800s dare-devil who unfortunately didn't resurface after his jump from downtown Rochester's High Falls, "The Patch" travels between the canal port of Pittsford and Lock 32, daily May through October. Discover a very different world of travel as you enter the massive, 40-ton gates at Lock 32 - one of the technical marvels of the NYS Canal system. You'll come in on the low water side, and float gently upward as the lock fills. You may even see the lockmaster's faithful dog begging for treats from passengers. Sit in the enclosed cabin or on the open-air bow. Get ready for a relaxing ride along one of the most beautiful canals in the world.
The Great Outdoors 
The Rochester area has an impressive park system, crisscrossed by hundreds of well-marked trails. The Rochester area is a treasure of waterways of all types for paddling- rent a kayak or canoe or bring your own.
Active kids and teens will enjoy biking, hiking or rollerblading along miles of paved paths beside the scenic Erie Canal as it passes through charming villages such as Fairport and Pittsford. The paths are flat and wide - safe enough for the smallest cycler. Or bring your stroller! There are stops along the way for snacks, drinks, and potty breaks -- or have a picnic. In winter, cross-country skiers are welcome on the Erie Canal Heritage Trail as well.
While it is actually less than 500 acres, the Thousand Acre Swamp in Penfield offers one of the largest wetland systems in western New York along with 10 trails and plenty of wildlife (no pets or picnics, however).
Powder Mill Park's fish hatchery is always fascinating, but fishing enthusiasts can find plenty of opportunities to fish the fresh-water rivers, streams and Lake Ontario. There's plenty of variety to reel in.
Just a short drive away, familes will be transported to a wild game safari at Hidden Valley Animal Adventure in Varysburg, NY, where you can see and feed over 30 species of exotic animals.
Rochester's a major player in minor league sports
Sports Business Daily named Rochester the #2 Best Minor League Sports City in the U.S. Whether your young travelers like to take part in a favorite sport or check out the pros, Rochester has plenty of action to thrill them! Games are always popular family-friendly outings.
During the summer, catch a game of baseball at Frontier Field, home of the Rochester Red Wings.
The winter season brings the Rochester Americans hockey team to the Blue Cross Arena, which also hosts games of National Lacrosse League team, the Rochester Knighthawks.
And for die-hard basketball fans, there's the Rochester Razorsharks, who captured a championship title during the Premier Basketball League's first season.
When the weather is warmer, families can try white water rafting on the relatively mild rapids of the Genesee River as it flows through Letchworth State Park, known as the Grand Canyon of the East.
Wait! Did you think we were finished?
Our list of family fun goes on! The best times to travel with kids are weekends and during breaks from school, so here are even more ideas. (Okay, you may have to make several trips to Rochester to do half of what we have to offer. No worries - we'll be here waiting for you!)
Rochester's "festival season" begins in May with the annual Lilac Festival and its parade, special entertainment areas for kids, fun food, and the fragrance of lilacs in hundreds of varieties!
Check museum and attraction websites for one-day and week-long camps scheduled during school breaks.
The Sky Ride at Bristol Mountain provides a birds-eye view of autumn's richest hues.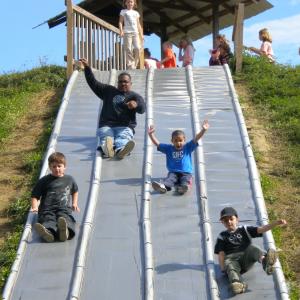 Farmer's markets throughout the area encourage kids to find that perfect pumpkin for Halloween carving, but be on the lookout for hayrides and special activities, too.
Stokoe Farms features over 35 farm activities for kids and families.Visit during their fall season for the Fall Pumpkin & Harvest Fest, or in the winter when they become a Christmas tree with special holiday themed events. 
For more family fun on the farm, visit Wickham Farms, the fun place for families to spend an hour, an afternoon, or all day! Attractions include a jumping pillow, batting cages, kiddy train ride, a mini golf course and farm animals. Or stop in for one of their 32 flavors of ice cream.
Kids love getting lost in the Amazing Maize Maze at Long Acre Farms - but relax: your offspring can easily be "rescued" if they don't find the way out by themselves.
Kids and adults will enjoy visiting with the animals at Lollypop Farm, Humane Society of Greater Rochester. Meet rescued animals of all kinds...maybe even adopt one to take home.  
Springdale Farm is another kid-pleasing stop with its amazing robotic milking parlor that lets cows milk themselves! Not to mention the duck pond, petting zoo and playground.
Rochester Children's Theatre and Theatre Young Kids Enjoy (TYKES) are two of the many excellent professional theater groups presenting quality shows for the entire family. From October through May, Rochester becomes a kid-friendly version of Broadway -- minus the steep ticket prices!
Rochester Philharmonic Orchestra orKidStra concerts are fun for everyone, but especially designed for children of 3 to 9 years.
Yuletide in the Country at Genesee Country Village & Museum provides a delightful way to learn about holiday traditions of the past.
No matter when you visit this kid-centered community, leave time for a bit of retail therapy. For a uniquely Rochester experience, don't miss the century-old Public Market where fresh produce, arts and crafts, all kinds of ethnic delicacies (including the best empanadas in town!), and great people-watching reign! Add a stop at one of Rochester's large malls with their kid-appeal stores, plus a carousel or special play area, and the fun of vacation shopping will make everyone happy!