The annual Rochester Lilac Festival is an event for all of your senses. Here are our top 6 ways to enjoy and celebrate this exciting festival: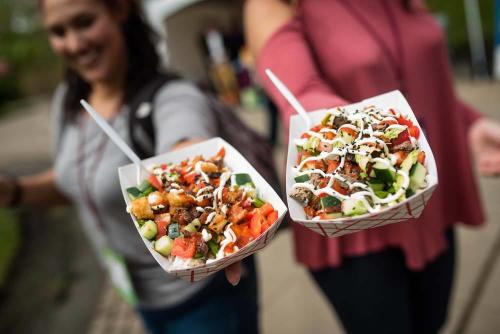 There are countless locations with a variety of yummy festival foods at the Rochester Lilac Festival. Visitors won't want to miss the chance to taste local regional favorites like Abbott's Frozen Custard, and, of course, Nick Tahou Garbage Plates. Rochester food trucks bring exciting new taste combinations like Stingray Sushi Fusion's mix of Japanese and Latin flavors, or Macarollin', with their creative mac 'n cheese combinations.
Don't Miss These Festival Classics:
Candy Apples
CinnaRoasted Almonds
Cotton Candy
Deep Fried Candy Bars
Deep Fried Oreos
Fried Dough
Funnel Cakes
Kettle Korn
Soft Pretzels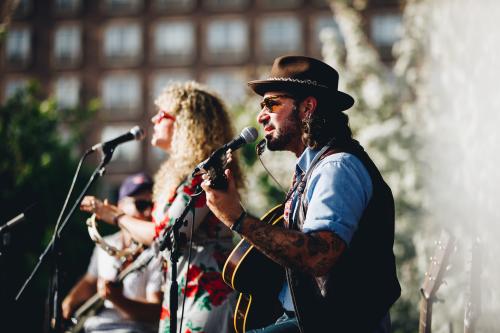 The Rochester Lilac Festival features 11 days of live music. Performances cover a wide range of musical styles and appeal to all kinds of music lovers. Enjoy concerts by Blues Traveler, Zac Brown Tribute Band, Black Joe Lewis & the Honeybears, Uprooted Band with Michael Glabiki of Rusted Root, Big Eyed Phish, and many more. It all ends May 22nd with a final concert by Giant Panda Guerilla Dub Squad.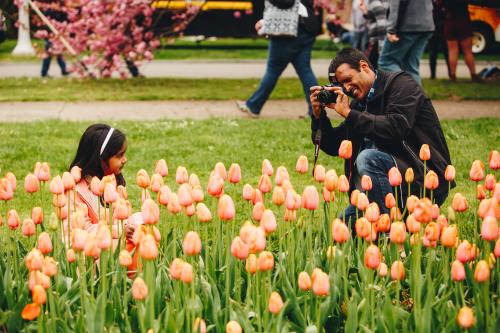 Of course the star of the show is the Lilacs! There are over 500 varieties of lilacs at Highland Park in Rochester, NY. Each variety has its own color and look, but they all smell amazing. The fragrance wafting throughout the park is heavenly (although the kettle korn is pretty great too). Be sure to bring your camera for incredible up close pictures of these gorgeous flowers. More than just lilacs, visitors will also enjoy tulips, the pansy bed, and the Lamberton Conservatory, featuring unique, exotic and tropical plants from all over the world.
4. Beer, Wine and Spirits of the Lilac Festival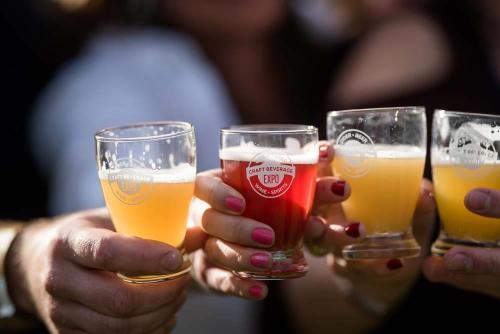 On May 7th, sample and purchase from award-winning wineries of New York State's most celebrated wine region (The Finger Lakes) at the Annual Lilac Festival Wine Tasting Expo. Enjoy specialty chocolate and cheeses that pair perfectly with the featured wines and spirits. Taste local favorites like Casa Larga Vineyards' Lilac Hill White Wine, and Black Button Distilling's limited edition Lilac Gin. Plus, it's Derby Day! Come dressed to impress for a chance to win prizes for best dressed and best hat.
Then, on Saturday May 21st, the Rochester Lilac Festival will feature the Lilac Craft Beer Expo. Sample craft beverages from over 40 breweries and cideries including award-winning local favorites. Attendees can expect lawn games, presentation of an official Lilac Craft Beer Expo Award, designated food vendors, and MORE!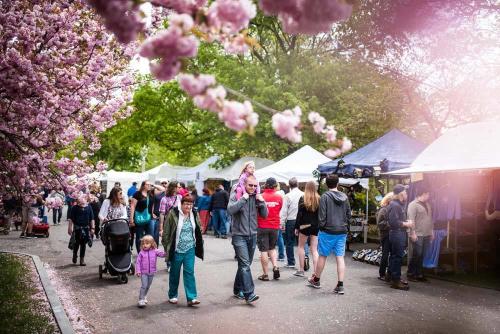 Art in the Park falls on Mother's Day weekend this year, and is two days of shopping with more than 100 artists, makers, designers and craftspeople. Discover unique pieces across a variety of media including ceramics, drawings, graphics, fiber, glass, jewelry, sculpture, wood and mixed media along with specialty packaged foods and body care products. Each artisan was carefully selected for a wonderful shopping experience. And don't forget to pick up official festival merchandise, like the official Rochester Lilac Festival Poster!

6. Family Fun at the Lilac Festival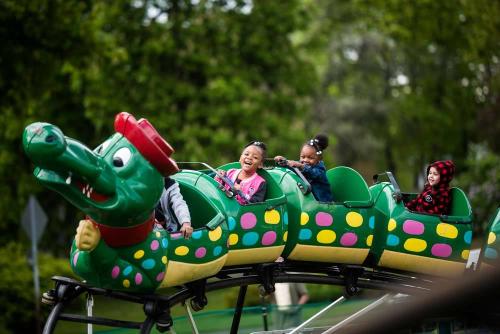 The Rochester Lilac Festival is a family event full of fun activities for visitors of all ages. Kicking it all off is the annual Lilac Unity Parade on May 7th with more than 2,500 participants, including 20 marching bands, dancers, costumed characters, and more. Plus, festival attendees of all ages can participate in the Donut Dash on May 22! Run, walk or even skip to the Dunkin' Donuts Mascot, and then continue to the finish line. This race is for all ages, and includes a cool T-shirt and a 10-count box of Munchkins! Families can also explore the Kids' Zone, a collection of rides and activities including a zipline, bounce houses, rides and midway games, open every day of the festival.