– Visit Rochester successfully achieves destination management and marketing industry accreditation –
– Vice President of Sales and Convention Services recognized by industry peers–
Visit Rochester, the official tourism promotion agency for Monroe County, has received several industry awards and recognition from the destination marketing industry.
Visit Rochester Receives Destination Marketing Accreditation
Visit Rochester has once again been awarded with the Destination Marketing Accreditation Program (DMAP) seal by Destination Marketing Association International (DMAI). The accreditation recognizes the organization's commitment to industry excellence and meeting the industry standard for performance and accountability of destination marketing organizations (DMO) around the world.
The accreditation program requires a DMO to successfully comply with a multitude of mandatory and voluntary standards that span a variety of performance areas to certify excellence. The standards cover nearly all aspects related to the management and marketing of a DMO including governance, finance, human resources, sales, communications, destination development and research.
"Visit Rochester is honored to have once again received accreditation as an excellent destination marketing organization. This accreditation signals to our community that the organization is committed to meeting the highest operating standards in the destination marketing industry," shared William Gunther, chair of the Visit Rochester Board of Directors.
Visit Rochester first received its initial DMAP accreditation in 2007, and was the first destination marketing organization in New York State to do so.
Visit Rochester's Wetelainen Named Supplier of the Year by Smart Meetings Magazine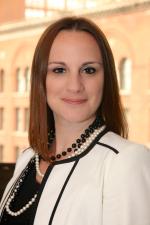 Visit Rochester's Deidre Wetelainen, vice president of sales and convention services is a 2016 Smart Meetings Supplier of the Year in the Enterprising Up and Comers category. Just 25 meeting and convention professionals from across the country are selected by Smart Meetings magazine, the meeting industry's premier resource for meeting professionals, as Suppliers of the Year.
Smart Meetings sought nominations for the award from readers for those individuals who have made major contributions to their companies, as well as the meetings and hospitality industries in general.
Wetelainen leads the meetings and convention sales and services team at Visit Rochester, a group that books more than 250 meetings a year and services more than 200,000 visitors to our area for meetings, conventions and sporting events. In receiving the Supplier of the Year award, Wetelainen was recognized for implementing innovative selling strategies and for developing opportunities for collaboration with her counterparts across the state.
"Having just joined Visit Rochester in 2015, Deidre has already made her mark on our local hospitality community as well as across the broader tourism and hospitality industry," said Don Jeffries, President & CEO, Visit Rochester. "We are proud of all that Deidre has accomplished so far, and eager to see how far she will continue to take our team while building national recognition for Rochester across the meetings and convention industry."
Visit Rochester Received Platinum Choice Award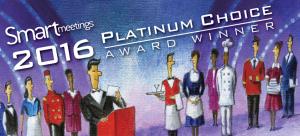 For the second consecutive year, Visit Rochester has been named by Smart Meetings magazine as a winner of the annual Platinum Choice Award.
This recognition acknowledges outstanding service by destination marketing companies and Convention Visitors Bureaus (CVBs) from across North America, as well as top hotels and resorts across North America.
Visit Rochester was one of fewer than 200 organizations recognized out of the thousands of qualified properties and associations who were considered for this honor. Once again, Visit Rochester is the only convention and visitors bureau in New York State recognized outside of New York City. Votes are cast by industry professionals, the Smart Meetings editorial team and Smart Meetings readers.
"I am tremendously proud of the team, we have built a solid foundation for success in the meetings industry," Wetelainen said. "The Visit Rochester staff is filled with talented individuals and this acknowledgment highlights the strong collaborative efforts and teamwork that has been our common goal across the organization."
Tourism activities in Monroe County generated an economic impact of more than 1 billion dollars in 2015. Rochester's meetings and conventions business played a key role in this economic growth.
ABOUT VISIT ROCHESTER
Visit Rochester is the official tourism promotion agency for Greater Rochester and Monroe County. Visit Rochester is a membership organization with over 400 members representing, lodging, retail, restaurants, services, and community organizations. Working together with our members and partners, we strive to provide the best experience to all visitors to our community, including both business and leisure travelers.
ABOUT DESTINATION MARKETING ASSOCIATION INTERNATIONAL
Destination Marketing Association International (DMAI) protects and advances the success of destination marketing worldwide. DMAI's influential membership includes nearly 600 destination marketing organizations (DMOs), from 16 countries that command US $2.5+ billion in annual budgets. As the world's largest and most reliable resource for DMOs, DMAI provides nearly 4,000 individual members - professionals, industry partners, educators and students - the most innovative and relevant educational resources, networking opportunities and marketing intelligence worldwide.