As Rochester and the Finger Lakes region continue to open safely, and smartly, Visit Rochester has introduced the ROC Ready Promise for Rochester businesses in the tourism and hospitality industry.
The ROC Ready Promise is a tool for Rochester-area tourism and hospitality businesses to communicate to their compliance with public health recommendations to keep employees, customers and guests safe. This visual tool is also a message to customers and guests that they will need to work to support health and safety measures at area businesses as well.
Businesses displaying the ROC Ready Promise are showing their customers and guests that the health and safety of their patrons a priority. Guests can feel comfortable knowing these businesses have agreed to:
Wash our hands frequently & have hand sanitizer available

Wear protective gear like face masks and gloves

Follow social distancing practices within our establishment

Implementing "contactless" processes and payments wherever possible  

Requiring guests to wear masks and other PPE as necessary

Follow CDC guidelines for cleaning & sanitation

Conduct wellness screenings of employees

Keep employees informed on COVID-19 in our community
Tourism and hospitality businesses across the community are invited to download the ROC Ready Promise sign to display in their businesses. A digital version of the ROC Ready Promise is available to share on business's social media pages and websites.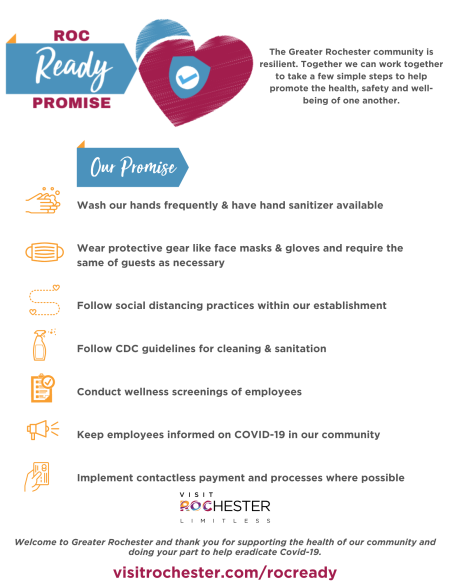 The ROC Ready Promise helps businesses communicate with their customers the steps they are taking to create a healthy and safe environment. The signage is available for local businesses to download and display in their business. 
While the ROC Ready Promise signage is intended for, and will be displayed, in local businesses, it is just as important for customers and guests to be mindful of health and safety practices when they visit Rochester. That's why Visit Rochester has included suggested health and safety practices for guests and customers as part of the ROC Ready Promise website.
"As we reopen Rochester safely, it is important for all of us – both local residents and visitors – to work together to take a few simple steps to help promote the health, safety and well-being of one another," said Don Jeffries, president & CEO, Visit Rochester. "The ROC Ready Promise represents a commitment from the tourism and hospitality industry to take the necessary precautions to provide a healthy experience. We look forward to safely welcoming visitors back to our community, and in turn helping to recover our local tourism industry." 
While the ROC Ready Promise was designed with tourism and hospitality businesses in mind, any local business is welcome to download and display the signage signaling to their customers that the business is committed to providing a healthy and safe experience.
The ROC Ready Promise can be downloaded at: visitrochester.com/rocready/
About Visit Rochester
Visit Rochester is the official tourism promotion agency for Greater Rochester and Monroe County. Visit Rochester is a membership organization with over 400 members representing, lodging, retail, restaurants, services, and community organizations. Working together with our members and partners, our mission is to sell and market Greater Rochester as a preferred destination in order to grow and maximize visitor spending and to enhance the economy. To learn more go to visitrochester.com. 
#   #   #