Visit Rochester Hosts Member Orientation Session
Strong response from membership signals engaged group of local businesses poised to promote tourism throughout Greater Rochester
To engage Visit Rochester's 400 plus members, the organization recently hosted a membership orientation. Attendance and participation for the event far exceeded organizers' expectations, indicating an engaged member base that is eager to partner with Visit Rochester to drive tourism promotion throughout the Greater Rochester community.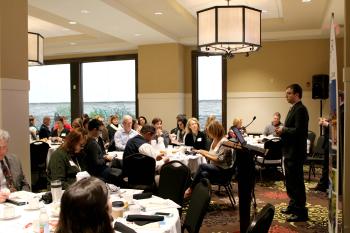 The idea for the orientation started with Greg LaDuca, senior director of membership and visitor services for Visit Rochester. After seeing an uptick in new membership over the first two months of 2016, LaDuca recognized that an orientation would both properly onboard new members as well as contribute to member retention.
The session – which hosted nearly 100 representatives from Visit Rochester's 400 plus members – focused on the benefits that a membership with Visit Rochester provides for member organizations. Visit Rochester members range from lodging and accommodations to restaurants and retail businesses as well as business-to-business service providers and community organizations.
"We were thrilled by the response we saw from members for our recent member orientation session," said LaDuca. "Our members left the session feeling engaged and, even more importantly, proud to be members of Visit Rochester."
The Greater Rochester area hosts a significant number of meetings and conventions, group tours and leisure travelers each year. Nearly 2 million visitors leave an economic impact of over 1 billion dollars in Monroe County each year. Membership with Visit Rochester enables local organizations and businesses in and around Monroe County to directly connect with visitors to the community.
As the official tourism promotional agency for the community, Visit Rochester looks to area businesses as partners in marketing the community for tourism and economic development. Over 400 member organizations currently invest in marketing opportunities with Visit Rochester. It is through the involvement and investment of our members that Visit Rochester is able to implement various marketing campaigns to attract tourism to the area.
"Programs like the member orientation can serve as a gateway to introducing our members to some of the other ways they can be involved and partner with Visit Rochester. For example, attendees at the orientation learned more about the Visitor Industry Council (VIC), which is the working arm of Visit Rochester membership, along with upcoming events such as sales missions and trade show participation," said LaDuca. "I'm confident the recent orientation has laid a strong foundation to encourage participation in future Visit Rochester member programs, including the VIC."
ABOUT VISIT ROCHESTER
Visit Rochester is the official tourism promotion agency for Greater Rochester and Monroe County. Visit Rochester is a membership organization with over 400 members representing, lodging, retail, restaurants, services, and community organizations. Working together with our members and partners, we strive to provide the best experience to all visitors to our community, including both business and leisure travelers.
#   #   #