Sonnenberg Gardens & Mansion State Historic Park
151 Charlotte Street
Canandaigua, NY 14424
Press Contact: Program Manager Deborah J.C. Kelly, 585-919-0087 (events@sonnenberg.org)
FOR IMMEDIATE RELEASE: Moonlight Stroll Concert Series at Sonnenberg Begins on July 3
CANANDAIGUA - Festively lit historic garden paths and live music on a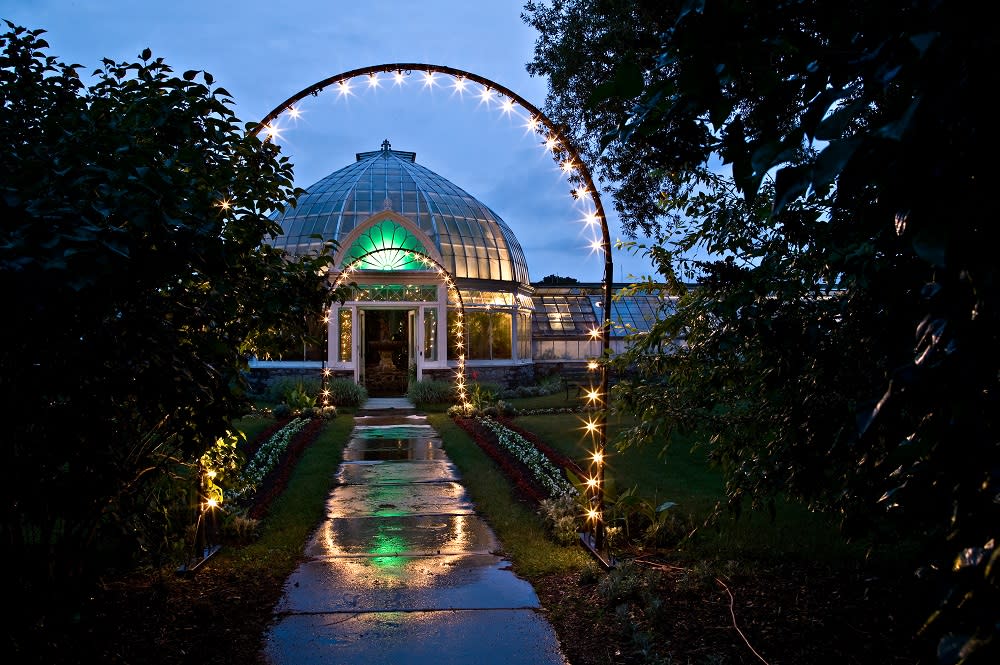 midsummer's eve make for a unique Finger Lakes experience as Sonnenberg Gardens & Mansion State Historic Park kicks off its popular Moonlight Stroll Concert Series on Friday, July 3. The 2-hour concerts will take place every Friday night July 3 through August 7 from 8:00 - 10:00 PM. Guests are encouraged to bring lawn chairs and blankets as well as family, friends or that special someone for an evening out under the stars and strolls through beautiful garden as music floats through the air.
Besides the musical entertainment, guests will have a rare opportunity to partake of the beauty of Sonnenberg's gardens at night - for this is the one time each year that the gardens are lit and showcased at night. Evening garden strolls are a rare treat for the gardens take on a completely different demeanor - shadows grow long, hues deepen, and the fragrance of roses and other blooms become more pronounced as the evening air cools.
Sonnenberg will be bringing a variety of talented musical performers to its grounds for this concert series. The series begins on July 3rd with the 4-piece female-fronted rock band, The Fools. The second concert on July 10th promises to be a magical evening with the Tullamore Celtic Band accompanied by the Young School of Irish Dance. The traditional tunes and dance will make guests feel as though they've been transported across the ocean to the Emerald Isle herself. On July 17th, enjoy the Rochester Metropolitan Jazz Orchestra, a 19-piece orchestra performing jazz in the tradition of the Count Basie Orchestra. Neville Francis & the Riddim Posse, a reggae band with a music style originating in Jamaica that blends elements of R&B, calypso, and rock, will be performing on July 24th. Due to a late cancelation, the name of the July 31st act is unable at this time. The concert series finishes on August 7th with the "good time music" of Paulsen & Baker Band with Time Chaapel. With a variety of musical genres, there's sure to be something for everyone at Sonnenberg this summer!
Sonnenberg's own Finger Lakes Wine Center will offer wine by the glass for sale each evening. Light refreshments including soda, water, pizza, popcorn, and cookies will also be available from the Friends of Sonnenberg. This year's performance venue is the veranda of the Mansion and guests will be able to spread out blankets and set up seats on the lawn. Admission at the door for each Moonlight Series concert will be $9 adults, $7 for Sonnenberg members, $4 for youth 6-17, while those 5 and under are free. Reservations are not necessary and all admission will be at the gate. The gates will open at 7:30 PM and all concerts will be held rain or shine.
Event sponsored by Lyons National Bank, Aberle Eye Care, and in part with public funds from NYSCA's Decentralization Program administered locally by Finger Lakes Community Arts Grants.
Sonnenberg Gardens & Mansion State Historic Park is one of America's longest surviving estates from the Victorian Era. The elegant Queen Anne-style mansion was built in 1887 in Canandaigua by New York City financier Frederick Ferris Thompson, and his wife, Mary Clark Thompson, as a summer home. Between 1901 and 1920, the widowed Mrs. Thompson and her staff created the nine formal gardens seen today. The grounds are open to the public from May 1 through October 31 each year. Sonnenberg is a non-profit organization dependent upon the support of members and sponsors and its dedicated corps of volunteers. For more information on the revival of the grand estate on the "sunny hill," contact Marketing Coordinator Kimberly Burkard or Executive Director David Hutchings at 585-394-4922.