The 119th annual Rochester Lilac Festival will take place May 12-21, 2017, in Rochester, N.Y.
The largest 10-day free festival of its kind in North America the Rochester Lilac Festival welcomes more than 500,000 attendees annually. It is only fitting for Rochester, the "Flower City," to be the home of the largest display of lilacs in North America. Visitors come to Rochester's famous Highland Park, designed by famed landscape architect Frederick Law Olmsted, to experience the incredible beauty and intense fragrance of more than 500 varieties of lilacs on 1,200 plants.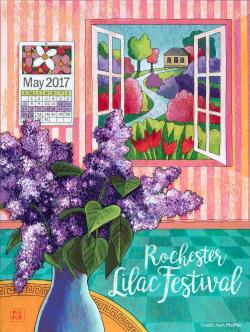 Alongside the largest lilac collection in North America, visitors enjoy non-stop entertainment, a wide variety of foods, and one-of-a-kind shopping. Special events inside the festival include the televised Lilac Parade, Garden Battles, Seniors Day, Lilac 10K and 5K races and new this year: the Lilac Craft Beverage Expo. The Craft Beverage Expo is a three-day tasting event and celebration of New York State beer, wine, cider and spirits.
The Lilac Festival is a time-honored tradition in the northeast, and marks the official start of Rochester's summer "festival season." Rochester hosts more than 140 festivals on an annual basis, and the Rochester Lilac Festival is one of the most beloved.
This year's Festival has something new to discover on every day of its 10-days from May 12-21, at Highland Park. 
"All the exciting activities and events we have planned for this year's Lilac Festival are made possible by our sponsors, especially our first ever Presenting Sponsor – Five Star Bank," said Jeff Springut, Festival Producer. "As an added bonus, Five Star Bank will also be giving away a $5,000 cash prize! Visitors can enter to win by stopping by their booth located near the Traffic Circle entrance."
Hurlbut Hug Guinness World Record Attempt, May 12: Festival attendees will attempt to break the GUINNESS WORLD RECORD™ for the Longest Hug Relay, a title currently held by 1,290 people in Mexico City. This audacious bid for the record title is inspired by community leader Robert Hurlbut President and CEO of Hurlbut Care Communities. The opportunity is expected to attract participants from all over the country to spread the love right here in Rochester, America's "Flower City." Register online at www.rochesterevents.com.
Garden Battles, May 13: The second-annual, fast-paced charitable event was inspired by popular reality-based competitions like Chopped. This free family entertainment event tests the gardening skills of local media celebrities including Scott Hetsko, Mark McLean, Bill Moran, John DiTullio, Sarah Taddeo, Will Cleveland, Dino Kay, Gary the Happy Pirate, and a team from Channel 8. Celebrities will each design a unique gardenscape with help from a master horticulturist. Show visitors will vote for their favorite with 1st place receiving $1,000 and the runner-up $500 for the local charity of their choice. 
Craft Beverage Expo, May 18-20: The first annual Craft Beverage Expo combines the best of all worlds – beer, wine, cider, and distilled spirits. The event is an escalation of the traditional tasting event, designed for those who crave regional, artisanal, and specialty release selections. Guests will also have access to food pairings from the New York Wine and Culinary Center and tasty treats from Swillburger, McCann's Eats, and God's Country Creamery, Heidi Jo's Jerky, and more!

Participating vendors are from across the northeast with more than 35 breweries, 15 wineries, 9 cideries/cider houses, and 6 distilleries.
Tickets: $10.00 for drivers, sessions start at $20.00
Event timing: 12:30 p.m. – 4:00 p.m. and 5:00 p.m. – 8:30 p.m. daily
21+ with valid ID required for entry

Lilac Run 10K, 5K, & Dunkin Donuts Dash, May 21: More than 3,000 runners from across the region take to Highland Park every spring for the annual Lilac Run, a tradition that has endured nearly 40 years. For the first time, a portion of the proceeds will benefit a local charity – Willow Domestic Violence Center. In addition, racers (individual and team) will compete for the best "passion for purple," outfits. Also new, is The Dunkin' Donuts "DD Dash," a half mile sprint down Highland Ave. to eat Munchkins™ and then back to the start. This Festival staple also comes paired with an official after party complete with live DJ, pancakes, mimosas and Bellini's (available for purchase after 12:00 p.m.).
Major Music Performances, May 12-21: Rochester Lilac Festival has a wide variety of free concerts, with more than 80 musical acts during the 10-day Festival. Visitors are sure to find something the whole family can enjoy. Major performances at this year's event include: Start Making Sense, Get the Led Out – The American Led Zeppelin, Skycoasters with Rock & Roll Hall of Fame Inductee Gene Cornish, The Mowgli's, Ripe, Lettuce, Rusted Root, Gedeon Luke and the People, Jonny Lang, Quinn Sullivan, Big Head Todd and The Monsters, Kat Wright, Zac Brown Tribute Band, and Turkuaz.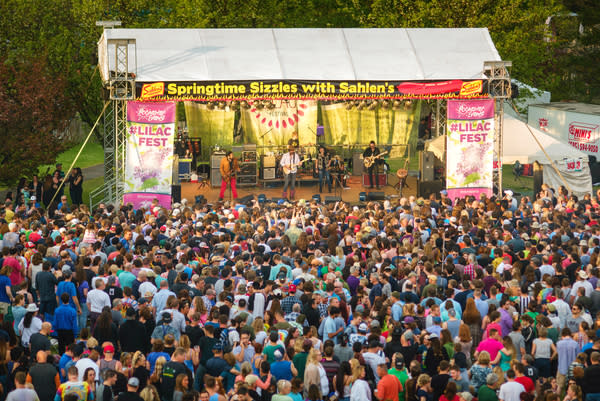 "The Rochester Lilac Festival is one of the most beloved spring traditions in the northeast. Where else but Rochester can you enjoy the largest display of lilacs in the country mixed with ten days of free entertainment, arts, food and family fun?," said Don Jeffries, Visit Rochester president & CEO. "We're excited to welcome visitors from all over the country to the 2017 festival. Visitors to Rochester for the Lilac Festival are sure to discover that when they are in Rochester, there is no limit to what they can see, do and discover."
The Parental Escort Program was also announced at today's press conference. Thorough the hours of the Festival (10:30 am -8:30 pm) each day:
Persons sixteen years of age and under are not permitted unless escorted by a parent, legal guardian or responsible adult age twenty-one and over.
All under age persons must remain within the company of their escort at all times.
Each escort may supervise up to five youths.
All unescorted persons appearing to be less than seventeen years of age should be prepared to show valid identification which include a photograph and date of birth.
Valid forms of identification include: Driver's license, non-driver ID card, college ID, Passport, Visa.
This policy is at the discretion of the on-site security team.
"Enacting an entrance policy is a very positive step that our Board is taking to ensure that the Rochester Lilac Festival continues to be a fun, free and family friendly experience for our entire community to enjoy," said Larry Staub, Monroe County Director of Parks.  
For more information about the festival visit lilacfestival.com.
Lilac Festival Calendar Listing
Rochester Lilac Festival: Thousands of fragrant lilacs, live entertainment featuring national headliners, children's amusements, arts and crafts, garden battles, wine & beer tastings, Lilac Run (5K & 10K) and more. May 12-21 Highland Park, Rochester, N.Y. (10:30 a.m. to 8:30 p.m. daily)
FREE ADMISSION
#              #              #