Monroe County Sports Commission, the athletic business development arm of Visit Rochester and Monroe County, is pleased to announce that Libby Craig has joined the organization as Sports Sales Manager.
In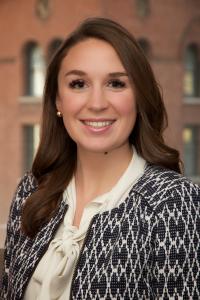 her new role, Craig will be responsible for bringing new sports business into the Rochester market, helping to further the local economic impact of sporting events and tournaments. By partnering with Visit Rochester, Craig will also work to strengthen relations between facilities, hotels, and community partners as well as with local, state and regional sports organizations.  
Together with her colleagues at Monroe County Sports, Craig's primary focus is on securing new sports organizations, programs and tournaments to choose Rochester for their next sporting event. As sports sales manager Craig is actively selling the following sports market segments: basketball, gymnastics/dance/cheer, swimming/aquatics, fencing, bowling, track & field/running, volleyball, boxing/martial arts, wresting/weightlifting, rowing/yachting, field hockey and fishing.  
Most recently, Craig was the group sales manager at the Hyatt at the Bellevue in Philadelphia. In this role, Craig was responsible for fielding group leads, referrals and requests-for-proposal from inquiry stage to contract.  She also managed hotel site tours, constant communication with guests, contract negotiations and maintaining knowledge of market and industry trends to remain competitive when bidding on business.
In returning to Rochester, Craig is also making a return to the organization where her career first started. Previously, before relocating to Philadelphia, she started her career with the Monroe County Sports Commission as event operations and visitor services coordinator.
"We are thrilled to have Libby return to Rochester and the Monroe County Sports Commission. Her experience in hotel sales and the sports industry will be a vital asset for both the Monroe County Sports Commission and the tourism and hospitality industry in Rochester as a whole," said Deidre Wetelainen, vice president of sales and convention services, Visit Rochester.
Craig received a Bachelor's Degree in Sports Management with a dual minor in Marketing and Communications from St. John Fisher College. She has recently returned to Rochester after residing in Philadelphia and she looks forward to finding leadership and volunteer opportunities in Rochester.
Sporting events held in Monroe County are critical to bringing visitors to the county and our community, and contribute to the tourism and hospitality industry's overall economic impact. The economic impact of the tourism and hospitality industry in Monroe County in 2015 (most recently reported data) was over $1 Billion. 
ABOUT MONROE COUNTY SPORTS COMMISSION
The Monroe County Sports Commission (MCSC) is a non-profit entity whose goal is to bring organized sporting events of all kinds for all ages to Rochester, New York. MCSC actively solicits amateur championships, sports related clinics and conventions.
ABOUT VISIT ROCHESTER
Visit Rochester is the official tourism promotion agency for Greater Rochester and Monroe County. Visit Rochester is a membership organization with over 400 members representing, lodging, retail, restaurants, services, and community organizations. Working together with our members and partners, we strive to provide the best experience to all visitors to our community, including both business and leisure travelers.
#   #   #