April 10, 2015
For Immediate Release
Media Contact
Ralph Meranto
JCC CenterStage Artistic Director
1200 Edgewood Avenue, Rochester, NY 14618
(585) 461-2000 ext 236
Mobile (585) 733-6826
INTO THE WOODS to play May 2-17 at JCC CenterStage
(Rochester, NY) - The JCC CenterStage theatre season concludes next month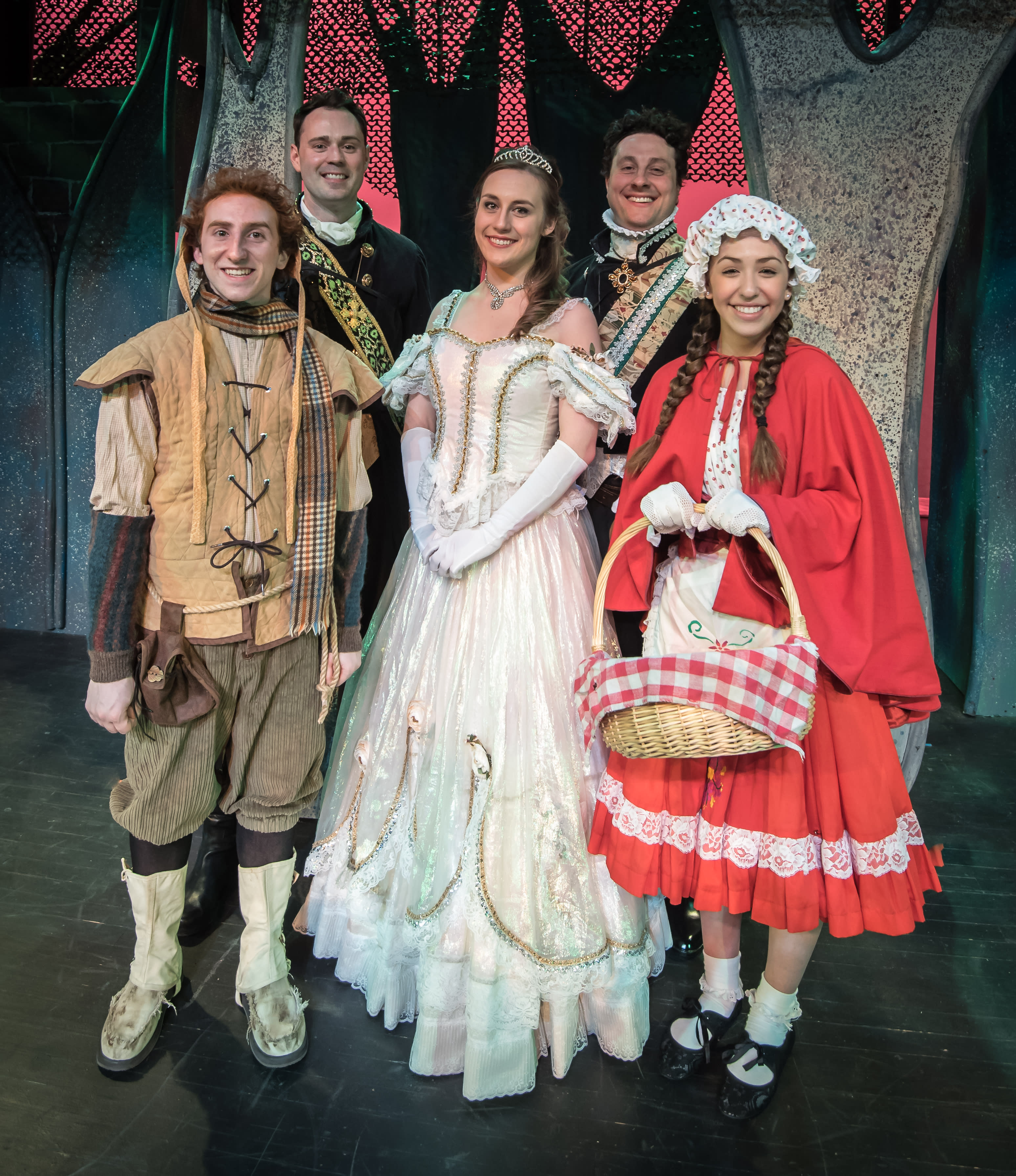 with the much-anticipated production of Into the Woods. The Tony award-winning Stephen Sondheim musical has had a resurgence of interest since the movie release last December.
Into the Woods is fairy tale mash up. Cinderella, Little Red Riding Hood, Jack (of Jack and the Beanstalk fame) and Rapunzel, are just a few of the classic storybook characters that collide in one epic adventure. The characters each pursue their desires, and wishes are granted, but when witches and giants step in, consequences of "I wish" emerge and "happily ever after" is not always the end of the story. Into the Woods is family-friendly, but the themes are adult in nature, making it a show targeted to adults and older kids.
"People don't think about the ramifications of these fairly tales" says Director Ralph Meranto. "For example, Cinderella and her prince get married after meeting briefly at the ball and the Prince searching the kingdom to see if her stray shoe fits. That's all. How do we know that will make for a happy marriage? What do they talk about over breakfast? And will the Prince be able to resist the temptation of the next beautiful maiden to come along?"
"Staging the show so soon after the movie release is a blessing and a curse. The movie is great for increasing name recognition, but Into the Woods was always meant to be seen on a stage and we are thrilled to be able to bring the fully told story that the movie did not and give audiences the wry humor of the stage version which is approached differently than the movie.
"
PERFORMANCE TIMES AND TICKET INFO
Into the Woods
Music and Lyrics by Stephen Sondheim; Book by James Lapine
Directed by Ralph Meranto. Vocal Direction by Brian Clickner
Saturday, May 2 at 8pm
Sunday, May 3 at 2pm
Thursday, May 7 at 7pm
Saturday, May 9 at 8pm
Sunday, May 10 at 2pm (ASL Interpreted Performance for the deaf and hard of hearing)
Thursday, May 14 at 7pm
Saturday, May 16 at 8pm
Saturday, May 16 at 2pm (Media Note: this is an added performance from earlier releases.)
Sunday, May 17 at 2pm
Reserved seating $29; $27 for JCC Members; $20 for students
JCC CenterStage
1200 Edgewood Avenue, Rochester, NY 14618
Tickets sales (585) 461-2000 or online at www.JCCcenterstage.org
PHOTOS: Will be available soon.
ABOUT JCC CenterStage
JCC CenterStage has been the resident professional theatre of the Jewish Community Center since 1977. CenterStage presents a 5-show subscription series of new and classic, plays and musicals; an annual SummerStage musical performed by area high school and college students and other special events and workshops. CenterStage exists to entertain, enlighten and educate Rochester audiences with quality theatre that has universal appeal, generates community discussions and is relevant to the Jewish experience.
ABOUT The Jewish Community Center of Greater Rochester
A state-of-the-art fitness and recreation center, the Jewish Community Center of Greater Rochester offers an array of programs and services for all ages including arts and cultural programs, adult education and classes, professional theatre, sports and fitness programs, healing and wellness services, early childhood daycare and education, after school care, summer camps, celebrations of Jewish holidays and traditions, interfaith programs, and activities for older adults. www.jccrochester.org