Monroe County to Host Popular Athletic Festival for Young Women

County Executive Cheryl Dinolfo today joined Don Jeffries, President of Visit Rochester, Olympic Fencer Iris Zimmermann and representatives from the Monroe County Sports Commission to announce a Monroe County Girls Sports Festival. The Festival is a half-day athletic event in which young women ages 6-12 have the opportunity to try a variety of traditional, as well as up-and-coming, non-traditional sports.

"The Monroe County Girls Sports Festival is a great opportunity for young women to showcase their athletic ability, be active, learn about leadership and teamwork, and take on new challenges and we are thrilled to announce that the this new event will be held this summer," said Dinolfo. "The festival supports young women in their pursuit of new experiences and new opportunities and builds on our record of improving quality of life for all residents of Monroe County."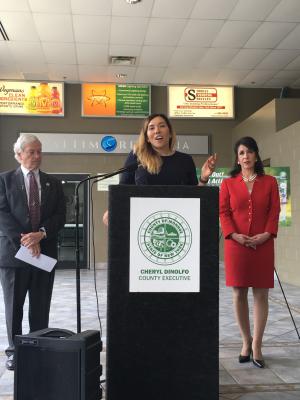 Monroe County will host the Festival in conjunction with Visit Rochester and the Monroe County Sports Commission. Festival participants will be able to choose four different sports to explore. Local teams and organizations will manage each of the sports and participants are welcome to select any four available sports, but are also encouraged to try a sport they have never experienced before.
"Sports and recreation events attract thousands of visiting athletes and fans to Rochester and Monroe County each year," said Jeffries. "We are excited to be a part of the Girls Sports Festival, an event that will help support and strengthen our local youth sporting community.  Our local sports clubs and athletic organizations play an integral role in organizing and hosting events for out-of-town athletes throughout the year."
In addition to traditional sports like volleyball, gymnastics and field hockey, participants will also have the opportunity to try non-traditional sports like disc golf, ultimate frisbee, sport stacking, Quidditch and fencing.
"Although we have come a long way since the days before Title IX, there are still continued stereotypes about what sports are feminine or masculine," said Zimmermann, Olympian and Co-Owner of the Rochester Fencing Club. "Sports Festivals that are specific to girls can show a young girl that her world is filled with choices and opportunities and not stereotypes or closed doors. Strength, power, drive, and the willingness to work hard doesn't belong to any gender."
The Festival will be held on Saturday, August 5th from 12:00 p.m. to 5:00 p.m. at the Bill Gray's Regional Iceplex. Outdoor sports will be held adjacent to the Iceplex on the athletic fields at Monroe Community College (MCC). Registration costs $20 and participants receive healthy snacks and refreshments, a Festival t-shirt and a souvenir bag from the participating clubs.
Participants must register in advance. For registration details and a full list of sports, visit http://www.monroecountysports.org/girlssportsfestival