The new Thomas Tischer Visitor Center at the George Eastman Museum is officially now open. The Thomas Tischer Visitor Center includes the ESL Federal Credit Union Pavilion, which will serve as the museum's new main entrance, located next to the Dryden Theatre. The transformative project, costing more than $5 million, was made possible by funding from a combination of philanthropy from individuals and private foundations, local corporate support, and a grant from the State of New York.
"I had the privilege to be a part of this project from its very beginning and am thrilled with the final results that we celebrate today," said Thomas Tischer, the founding donor to the project. "It has always been my desire to support the museum's continued evolution, and by doing so, I am proud to play a part in honoring the extraordinary legacy of George Eastman."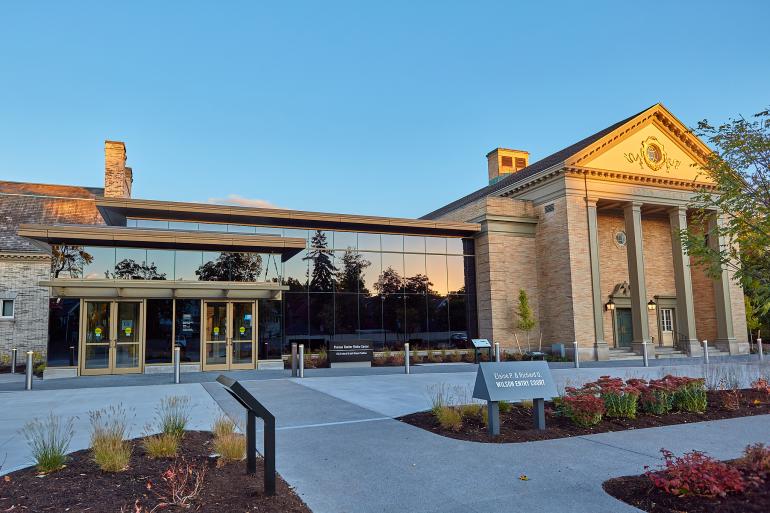 Thomas Tischer Visitor Center at George Eastman Museum. 
The museum broke ground on the project in January of this year, and will open the doors to the Thomas Tischer Visitor Center to the general public on Saturday, October 10. The completed project has created a convenient, welcoming, and accessible new entrance for the Eastman Museum. The visitor center has improved guest amenities and created a single hub for museum entry, the Dryden Theatre, a fully renovated education and meeting hall, a new and expanded café, and a new shop.
"On behalf of Governor Cuomo, the New York State Legislature, and the New York State Council on the Arts, we congratulate the George Eastman Museum on the new Thomas Tischer Visitor Center, as it ushers in a new era of accessibility for Rochester," said Mara Manus, Executive Director, New York State Council on the Arts. "The Eastman Museum's world renowned collections hold up a mirror to our collective history as well as the profoundly historical times in which we currently find ourselves. NYSCA is committed to ensuring all New Yorkers have access to the vast scope of arts and culture across our state, and this expansion is an example of how a community thrives when venues are welcoming, inclusive, and accessible to all."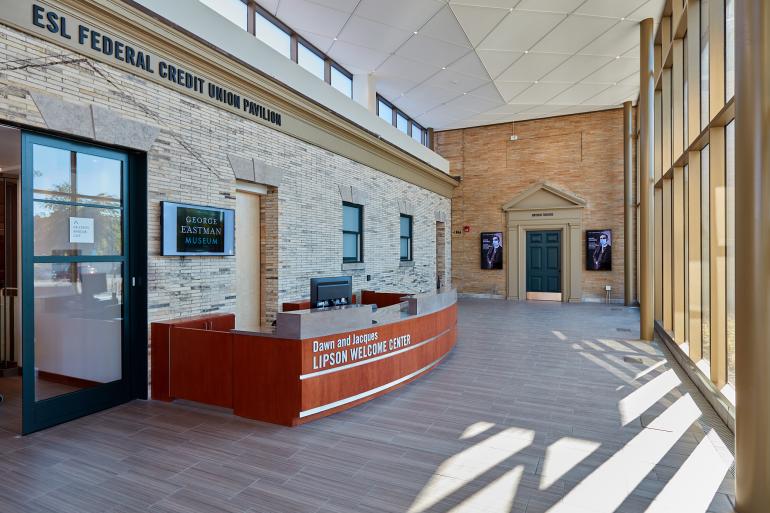 ESL Federal Credit Union Pavilion at George Eastman Museum. 
Visitors will be welcomed to the museum through the ESL Federal Credit Union Pavilion, a new glass-and-steel structure that has preserved the historic façade of George Eastman's garage on its interior. The Wolk Concourse connects the pavilion to the rest of the museum with educational and interpretive content, introducing visitors to the museum and George Eastman. This broad thoroughfare will lead visitors to the education and meeting hall, the café and shop, the exhibition galleries, and George Eastman's historic mansion and Schuyler C. Townson Terrace Garden.
"We wish the sincerest of congratulations to the George Eastman Museum on this monumental occasion," said Faheem Masood, President and CEO, ESL Federal Credit Union. "Today's celebration took the work of individuals, nonprofit, public, and private organizations all coming together for the advancement of an iconic museum in our community. Arts and culture play a crucial role in the vitality of our community, as they breathe life into our neighborhoods and our lives. Because of this and what we are experiencing through the pandemic, the time has never been more urgent than now for the community to support the arts, support culture, and support our museums. This Visitor Center Project is a testament to the positive, productive, and resilient work that can be done when collaboration is made possible and a community values its arts and culture institutions."
Thomas Tischer, a retired research chemist at Eastman Kodak Company and longtime museum patron, initiated the project and has advanced it by donating more than $1.5 million. The museum received a $1 million grant award from the New York State Council on the Arts (NYSCA), under Governor Andrew M. Cuomo's Regional Economic Development Council Initiative. Last summer, ESL Federal Credit Union acquired the naming rights to the entrance pavilion for $1 million, which enabled the overall project to proceed.
Other major donors to the Visitor Center Project include the Louis S. and Molly B. Wolk Foundation; Elaine P. and Richard U. Wilson Foundation; William and Sheila Konar Foundation; Nocon & Associates, a private wealth advisory practice of Ameriprise Financial Services Inc.; Kevin and Rachel Glazer; Dawn F. and Jacques M. Lipson; Harcourt M. and Virginia W. Sylvester Foundation; Norma Andzer in memory of Arnold L. Andzer; Monroe County Industrial Development Corporation; and Eastman Museum Council. A donation was made anonymously in honor of Paolo Cherchi Usai, Jack Garner, and Daniel M. Meyers in recognition of their contributions to the Eastman Museum.
Empire State Development Acting Commissioner and President & CEO-designate Eric Gertler said, "This new visitor center extends a beautiful welcome to the George Eastman Museum, a touchstone of both Rochester's storied past and its exciting future. The project also demonstrates once again that the Governor's focused commitment is having a very real impact on communities throughout New York State."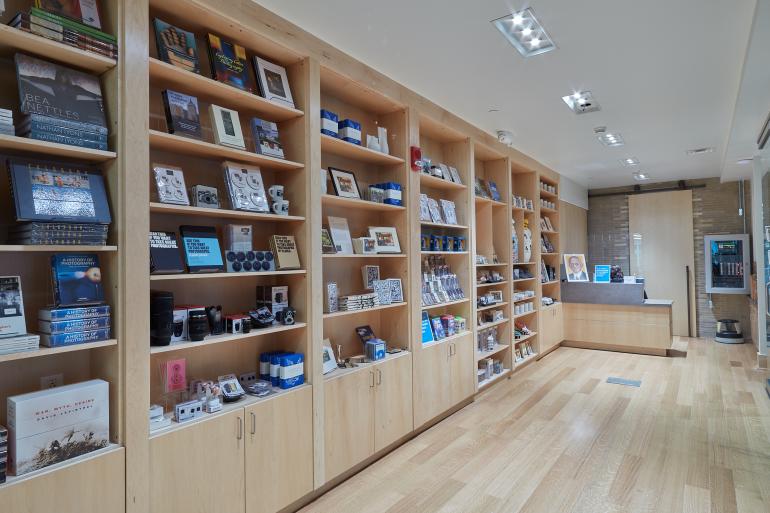 Museum store at George Eastman Museum. 
"Creating a conveniently located main entrance and a welcoming new visitor center has long been one of our top priorities," said Bruce Barnes, PhD, Ron and Donna Fielding Director, George Eastman Museum. "Our Thomas Tischer Visitor Center marks a new era for the Eastman Museum. We are deeply grateful to Tom, ESL Federal Credit Union, the New York State Council on the Arts, and all of the generous donors who have helped us to realize this vision and ensure that our visitors' experience is commensurate with the standing of our museum and its collections."
The visitor center was designed by Flynn Battaglia Architects of Buffalo, and the general contractor was The Pike Company.
The museum will be open for members only on Friday, October 9 from 10 a.m. to 7 p.m. and will reopen to the general public on Saturday, October 10 at 10 a.m. The museum's café will be serving a limited menu and the museum shop will be open.
About ESL Federal Credit Union
With 100 years of locally-owned history, ESL Federal Credit Union serves as a full-service financial institution to approximately 360,000 members worldwide. Founded in 1920, the company provides personal, business banking, and wealth management services through its locally-based 22-branch network, telephone, mobile, online, and live chat center. The Rochester-based financial institution employs more than 830 people in Rochester, New York, and holds $6.8 billion in assets. The company has appeared on the Great Place to Work® Best Small & Medium Workplaces list for nine years since 2010. ESL Federal Credit Union is headquartered at 225 Chestnut Street, in Rochester, and can be found online at www.esl.org.
About the New York State Council on the Arts
The New York State Council on the Arts champions community and creativity by preserving and advancing numerous aspects of the arts and culture that make New York State an exceptional place to live, work, and visit.
NYSCA upholds the right of all New Yorkers to experience the vital contributions the arts make to our communities, education, economic development, and quality of life. Through its core grantmaking activity, NYSCA awarded $43.8M in FY2020 to 2,500 organizations statewide through direct grants and regrants in our 15 programs, and the Regional Economic Development Council initiative. NYSCA funding supports the visual, literary, media, and performing arts and includes dedicated support for arts education and underserved communities. NYSCA further advances New York's creative culture by convening leaders in the field and providing organizational and professional development opportunities and informational resources.
Created by Governor Nelson Rockefeller in 1960, and continued and expanded to the present day with the support of Governor Andrew M. Cuomo and the New York State Legislature, NYSCA is an agency of the Executive Branch of the New York State Government. For more information on NYSCA, please visit www.arts.ny.gov, and follow NYSCA's Facebook page, Twitter @NYSCArts, and Instagram @NYSCouncilontheArts.
About the George Eastman Museum
Founded in 1947, the George Eastman Museum is the world's oldest photography museum and one of the largest film archives in the United States, located on the historic Rochester estate of entrepreneur and philanthropist George Eastman, the pioneer of popular photography. Its holdings comprise more than 400,000 photographs, 28,000 motion picture films and three million archival objects related to cinema, the world's preeminent collection of photographic and cinematographic technology, one of the leading libraries of books related to photography and cinema, and extensive holdings of documents and other objects related to George Eastman. As a research and teaching institution, the Eastman Museum has an active book publishing program, and its L. Jeffrey Selznick School of Film Preservation's graduate program (in collaboration with the University of Rochester) makes critical contributions to film preservation. For more information, visit eastman.org.
# # #