French street spectacle at Parcel 5 for Friday & Saturday of the Fringe  
Rochester, NY – The 2017 KeyBank Rochester Fringe Festival (Thursday, September 14 – Saturday, September 23) will present France's Plasticiens Volants in its U.S. premiere to headline Friday and Saturday on the Fringe on September 15 & 16.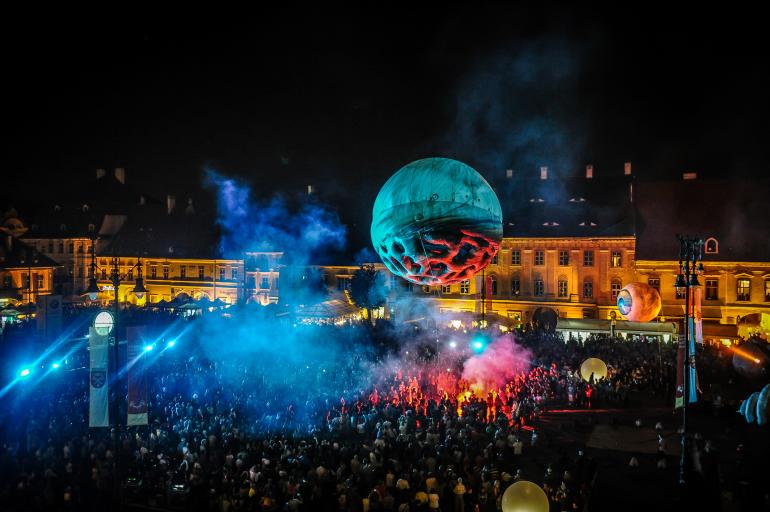 Founded in Paris in 1976, Plasticiens Volants (pronunciation here) has been captivating audiences all over the world ever since with its unique form of street theatre on a grand scale. Using giant inflatables – which the company creates and flies via actors on the ground – it combines these huge, floating creatures with theater, projected images, music and pyrotechnics to tell spectacular, dreamlike stories. Renowned for creating high-profile events in the skies, squares and streets of five continents – including its most recent production for the Olympic Games in Rio (2016) – Plasticiens Volants' two Fringe performances are part of the French company's U.S. premiere. The hour-long show will debut at both Fringe and Artpark in September and is entitled BIG BANG, a creation story that the company describes as: a "visual poem around very human questions: Who are we? Where do we come from? Where are we going? To infuse everything that is said on the subject raises a certainty: We are not sure of anything!"
The 2017 KeyBank Rochester Fringe Festival will present BIG BANG as its spectacular, FREE, outdoor headliner at Parcel 5 (285 E. Main St.) on September 15 & 16 at 8 p.m. as part of its annual Friday and Saturday on the Fringe (rain date: September 17).
"We are so pleased to present this amazing, internationally renowned company in its U.S. premiere at this year's KeyBank Rochester Fringe Festival," says KeyBank Rochester Market President James Barger. "Fringe continues to surprise and delight all of us every year, and we're thrilled to be a part of making that happen."
"The KeyBank Rochester Fringe Festival's annual, free public art performances are a unique feature – not only in our region, but throughout the world," explains Empire State Development's Finger Lakes Regional Office Director Vincent Esposito. "Empire State Development, through the Finger Lakes Forward regional economic development plan, is proud to support the inclusive efforts of this festival which celebrates and inspires local, regional, national, and international creativity."
Gavin Landry, Executive Director of Tourism for Empire State Development, adds: "The Rochester Fringe Festival is one of the most unique events you'll find in Upstate New York and, in only a few short years, it has already become a well-known regional attraction that brings in thousands of new visitors, providing a boost to local businesses and supporting tourism jobs.We are proud to welcome Plasticiens Volants to the United States and encourage New Yorkers and visitors alike to visit the festival this September."
More about Fringe: Now in its sixth year, the newly renamed KeyBank Rochester Fringe Festival has become one of the most successful fringe festivals in the U.S., attracting more than 68,000 attendees in 2016. This 10-day, multi-arts festival now boasts over 500 performances and events –a third of which are free – in 25+ venues in downtown Rochester, NY. Celebrating and inspiring creativity, the "Fringe" – which is partially curated by the festival and partially by festival venues – includes everything from theatre, music, comedy and dance, to children's entertainment, spoken word, visual arts and much more.
Rochester Fringe Festival is a not-for-profit, 501(c)(3) corporation that exists as a means to connect venues, performers, artists, educational institutions and the audience. It was pioneered by several of Rochester's esteemed cultural institutions, including Geva Theatre Center, the George Eastman House and Garth Fagan Dance, as well as up-and-coming groups like PUSH Physical Theatre and Method Machine. The Board of Directors includes representatives from the University of Rochester, Rochester Institute of Technology, Bond Schoeneck & King PLLC, Boylan Code LLC, the Eastman School of Music, Mengel, Metzger and Barr & Co. LLP, Method Machine, PUSH Physical Theatre, and Writers & Books. The Rochester Fringe Festival is made possible by the New York State Council on the Arts with the support of Governor Andrew M. Cuomo and the New York State Legislature. This festival is also supported by a grant Empire State Development's I LOVE NEW YORK program under Governor Andrew M. Cuomo's Regional Economic Development Council Initiative.
Additional 2017 Fringe sponsors include: KeyBank; New York State Council on the Arts; University of Rochester; Rochester Area Community Foundation; Elaine P. & Richard U. Wilson Foundation; RIT; Ames Amzalak Memorial Trust; National Endowment for the Arts; Gouvernet Arts Fund at the Rochester Area Community Foundation; City of Rochester; Monroe County;  Bond, Schoeneck & King LLP; Boylan Code LLP; Mengel, Metzger, Barr & Co. LLP; Wegmans; Nocon & Associates; Ronald Fielding; SUNY Geneseo; The Pike Company; Mary S. Mulligan Trust; the Max & Marian Farash Charitable Foundation; 13-WHAM; CITY Newspaper; Democrat & Chronicle Media Group; East Avenue Inn & Suites; Broccolo Tree & Lawncare; McCarthy Tents & Events; Daisy Marquis Jones Foundation; The Rubens Family Foundation; The Wilson Foundation; the College at Brockport; Nazareth College; St. John Fisher College; Visit Rochester; Genesee Beer; City Blue; WXXI; Yelp!; and KidsOutandAbout.com.
About KeyCorp: KeyCorp's roots trace back 190 years to Albany, New York. Headquartered in Cleveland, Ohio, Key is one of the nation's largest bank-based financial services companies, with assets of approximately $134.5 billion at March 31, 2017. Key provides deposit, lending, cash management, insurance, and investment services to individuals and businesses in 15 states under the name KeyBank National Association through a network of more than 1,200 branches and more than 1,500 ATMs.  Key also provides a broad range of sophisticated corporate and investment banking products, such as merger and acquisition advice, public and private debt and equity, syndications, and derivatives to middle market companies in selected industries throughout the United States under the KeyBanc Capital Markets trade name. For more information, visit https://www.key.com/. KeyBank is Member FDIC.
Media please note: high-resolution images and broadcast-quality video of Plasticiens Volants are available at BIG BANG press assets.  Fringe press assets, including 2016 photos, press releases, previous photos, videos and more, are available at rochesterfringe.com/press. Interviews can also be arranged. Please visit rochesterfringe.com for more information.
###