SPRING COMES EARLY TO THE GEORGE EASTMAN MUSEUM WITH ANNUAL DUTCH CONNECTION FLORAL DISPLAY
Live flowers on display now through February 28—also on view, artifacts from George Eastman's life 100 years ago
The George Eastman Museum presents virtual springtime, with the annual Dutch Connection floral display, on view now through Sunday, February 28. This colorful two-week display features thousands of flowering bulbs, displayed throughout the historic mansion.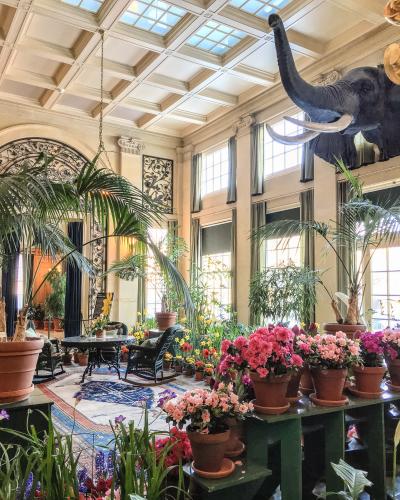 The two-week display is a welcome treat for the eyes and nose in the midst of winter. The museum's historic Conservatory will be filled with thousands of tulips, hyacinths, daffodils, amaryllis, and freesias, in various vibrant shades—the same colors Eastman featured 100 years ago. In addition, tropical orchids will be displayed throughout the Palm House and Colonnade, courtesy of the Genesee Region Orchid Society. Also on view on the second floor of the mansion are artifacts from George Eastman's life in 1916.
During his residency between 1905 and 1932, Eastman ordered tens of thousands of bulbs from Holland every year to decorate his Conservatory. The orders were mostly for tulips, narcissus, and hyacinths for indoor forcing, and tulips for the outside beds.
Eastman's annual bulb orders were inspired by a trip he made to Holland in 1890, when he was impressed by the tulip fields he saw while bicycling through the countryside. The present-day display is based on Eastman's original orders placed with Dutch bulb companies. The cultivation process began last July, with six thousand bulbs growing since October.
Bulb Sale
Potted tulips, hyacinths, and daffodils will be sold during Dutch Connection, with all proceeds benefiting the George Eastman Museum.
Group Tours
The Eastman Museum offers private group tours of Dutch Connection during regular museum hours. To set up a tour or for more information, please contact Stacey VanDenburgh, guest services manager, at (585) 271-3361 ext. 238 or tours@eastman.org.
Dutch Connection is open during regular museum hours, 10 a.m. to 5 p.m. Tuesday through Saturday, and 11 a.m. to 5 p.m. Sundays. Included with regular museum admission. For more information, visit eastman.org or call (585) 271-3361.
For the last 22 years, Dutch Connection has been made possible by the generous support of Gerald P. and Karen S. Kral. Greenhouse services have been provided by Lucas Greenhouses. For more information on the Dutch Connection, visit: https://eastman.org/event/special-events/dutch-connection