Adapt2Achieve Annual Leadership Conference Scheduled June 3-5, 2019
The Nation's Leading Adaptive Sports Conference Will Bring Approximately 200 Professionals to Rochester, New York
Disabled Sports USA's Adapt2Achieve Annual Leadership Conference, scheduled for June 3-5, 2019 in Rochester, New York, will bring together more than 200 adaptive sports professionals and VA medical providers from across the country to learn about technological advancements in adaptive sports and improving safety and reducing risk.
The conference will engage industry innovators from universities and leading organizations to look at how the adaptive sports industry intersects with medical interventions as well as the latest equipment modifications and risk management recommendations, particularly as they relate to improving services for disabled veterans. Topics include adaptive sports applications for virtual reality, incorporating adaptive sports and recreation into rehabilitation, new guiding technologies to assist athletes with blindness or low vision, and others.
Rochester was selected as the 2019 conference host after a nationwide search. The city is the third largest in New York State, is located on the southern shore of Lake Ontario and is the "front door" to the majestic Finger Lakes region. Rochester is also home to two Disabled Sports USA (DSUSA) chapters, Rochester Accessible Adventures (RAA) and Cape Ability Outrigger Ohana, Inc (CAOO).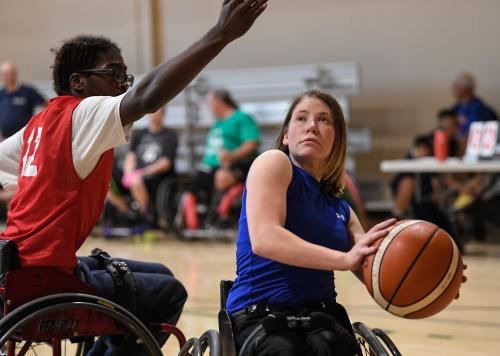 "We are looking forward to convening our chapters from across the country and other adaptive sports leaders in Rochester," said Glenn Merry, Executive Director of Disabled Sports USA. "Not only is it an opportunity for RAA and Cape Ability to work together on this endeavor but also showcases Rochester and the adaptive sports offerings located here."
"Rochester Accessible Adventures is thrilled to partner with Cape Ability and ROC Sports Commission to host the Adapt2Achieve Leadership Conference and share pieces of our vibrant adaptive and inclusive recreation and sports community with attendees," said Anita O'Brien, Executive Director of Rochester Accessible Adventures. Jan Whitaker, President of Cape Ability Outrigger Ohana, Inc., echoed those sentiments. "Our ohana (family) welcomes you to Rochester, home of pioneer paddlers in the Paracanoe Paralympic movement and the establishment of United States Canoe Association National Sprint Championships for Paddlers with Physical Disabilities."
Innovation will be a key component of the conference. A TED-style talk on "Finding Your Abilities" will be given by Michael Cocquyt and Rob Tortorella, Founder of Endless Highway, will prove closing keynote remarks. Outdoors For All Foundation and Microsoft will be promoting a new app that uses innovative 3D audio to enable individuals who are blind or low vision to navigate their surroundings. In addition, a virtual reality demo will take place with Veracity VRcade. ThermApparel, a Rochester-area based company that got its start as a student project at Rochester Institute of Technology will also be featured this year.
Given the growing importance of adaptive sport providers to quantify the measurable impact of adaptive sports on the lives of people with disabilities, Dr. Meg Harrell from The Bob Woodruff Foundation will present a session "Adaptive and Impactful: How to Understand and Maximize Your Program Outcomes."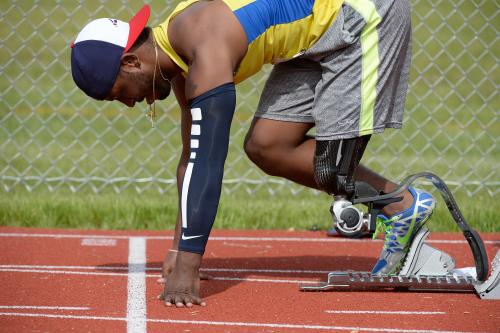 In February 2018, Congress enacted national legislation designed to protect youth athletes and provide mandatory reporting requirements for organizations serving the youth athlete community. Disabled Sports USA has been working to create a system to ensure our chapter network follows best practices to protect our athletes. At the conference, DSUSA will outline the new program set to launch in 2020 with the primary goal of reducing the opportunity for abuse of athletes within our community. Additional training on athlete protection and child safeguarding will be led by Patty Lewis from The Beau Biden Foundation and Ashley Thomas from Bridge II Sports.
A number of adaptive sports will be featured throughout the event including a wheelchair lacrosse demonstration by the Buffalo Bandits, inclusive pickleball with local club Pickled Power, and a Para Va'a demonstration with Paralympian Bob Balk. Participants will also have the opportunity to tour the EquiCenter Farm and check out a therapeutic riding demo. More in-depth pre and post conference trainings will focus on adaptive swimming, climbing, and yoga.
With more than 12,000 acres of parkland in Monroe County, the Lake Ontarioshoreline, hiking and biking paths along the Erie Canal, and paddling on the Genesee River, there is no shortage of natural wonders and outdoor recreational opportunities in Rochester.
"We're excited to welcome adaptive sports leaders from across the country to Rochester for the Adaptive2Achieve Leadership Conference in 2019. Rochester is very fortunate to have two Disabled Sports USA Chapters in our own backyard. We continue to be inspired by the work of Rochester Accessible Adventures and Cape Ability Outrigger Ohana as they provide inclusive and adaptive sporting opportunities in Rochester. We look forward to introducing visiting Adapt2Achieve guests to Rochester's limitless arts and cultural opportunities, fantastic dining options and our inclusive community when Rochester hosts this important event," said Don Jeffries, President & CEO of Visit Rochester. Visit Rochester, through its ROC Sports program, is providing logistical support for the annual conference.
Adapt2Achieve is a program of Disabled Sports USA (DSUSA) that promotes professionalization of the adaptive sport industry through education and training. Peer-to-peer knowledge sharing is the cornerstone of Adapt2Achieve events. The Adapt2Achieve Leadership Conference is offered annually to help develop and strengthen the DSUSA chapter network. The conference is supported by a grant from the U.S. Department of Veterans Affairs and the Bob Woodruff Foundation. As a result, conference registration is free for VA and Department of Defense staff.
For more information on the Adapt2Achieve Leadership Conference, or to register, visit http://www.disabledsportsusa.org/conference.
About Disabled Sports USA
Founded in 1967, DSUSA serves over 60,000 people with disabilities annually through more than 130 chapters operating in 42 states. DSUSA's vision is to ensure that every person, regardless of ability, has an equal opportunity to participate in sports and recreation in their communities. The mission of DSUSA is to provide national leadership and opportunities for individuals with disabilities to develop independence, confidence, and fitness through participation in community sports, recreation and educational programs. Disabled Sports USA's motto reflects this mission: "If I Can Do This, I Can Do Anything!"