The Garden Vibes summer concert series at the George Eastman Museum is back for its 23rd year. The outdoor concerts will take place on the following Wednesday evenings: June 15, July 13, and August 17. Bring a picnic, BYOB, relax with friends, and enjoy family activities in the museum's historic Townson Terrace Garden and the surrounding grounds. Concerts are from 6 to 8 p.m.
 
Wednesday, June 15     
    
Pine Leaf Boys           
This four-time Grammy-nominated band, hailing from southwest Louisiana, have made a name presenting their own inimitable brand of Cajun music with youthful exuberance. Known for their wild shows and thoughtful arrangements, the Pine Leaf Boys have breathed new life into Cajun music, reviving ancient songs and bringing them to the bandstand. The Pine Leaf Boys play the old-fashioned dance hall standards while making a priority to bring many of the more obscure songs of past masters into their repertoire and play them with gusto. pineleafboys.com

Wednesday, July 13   
                   
Matuto
Matuto's songs can sway hips just as easily as spark insights. Instruments (accordion, guitar, bass, drums, cavaquinho, zabumba, and triangle) whirl around the core of Matuto's sound: the syncopations of Brazilian music and the folk traditions of the American South—it's bluegrass meets Brazil. The band's core members share a combined obsession with connecting the dots between Brazil, rural America, and creative reinterpretation of long-standing party-hardy forms. matutomusic.com

Wednesday, August 17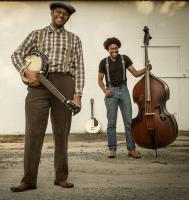 Dom Flemons
In addition to singing, Dom Flemons, the "American Songster," is a multi-instrumentalist who plays banjo, guitar, harmonica, fife, bones, bass drum, snare drum, and quills. As a founding member of the Carolina Chocolate Drops, an African American string band, Flemons was able to explore his interest in bringing traditional music to new audiences. He plays old-time music with a contemporary approach—digging deep into ragtime, spirituals, southern folk, string band & jug band music, fife and drum, and ballad idioms with showmanship and humor. domflemons.com
 
Gates open at 5 p.m. Concert-goers are encouraged to bring blankets and/or chairs and a picnic. Concessions are available on-site from Dinosaur Bar-B-Que, Abbott's Frozen Custard, and the Eastman Museum Café. BYOB (no bar on-site). Non-alcoholic beverages available for purchase.
Admission rates for each of the 2016 concerts: $10 adults, $5 college students (with ID) and youth (ages 13–18), and free to children ages 12 and under with paid adult admission.Museum members get 40 percent off of the standard ticket price, and pay $6 for admission (non-members can join at the East Avenue gate for savings). Each ticket includes admission to the Eastman Museum and children's lawn activities. Tickets are available only at the gate. No refunds; no rain dates. Recorded info, including inclement weather updates: (585) 271-3361 ext. 444.
Garden Vibes is generously supported by Canandaigua National Bank & Trust, Wegmans and Amore Italian Restaurant & Wine Bar, Hyatt Regency Rochester, and the Eastman Museum Council.

About the George Eastman Museum
Founded in 1947, the George Eastman Museum is the world's oldest photography museum and one of the largest film archives in the United States, located on the historic Rochester estate of entrepreneur and philanthropist George Eastman, the pioneer of popular photography. Its holdings comprise more than 400,000 photographs, 28,000 motion picture films, the world's preeminent collection of photographic and cinematographic technology, one of the leading libraries of books related to photography and cinema, and extensive holdings of documents and other objects related to George Eastman. As a research and teaching institution, the Eastman Museum has an active publishing program and, through its two joint master's degree programs with the University of Rochester, makes critical contributions to the fields of film preservation and of photographic preservation and collection management. For more information, visit eastman.org.