There are seemingly endless places to explore in Rochester, but that doesn't have to mean breaking the bank. Check out this list of free things to do around Monroe County and start planning your next excursion!
Nature & The Outdoors
Sunken Garden, Highland Park
The Sunken Garden of Highland Park is one of Rochester's beauties that is a must-see anytime of the year. It is in a peaceful and remote location away from the hustle and bustle of the city, with stone structures and greenery providing the perfect photo op.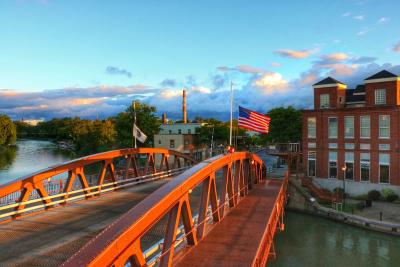 Erie Canalway Trail
While it spans 400 miles in its entirety, there are several different locations throughout Rochester and Monroe County to walk along the Erie Canalway Trail. The flat terrain makes for great biking, walking, jogging, or even sitting down and relaxing with a waterside picnic.

Cobbs Hill Park
Cobbs Hill offers over 100 acres of nature to explore, guaranteeing a full day of free fun. Do some fishing in Lake Riley at the Culver Road entrance, take the kids to the playground, practice your skills at their many sports fields and courts, and end the day by heading to the park's highest point to catch the sunset over the Rochester skyline.
If you are looking to indulge in some history, be sure to stop at Mount Hope Cemetery to pay a visit to Rochester residents Susan B. Anthony, Frederick Douglass, Nathaniel Rochester, and Margaret Woodbury Strong. Guided tours are available for around $12, while members can attend most for free.
Art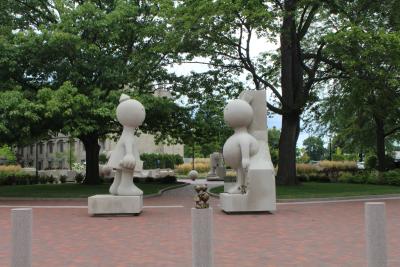 There is a fee to view the art within the Memorial Art Gallery, but there is plenty to explore outside at no cost. The Centennial Sculpture Park spans 10 acres of gallery grounds with unique, larger-than-life pieces. You can also stroll along the Poet's Walk and Story Walk: interactive sidewalks honoring past and present poets as well as facts of Rochester's history.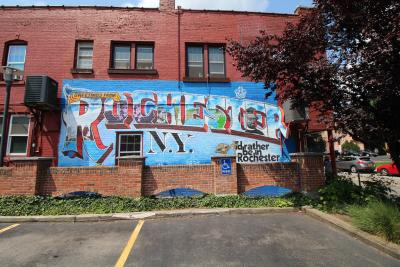 Street Art
Just by walking the streets of Rochester, you are sure to find brilliant art completed by the locals. Specifically, Martin Luther King Jr. Park provides inspiring murals bringing vibrancy and life to the city while reminiscing on the history of Rochester. The South Wedge area is known for its many murals tucked between boutiques, restaurants, and other businesses. The City of Rochester Public Market is a great place not only to pick up fresh, seasonal produce, but it also showcases beautiful street art. Lastly, WALL\THERAPY is an art and community intervention project, using public murals as a means to transform the urban landscape, inspire, and build community. Visit the murals from their 10th Anniversary Festival, with details listed here.
Cool Views
On Saturday nights in September and October, the RMSC Museum and Science Center is offering free telescope viewings run by volunteers of the Astronomy Section of the Rochester Academy of Science (AS-RAS). Depending on the date, weather, and sky conditions, viewers will be able to see various planets and the moon. For more information, check out Telescope Viewing at the Planetarium Observatory.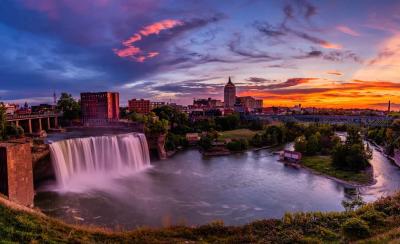 High Falls
High Falls is one of Rochester's most well-known treasures and is free to enjoy! Take a walk along the Pont de Rennes Bridge to get the best view of the 96-foot-tall waterfall flowing through the heart of the city.
Festivals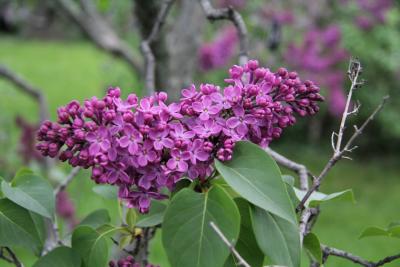 Rochester Lilac Festival
Rochester's annual Lilac Festival is the largest free festival in North America. With over 1,200 blooming lilac bushes, there is plenty of sightseeing to do and photos to take. More than 80 bands take the stage each year, and the Art in the Park show showcases work from artists nationwide.
Rochester International Jazz Festival
The Rochester International Jazz Festival is a nine-day-long music event that features 1,750 musical artists across 19 different venues within walking distance of each other. Headliner shows require tickets, but there are plenty of free shows to enjoy!
Rochester Fringe Festival
The Rochester Fringe Festival offers a diverse blend of over 500 performances including comedy, music, dance, and film. In addition to some paid events, many Fringe shows are free to the public and feature eye-catching performances.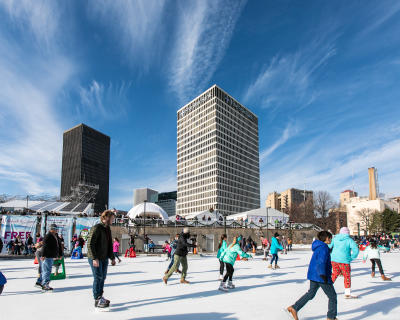 Immerse yourself in a winter wonderland at ROC Holiday Village. Have a visit and take a photo with Santa himself, take a few (or more) laps around MLK Jr. Memorial Park with free ice skating, cozy up by one of the many outdoor firepits, and enjoy live music!
Halloween at the Market
Halloween at the Market is a fun, free event for the whole family. Taking place at the City of Rochester Public Market the Sunday before Halloween, this event includes trick or treating, interactive activities for the kids, several performances, and even arts and crafts.
Summer Series
Bands on the Bricks
For five consecutive nights throughout July and August, the City of Rochester Public Market hosts Bands on the Bricks, one of Rochester's most popular, and free, concert series. Both national and local live music is performed with food and drinks available at an additional cost.
This noontime, lunch hour summer concert series featuring the sounds of local musicians in Rochester's High Falls District. Grab a comfy chair, pack a picnic and enjoy the sounds!
Just outside of the city of Rochester, this fabulous free summer concert series is Penfield's best-kept secret. On Tuesday nights, June through July, bring the family to Penfield Amphitheater and Kiwanis Stage to sit back, relax, and enjoy beautiful tunes from a variety of artists.
The Washington Square Community Association teamed up with Downtown Definitely to host three nights of free movie screenings under the stars. This event is perfect for those of all ages with its family-friendly, magical environment. Food, drinks, and ice cream are available for purchase at local food trucks and vendors on-site.
Hands-On Activities
Mercantile on Main offers patio games such as two 40-foot curling lanes and two 8-foot chess/checker boards. If you're looking for something to fill your time in-between a day full of activities, this is the perfect place to stop by. Several food vendors are also available to grab a bite to eat.
While there is a price to bowl and dine, Radio Social offers fun free activities as well. Outdoor gamed like shuffleboard and cornhole are played on the back lawn during the summertime. In addition, other games are available to enjoy inside along with some great photo ops within the retro atmosphere.
While this location is not completely free, it is still a cheaper option if you are looking for fun on a budget. Their vintage arcade offers 30 classic games, each costing 2-4 tokens to play (tokens can be purchased for 25 cents each). Food and drinks are also available for an additional cost.