When it comes to Rochester, there's so much of the city and its personality that could be summed up as #IfYouKnowYouKnow. But for visitors who have yet to explore Upstate New York, there's so much left to explore! That's why we decided to do the work to highlight the hidden gems of Rochester that may surprise visitors from other parts of the country.
To start, Rochester native, Adena, and Georgia resident, Brittany (who recently visited Rochester for the first time), sat down for a chat to discuss what makes the ROC unique and worth the visit.
 
Adena: Let's start with a warmup question. Did you have any preconceived notions about Rochester that changed once you actually visited?

Brittany: Ooh, great question. Honestly, I went into it with an open mind, ready to discover what makes the city unique. I love traveling and finding the individuality in any new place.

One of my first stops when I arrived was to what I know now to be a Rochester staple. And in a way, you could say it changed my life. I'd heard all the hubbub, but now I understand. Can you guess where I'm talking about?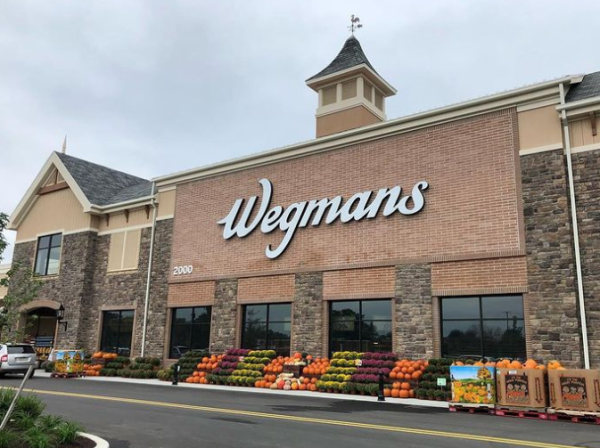 The exterior of a Wegmans grocery store, a well-loved, Rochester-based chain

Adena: Wegmans!

Brittany: You guessed it!

Adena: Yes, it's not your typical grocery store, but one that's often referred to as a foodie paradise. Did you know that Wegmans originated in Rochester? It's often the first stop where we take visitors, or when we go out of town, we hit Wegmans on the way home to stock up on everything from gorgeous produce and baked goods (don't miss the chocolate indulgence cookies or the herb focaccia bread) to fresh sushi (rolled daily) and gourmet cheeses created from the store's very own cheese cave located in the Finger Lakes!

Brittany: And I can definitely see why Rochesterians love it. Is that what you call yourselves, by the way—Rochesterians? Or maybe something cool like "ROC-stars"?

Adena: Ha, sure, we'll take ROC-stars.

Brittany: So, here's a scenario for you: It's Friday night—let's say it's mid-summer and the weather's nice and balmy—and I'd like to go out. Me and my husband. What am I doing?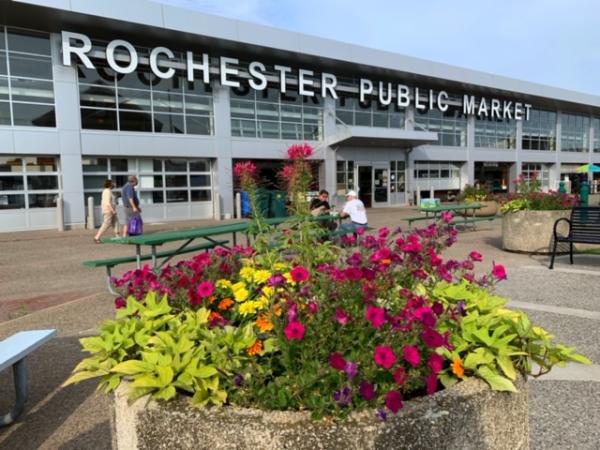 Flowers at the City of Rochester Public Market—an area with a plethora of events and restaurants

Adena: I would head to the Rochester Public Market, but the hardest part is deciding where to start the night! There's Rohrbach Brewing Company for craft beers and German-American food, and there's also Black Button—a grain-to-glass distillery best known for its bourbon, gin, vodka and liqueurs.

If you're craving authentic Mexican and mezcal, visit Bitter Honey. Or for a cozier atmosphere, head to Fiorella for made-from-scratch pizzas and pastas.

Or, you could go to Cure, which offers seasonal French cuisine. In July and August, enjoy live music with Bands on the Bricks.
Brittany: Whew, that's a lot of really great options right off the bat. It all sounds so good! Okay, what if it's me, the hubby and the kids?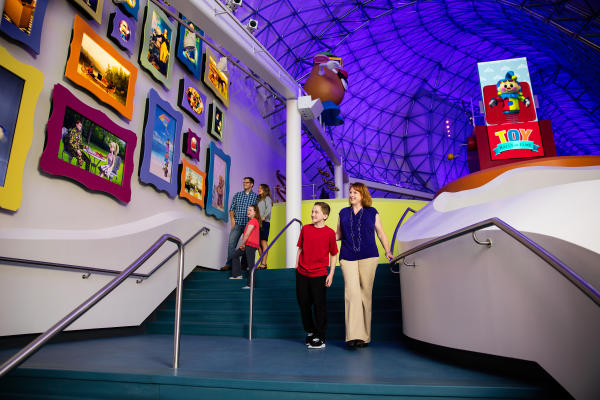 Kids and adults alike enjoy the playful atmosphere at the Strong Museum
Adena: The Strong Museum of Play is a great option. They are open until 8 p.m. on Friday nights with exhibits both kids and adults will love! Some companies actually rent out the whole place for special events.

Brittany: That's awesome! The Strong is on the list for my next visit.

Adena: Oh, and speaking of Wegmans—don't miss the Wegmans Super Kids Market (yes, there's a Toddler Organic Farm and a Market Café!) at The Strong. They can even load food items onto a conveyer belt or play cashier!

Brittany: The Strong is most definitely on my list.

Adena: There's a new Skyline Climb high ropes course, the Toys Hall of Fame where you can browse iconic toys across the generations, a World Video Game Hall of Fame and, one of my favorites, the Dancing Wings Butterfly Garden, the only year-round indoor butterfly garden in upstate New York.
Brittany: Something for everybody, it sounds like. Where's a good place to go with a group of friends?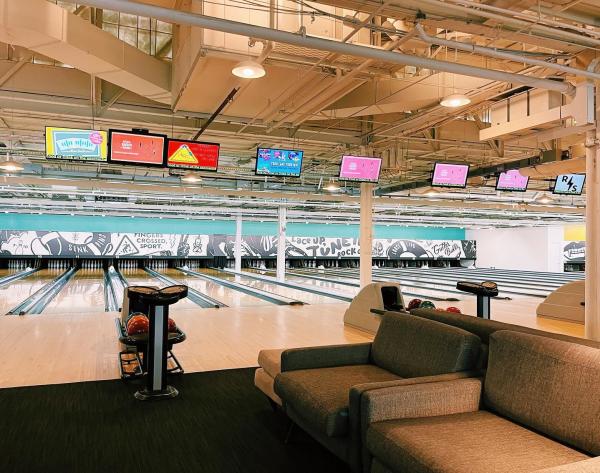 Radio Social is a popular choice for a night out with bowling, drinks, food and more

Adena: I would recommend Radio Social. It's located in a historical warehouse that offers a really unique atmosphere. Start at Ophira for upscale Middle Eastern cuisine and craft cocktails (they also have a whiskey bar!) or there's also a more casual snack bar. Then, it's game time. Choose from bowling or step up to giant Jenga, cornhole and ping pong.   

Brittany: Love that—I'm all for locations that find really interesting ways to reinvent a space. So what about great places to visit with parents or grandparents?

Adena: Yes, give them a fun, scenic and educational experience by taking a cruise along the historical Erie Canal on the Sam Patch! A replica of an 1800s packet boat, the Sam Patch offers 90-minute cruises from May to October that depart from Schoen Place in the charming village of Pittsford. Grab coffee, wine or a tasty meal at one of the neighboring shops or cafés before or after the trip.

Brittany: This is great, let's keep going with the food talk! I've got a pretty wide palate and enjoy trying lots of foods, so all the places you've named so far sound right up my alley. Although, you really should've seen my face when I kept hearing the term "garbage plate" being thrown around. Please clue me in—what is that?!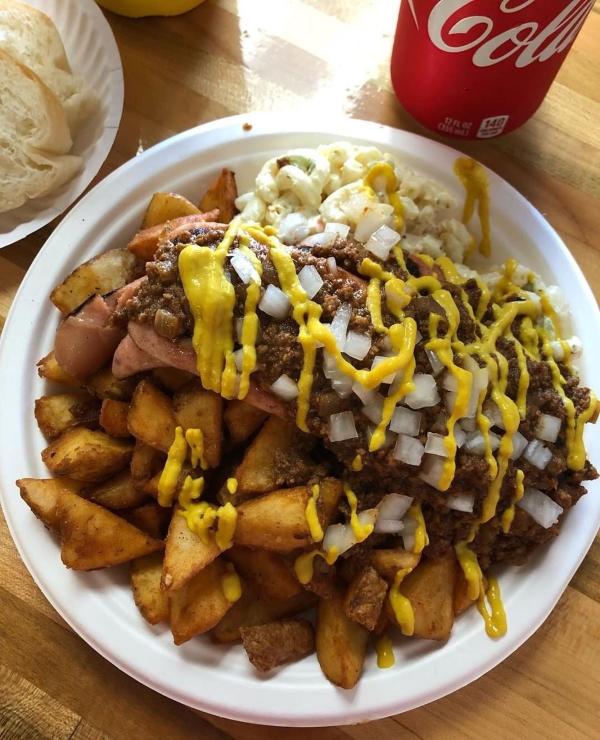 A Rochester Garbage Plate from Nick Tahou's

Adena: Oh yes, and that brings back memories from my college days when we'd travel downtown to Nick Tahou's for late-night food. The dish is made up of meats, fries, mac salad, home fries and sauces all piled high onto one plate! I know…it can be an acquired taste. You can actually find other plays on the garbage plate, from breakfast and dessert dishes to sushi and other healthy offerings at various restaurants across the city.

Brittany: Got it. I'd be willing to give it a shot, and it's cool that the dish has evolved into different types of plates. Any other Rochester staples I should try? I wouldn't be a good southerner if I didn't ask where I could find some barbecue.

Adena: Yes, a great spot is Dinosaur Bar-B-Que. The restaurant is located in a former railroad station built in 1905 and overlooks the Genesee River. The mouth-watering aromas from smokers will wake up your senses as you bring your appetite for crowd favorites such as St. Louis ribs, brisket, and pulled pork, don't forget the homemade sides. And bonus, if you sit outdoors, you can bring your four-legged friend!

Brittany: Aww, my beagle would love that!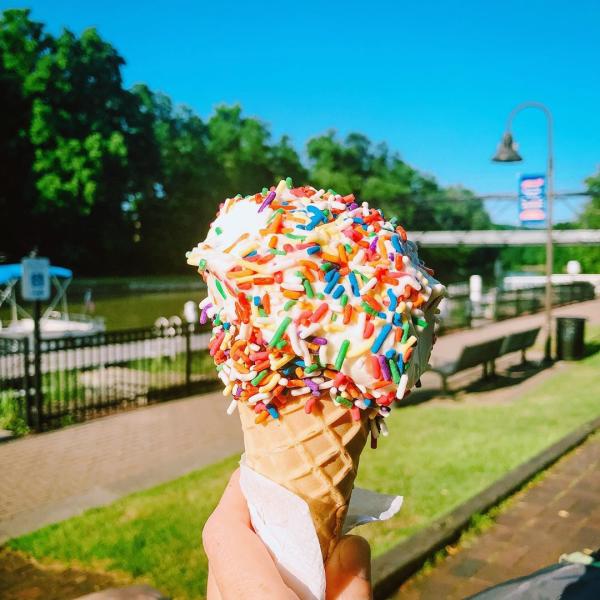 Abbott's is a popular choice for ice cream in the summer

Adena: Another staple that was founded in Rochester nearly 100 years ago is Abbott's Frozen Custard. Their signature flavors are vanilla, chocolate or—my all-time favorite—the chocolate almond. They also have sundaes, flurries, floats and cakes.

Brittany: Oh, speaking of frozen treats: I had a chance to visit the Pittsford Dairy while I was in Rochester. I ended up getting a lemon bar and no actual dairy products, but I think it's really neat that you can buy fresh dairy products there. Brings a whole new meaning to "farm-to-table."

Adena: I love the dairy! The décor alone is adorable—from the chandeliers made from milk bottles to old-fashioned milk jugs that double as seats. In the summer, the line can be long, but it moves quickly and is worth the wait! My favorite ice cream is the coconut almond crunch and they have plenty of fun flavors for kids. The dairy also supports a lot of other local businesses, bringing in products like maple syrup and chai, to gourmet dried pastas, donuts and shortbread cookies.
 
Brittany: All of this delicious food! And now, what to wash it down with? I did learn that Rochester has a pretty expansive brewery scene—I actually got a really delicious sour mash at Iron Tug.

Adena: There are many breweries in all different neighborhoods with their own personalities like Roc Brewing Co., Swiftwater Brewing and Three Heads Brewing. Definitely plan to visit Genesee Brewery—it's a local landmark with a restaurant and great rooftop bar that overlooks High Falls.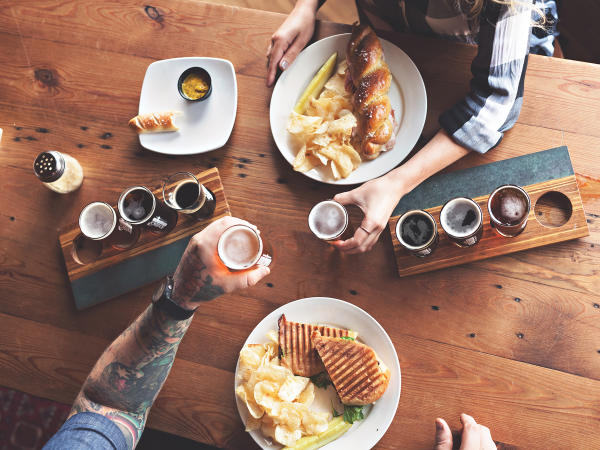 With so many locally-owned breweries in Rochester, there is always something to chose from!

Brittany: Oh yes, I visited High Falls! It's the first waterfall I'd ever seen, actually. And I've heard there are other great waterfalls to behold, but I still thought it was cool. How about wine options?

Adena: When it comes to wine, check out Living Roots, which is Rochester's only urban winery that produces Finger Lakes and South Australian wines. There's also Casa Larga Vineyards, where you can sip your wine and overlook more than 30 acres of sprawling vines.

Brittany: And I know Casa Larga produces ice wine, too. Speaking of cold temperatures... Believe it or not, it does get cold in Georgia, and we occasionally get snow. But it doesn't compare to the winter wonderland I experienced when I visited Rochester this past December! Especially while visiting the ROC Holiday Village. It really was nice to experience the festive ambiance and check out some of the vendors. I actually bought some body scrubs and soap from KB White Farm.

Adena: Yes, that's a wonderful special event we look forward to each year. Did you see the giant igloos or take advantage of the free ice skating?

Brittany: I saw the igloos—such cool spaces to gather and hang out. I didn't ice skate this time, but I'm willing to test my balance and give it a shot. Even my roller skating game needs some work, so give me a few months of practice.

What sorts of things do you like to do when it starts to warm up in the spring?

Adena: Springtime makes me think of Rochester's beautiful Lilac Festival. The largest festival of its kind in North America, it takes place over three weekends at Highland Park. Visitors can walk among more than 500 varieties of fragrant lilacs on 1,200 plants. In addition to the flowers, the festival hosts concerts, a wine tasting tent and craft beer expo, plus art, plenty of food and even a kids zone!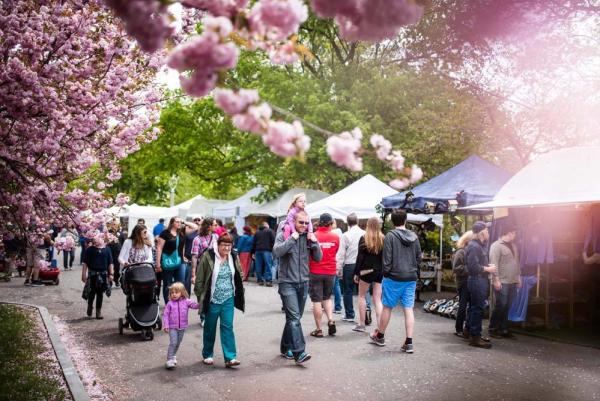 Families and friends gather for the Rochester Lilac Festival each year. Enjoy beer and wine tastings, festival food, and plenty of activities!

Brittany: Very nice! Sounds like locals and visitors alike have a full itinerary year-round, which is awesome! There truly is something for everyone.

Lastly, let's talk about places to stay. Where should a visitor book a room to get the full Rochester experience?

Adena: The Strathallan is a great downtown option. It's a boutique hotel—the main restaurant Char is sleek and delicious, and you don't miss the rooftop bar to enjoy cocktails and take in a sunset. The location is in walking distance to many other restaurants and sites, including the Memorial Art Gallery. You will love their sculpture park!
Brittany: Well, sounds like I've got my accommodations, dining and activities figured out for my next trip. This was really insightful! Thanks for chatting with me.

Adena: Of course! But just remember one thing...
Brittay: What's that?
Adena: First, Wegmans.