Welcome to Rochester USATF Masters Mile Participants!
We are delighted to have the opportunity to welcome you to Rochester, NY. We hope you will find time to explore some of what we have to offer in the Rochester area!

Here are some additional resources that may interest you while here for the race:
Looking for a place to eat? Visit one of our great local restaurants.
If you have some down time and are looking for things to do please check out our Things to Do page.
Looking to dine out as a group? Check out our Rochester Group Meal Guide. 
We encourage you to explore our website for information about the Rochester and Finger Lakes region.
ROC Foodie Bucket List: A guide to everything & everywhere a food lover must eat in Rochester, NY!  
While in town, stop by one of our information booths located in the Frederick Douglass Greater Rochester International Airport and at our Visit Rochester office at 45 East Avenue for additional information!
Have any questions before your upcoming visit to Rochester? Contact our team below!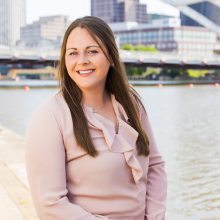 Amanda Fox, CMP

Vice President, Operations & Events
Downtown Rochester, NY Map