A Paddle Paradise
A Paddle Paradise in Rochester, N.Y.!
Free Flowing! Bring your paddle.
We don't want to brag (well, actually we do!) but Rochester is blessed with some of the most beautiful natural surroundings anywhere - and waterways of every kind: the magnificent inland sea of the Great Lake Ontario, the Genesee River, meandering creeks, the spectacular glacial Finger Lakes, the enchanting Erie Canal. Every one of them is perfect for rowing, sailing, canoeing or kayaking.
If you love spending recreational time surrounded by water, Rochester is ready with a wonderful variety of easily accessible waterways -- ranging from scenic and peaceful to exciting and surprising. So while sailboats and motorboats primarily claim the waves of Lake Ontario and Irondequoit Bay, the allure of Rochester's rivers, inlets, coves, and canal belongs to those seeking premier paddling territory.  
Gliding along the Genesee River toward Rochester in a canoe or kayak brings a thrilling sight when the city's skyline suddenly springs into view and the pulse of an urban area mingles with the quiet lapping of oars dipping into the river. Within sight of the skyline, the river's wildlife share the water - egrets, herons, turtles, ducks and more float peaceably near paddlers. 
Don't miss docking for awhile at Corn Hill Landing on the Genesee to enjoy a meal, indulge a taste for great ice cream, or explore a few of Rochester's nearby historic sites.
The Erie Canal - 21st century style
If you paddle in the other direction, you'll find where the Erie Canal flows into the Genesee River. 
Today the Canal is a well-maintained recreational paradise rivaling any canal in the world for beauty and ease of travel.
Along this historic waterway, paddlers will discover charming homes and private gardens, stretches of complete quiet and undeveloped vistas, birds, waterfowl, native wildlife, parks, and picturesque canal-side villages like Pittsford, Fairport, Spencerport and Brockport. Each of these canal ports exudes its own special charm while providing helpful services and amenities for visitors traveling a water-filled "road."
Kayak or canoe - going through a lock is an experience you won't forget. The locks are controlled by friendly lockmasters ready to answer questions or just chat as you float gently up or down inside the lock onto your next discovery.
Want whitewater? 
Maybe a quiet paddle isn't your speed. Like more active fun? Check out the Lock 32 Whitewater Park off Clover Street in Pittsford. One of just three whitewater courses in the country when it opened in 2000; Lock 32's 700-foot-long course has Class II rapids, well-defined squirt lines, two waves and two holes that enable vertical mores (cartwheels), front flips (loops) and other tricks. 
Or go white water rafting through "The Grand Canyon of the East" as the Genesee River gathers full force through magnificent Letchworth State Park.
Lakes and creeks galore
A Seneca legend says that The Great Spirit laid his hands upon the earth in blessing and left the 11 Finger Lakes strung like jewels south of Rochester. These are pure, sparkling glacial lakes full of opportunities to enjoy canoeing, kayaking, hiking, biking, fishing, and birding.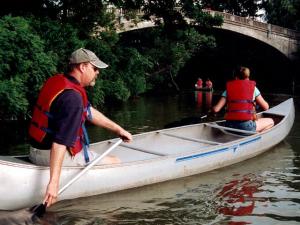 At Ellison Park, canoe and kayak outfitters such as the BayCreek Paddling Center offer rentals and even shuttle rides into the heart of the park so that paddlers can enjoy a carefree mosey down Irondequoit Creek. It's a trip that can take an hour or two; or turn it into a longer excursion with stops for a swim in the creek, a picnic on the shore, and plenty of time to watch sunbathing turtles, nesting swans and other creatures that make their home in this wetland area. To learn more about the history of this naturally beautiful place, sign up for a Back to Nature Kayak (or Canoe) Tour and "float through time" while watching for the birds, mammals and fish that populate this peaceful oasis. 
Genesee Waterways Center (GWC), headquartered in Genesee Valley Park,  is a not-for-profit organization that promotes canoeing, kayaking, rowing and sculling on the many waterways of the Genesee Region. It offers recreational facilities and classes for all ages and levels of ability, with 600 feet of accessible docks serving as an entry point to both waterways and trails. GWC also provides rentals of canoes and flat water kayaks and hosts a variety of community events throughout the year, including regattas, canoe & kayak races, and a whitewater kayaking festival.
Get on the water and compete!
Lockapalooza is a celebration of Rochester's whitewater kayaking community. The annual event is held by the Genesee Waterways Center at the Lock 32 Whitewater Park in August - two days of activities and competitions for kayakers, plus plenty of action to entertain spectators: organized competitions include slalom racing, boatercross and a freestyle rodeo. 
GWC also holds two other race events in spring and summer - the Armond Bassett Canoe and Kayak Race and the annual Rochester River Challenge. 
The Rochester River Challenge "is an inclusive community and Wounded Warrior Disabled Sports event celebrating the sport of outrigger canoeing." It's a full-day affair attracting paddlers to the Genesee River to compete in 400m sprint races, run by a local non-profit organization, Cape Ability Outrigger Ohana, which specializes in providing outrigger canoeing opportunities for individuals of all abilities.
If you're a triathlete, you might enjoy competing in the 2-day SMP River Challenge Duathlon & Paddle Triathlon. The paddle portion is kayak only. You can bring your own or rent one from the GWC.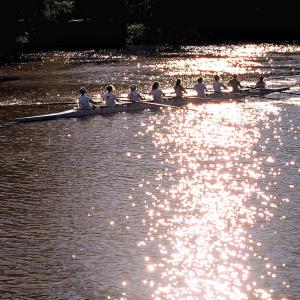 And finally -- the Head of the Genesee Regatta is two days of rowing and sculling races on the GeneseeRiver each October for scholastic, collegiate, masters and corporate crews. Those coming to participate in or watch this well-established event (celebrating its 26th anniversary in 2014) -- can also enjoy a range of other water-related activities during the city's annual Rochester River Romance celebration taking place the same weekend. 
Let's face it -- Rochester's waterways and trails are a goldmine of discoveries for those who love to hike, bike or paddle! Whatever your favorite outdoor recreation may be, we invite you to explore and enjoy this versatile destination. We're always ready to go the distance when it comes to active fun!