A Hiking Paradise
A Hiking Paradise in Rochester, N.Y.!
Free and footloose! Bring your hiking shoes.
Long or short. Challenging or oh-so-easy. From leisurely strolls to "bring those trusty hiking boots,"- the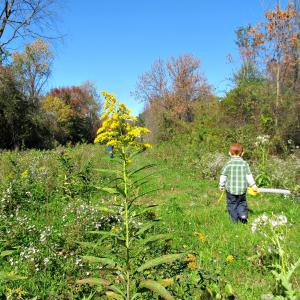 Rochester area has great trails tailor-made for walking and hiking enthusiasts in every season.  Do some urban hiking within the city itself. Hike and climb in some of the area's more natural environments. Nature trails within area parks are excellent for cross-country skiing or a snowshoe trek in winter, too. 
While you lace up, let's start with the parks.
Highland Park - Hike one of the oldest arboretums in the U.S. Designed by the great landscape architect Frederick Law Olmsted, Highland Park offers paved walkways meandering among hundreds of lilac bushes and other flowers, plus a natural path through the park's arboretum.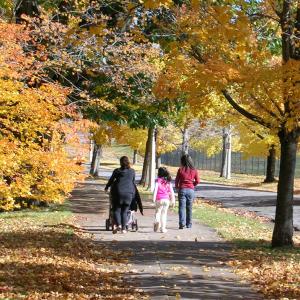 Seneca Park -A two-mile trail in Seneca Park offers dramatic views of the Genesee River along with wilderness areas to experience. Don't be alarmed if you hear a lion roar or the sound of elephants - this park also contains the Seneca Park Zoo.
Genesee Valley Park -- The Genesee Riverway Trail is a 3.4-mile hard-surface trail linking downtown Rochester and Genesee Valley Park, with splendid skyline vistas, heavily wooded areas, picnic spots, fishing docks, and more. Clearly marked with green signs, access points to this trail include downtown Rochester, South Avenue near Court Street, and within Genesee Valley Park. 
The Genesee Riverway Trail - Go urban hiking within just a few blocks of downtown Rochester on wooded trails and walkways with stunning views, wooden viewing decks, a pedestrian bridge, and a canoe launch. There are overlook areas for the Genesee River's gorge and waterfalls along the Genesee Riverway Trail -- easily accessed from Maplewood Park Rose Garden. 
Of course, all of the largest public parks in the Rochester area provide hiking trails as a recreational option.
Mendon Ponds Park - This is a huge park at 2,514 acres full of unique land formations left by retreating glaciers. Landmarks such as "kettles, kames and eskers" have given Mendon Ponds Park recognition on the National Registry of Natural Landmarks, and help make it a fascinating place to hike. Deep pine forests, marshlands, meadows and ponds guarantee your hike here will always be diverse no matter what the season. Snowshoeing and cross-country Nordic skiing are popular activities in winter.
Durand-Eastman Park - At Durand-Eastman Park (965 acres), trails through a hilly terrain sometimes give hikers a view of the park's 5,000 feet of Lake Ontario waterfront, too - an extra bonus! 
Black Creek Park (1,500 acres) offers trails for hiking, horseback riding and cross-country skiing.  Northampton Park (973 acres) adds the attraction of Springdale Farm - animals, gardens, and unique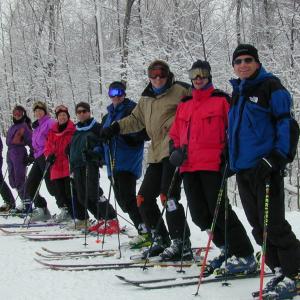 robotic milking parlor there are part of the fun of exploration. 
Powder Mills Park (380 acres) includes a state fish hatchery and a meadow that blooms in May with thousands of daffodils.
Ellison Park (447 acres) contains a network of "hidden" trails providing walks of an hour or more through pristine forests that feel far removed from any trace of civilization. 
To learn more about Monroe County's 12,000acres of parkland, visit www.monroecounty.gov/parks
Diverse and exciting trails
Nearby Perinton has been named a "Top 10 Trail Town" by the American Hiking Society for its impressive 40-mile system of hiking and nature trails
The Thomas Creek Wetland Walk, just outside the canal village of Fairport, is a treat for nature lovers with its elevated boardwalk, observation platform, and trails that are even accessible to people with disabilities.
The Rochester Museum & Science Center's Cumming Nature Center in Naples at the end of Canandaigua Lake is another excellent opportunity for guided and individual hikes and walks throughout the year. Choose the level hike you enjoy through this 900- acre nature preserve on groomed trails in spring, summer and fall. Or snow shoe and ski in winter in a gloriously pristine natural environment. 
For more adventurous hikers, Genesee Valley Greenway is one of the premiere trails in the Northeast. It's a remarkable long-distance trail that will eventually span a 90-mile corridor following an historic transportation route first used as a canal (1840-1878) and later by trains (1880-1960s). Ultimately, it will become a multi-use, all-season trail passing through 5 counties, several villages and 17 townships from Lake Ontario in Rochester to the border of Pennsylvania in New York State's Southern Tier. Fifty miles of trails are accessible between Genesee Valley Park and Letchworth State Park, plus a few shorter sections in other areas. 
Walk along the water
Who doesn't love wild, romantic waterfalls? Rochester's High Falls is a thundering 96 ft. (29+ meter) drop in the heart of downtown! Or view three spectacular waterfalls in Letchworth State Park. You'll find hundreds of waterfalls cascading in the ravines and gullies of the Finger Lakes - a hiker and climber's paradise.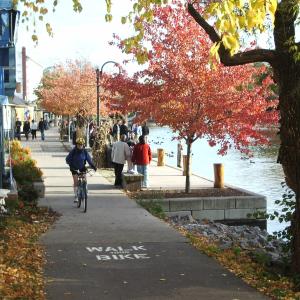 New York's world-renowned Erie Canal System - Flat, safe and open paths run along the canal side through parks and villages for hikes and nature walks.  The world-renowned Erie Canalway Trail offers 450 miles of wonderful views along old towpaths of the legendary waterway created to link Albany and Buffalo. With no motorized vehicles allowed, walkers, joggers, hikers and cyclists enjoy safe, easy traveling. 
The Erie Canal Heritage Trail, part of the longer Canalway Trail, covers 70 miles between Fairport and Lockport. A promenade-style section of this trail through the Corn Hill neighborhood of Rochester also features interpretive signage of canal history along with benches for resting and docking for boats. (The promenade also has one of the best views of the Rochester city skyline.)
And for those who prefer a slower pace while enjoying the great outdoors, there are plenty of fascinating walking-tour routes around this historic city, too.