Visit Rochester is proud to announce that Rachel Laber Pulvino, Director of Communications and Public Relations, has received the 2018 Young Professional Leadership Tourism Excellence award from the New York State Tourism Industry Association (NYSTIA). The Tourism Excellence Awards recognize leaders in New York State's tourism industry. The winning individuals or organizations were selected based on demonstrated commitment, leadership, and accomplishment in travel and tourism.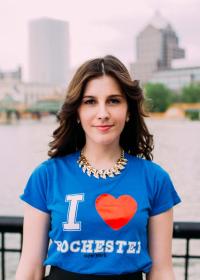 In her nomination, Laber Pulvino was recognized for the work she does to promote Rochester as an ideal destination for visitors to regional, national and international media. She joined Visit Rochester in January 2016, and in her position she is responsible for overseeing the organization's external communications and public relations. 
"Rachel exemplifies the core mission of Visit Rochester as an organization and is a true ambassador for the Rochester community," said Don Jeffries, President and CEO of Visit Rochester. "Throughout her tenure, Rachel has been a driving force in not only promoting Rochester as a tourism destination, but also in helping to engage and inspire our local tourism partners and broader community in Visit Rochester's mission."
"We are very proud of the tourism industry in New York State, and are pleased to lead the celebration of our profession across the state," said president & CEO, Bob Provost. "Honorees, both past and present, have played a role in everything from downtown renaissance to outdoor adventure and environmental awareness; contributed to the success of innumerable local businesses and the creation and retention of thousands of jobs for New Yorkers."
 "The NYSTIA Tourism Excellence Awards celebrate and reward private and public-sector people and organizations that go above and beyond with their marketing campaigns and strategies, producing outstanding results that deserve to be recognized in a state-wide forum. This year's Awards Committee did a stellar job of selecting the best of the best among so many commendable nominations." Meg Vanek, Chair NYSTIA Tourism Awards Committee and Executive Director, Cayuga County Office of Tourism.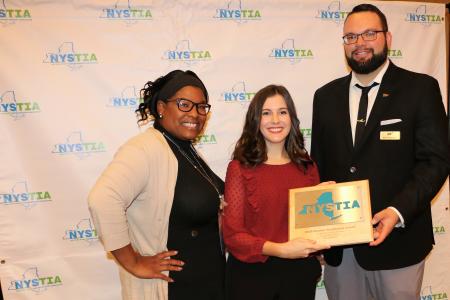 Pictured: Danae Jones-Persip, Empire State Development, Rachel Laber Pulvino, Matt Robertson, AAA Travel 
Laber Pulvino was recognized with the award during the Tourism Excellence Awards ceremony, a part of NYSTIA's Annual Meeting held on October 19, 2018 at the Great Escape Lodge in Lake George, N.Y. For a full list of award winners, please visit www.nystia.org.
About Visit Rochester
Visit Rochester is the official tourism promotion agency for Greater Rochester and Monroe County. Visit Rochester is a membership organization with over 400 members representing, lodging, retail, restaurants, services, and community organizations. Working together with our members and partners, our mission is to sell and market Greater Rochester as a preferred destination in order to grow and maximize visitor spending and to enhance the economy. 
About NYSTIA
NYSTIA strives to increase and enhance economic growth, employment and quality of life in communities across New York State by advancing tourism industry interests and the success of NYSTIA members. To get involved, go to www.nystia.org.