Tickets now available for 2019 KitchenAid Senior PGA Championship at Oak Hill
Best players in senior golf descend on Rochester over Memorial Day weekend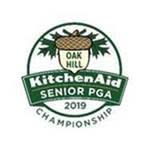 The PGA of America has announced that tickets to the 80th KitchenAid Senior PGA Championship are now available for purchase at SrPGA.com. The Championship, one of the most historic and prestigious events in senior golf, will be played May 21-26, 2019, at Oak Hill Country Club in Rochester, New York, bringing the most accomplished champions and a variety of family-friendly fan experiences to the area.
Daily grounds tickets to the 80th KitchenAid Senior PGA Championship range from $20 to $40. Championship ticket options are available in the following tiers:
Weekly grounds tickets: $165

Daily tickets: $20-$40

Weekly Clubhouse tickets: $375

NEW Flex Four Pack—four tickets that can be used any day of the Championship, offering unprecedented flexibility to match a busy lifestyle: $125
"The greater Rochester community has set the standard as golf's most hospitable and passionate host community," said Bryan Karns, championship director of the 80th KitchenAid Senior PGA Championship. "As anticipated, the early support that we've seen from this community is tremendous. We are eager to welcome the best players in senior golf to Rochester next year. It will be a special week for Oak Hill, area golf fans and the entire community."
The PGA of America will again offer free access to young fans ages 17 and under, as well as the men and women who serve our country in the armed forces. Each ticketed adult may bring up to four juniors under the age of 17 onto the Championship grounds at Oak Hill for free each day; no registration for juniors is necessary.
All active duty, military retirees, active reserve, National Guard, Department of Defense civilians and an accompanying guest will be admitted free of charge to the Championship as part of the PGA of America's commitment to various military initiatives and remembering the men and women who have served in the United States armed forces.
The 80th KitchenAid Senior PGA Championship schedule is listed below. Additional media opportunities and fan experiences will be announced at a later date.
Tuesday, May 21: Official Championship Pro-Am/practice rounds

Wednesday, May 22: Practice round

Thursday, May 23-Sunday, May 26: Championship rounds
Although this is the sixth major PGA of America event to be staged at Oak Hill, it's the first time KitchenAid will serve as a title sponsor of the Championship at Oak Hill. KitchenAid has served as presenting and then title sponsor of the Senior PGA Championship since 2011.
"This Championship provides an entertaining fan experience that brings golf fans, foodies and cooking enthusiasts together," said Deb O'Connor, director of global partnerships for KitchenAid. "It gives us a national platform to connect with our customers, educate consumers about our products and create memorable experiences on the course. We encourage fans to join us at Oak Hill to experience KitchenAid firsthand."
Fans can learn more about the brand sponsorship and get updates at @KitchenAid_golf on Twitter.
For more information about the 80th KitchenAid Senior PGA Championship or to purchase tickets, visit SrPGA.com, call 1-800-PGA-GOLF (800-742-4653) or email 2019srpga@pgahq.com.
ABOUT THE KITCHENAID SENIOR PGA CHAMPIONSHIP
The Senior PGA Championship was born in 1937 on the grounds of Augusta National Golf Club. Since then, famed champions such as Sam Snead, Arnold Palmer, Gary Player, Jack Nicklaus, Tom Watson, Lee Trevino, Raymond Floyd and Colin Montgomerie have hoisted the Alfred S. Bourne Trophy.
ABOUT KITCHENAID
Since the introduction of its legendary stand mixer in 1919 and first dishwasher in 1949, KitchenAid has built on the legacy of these icons to create a complete line of products designed for cooks. Today, the KitchenAid® brand offers virtually every essential for the well-equipped kitchen with a collection that includes everything from countertop appliances to cookware, ranges to refrigerators, and whisks to wine cellars. To learn more, visit KitchenAid.com or join us at Facebook.com/KitchenAid and Twitter.com/KitchenAidUSA.
# # #