Tournament continues 41-year tradition of professional women's golf
When the Symetra Tour makes its stop in Rochester's Brook-Lea Country Club from July 17-23 for the Danielle Downey Credit Union Classic, up and coming LPGA stars in professional ladies golf will play for a good cause, and they can earn their share of $150,000 in prize money as the Danielle Downey Credit Union Classic returns for a third year.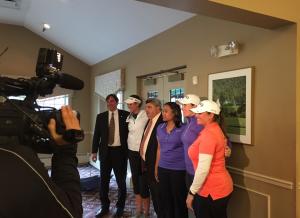 "This is a small drop in our purse this year, simply because we wanted to give more back to the community. When planning a tournament, there is always a balance between having a top flight event, taking care of the players, and taking care of the community. We feel that the plan for 2017 provides a sustainable level for each of those stakeholders. Rochester has been a favorite stop for LPGA professionals for forty-one years with the LPGA and now the LPGA Symetra Tour. We have been given the highest accolades from the tour and the players, and we know that Rochester is still the best Women's Professional Golf town in America," said Tournament Chair Mike Vadala."
Brook-Lea Country Club will host the 7-day long event. Tour players Kendall Dye, Caroline Westrup and Christine Meier will be in town from May 24-May 26 to help promote the event.
Attendees can look forward to: 
Supporting a good cause: For the third consecutive year the tournament has partnered with the Hillside Work-Scholarship Connection (helps area students overcome barriers so they can graduate and pursue their career goals) and the Danielle Downey Scholarship (recipient receives $2,500 for their education and an additional $2,500 to donate to a local charity of choice).
The qualifier event: The Tournament committee will use one of the designated sponsor exemptions to support a qualifying opportunity which will allow local women who compete in the RDGA stroke play championship for a chance to play in The Danielle Downey Credit Union Classic. This event will be presented by Morgan Stanley.
Pro-am format: Golfers of all levels can play side-by-side with some of the best women golfers in the world. Pro-Am guests and sponsors get to meet and greet with their professional player partner at a special reception on Tuesday evening.
Meeting future LPGA players: Known as the "Road to the LPGA," the ten top players on the Symetra Tour automatically graduate to the LPGA each year. It is the only tour with automatic entry onto the LPGA for its best players. So, the best up and coming players in professional women's golf will be in the area in July. In the first two years of our tournament, several future stars have played in the tournament, including Brooke Henderson in 2015, and Nelly Korda and Madeline Sagstrom in 2016.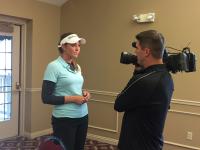 Several local credit unions have agreed to sell discounted tickets to the tournament out of over 20 local offices. These credit unions that have agreed to do so thus far include The Summit, Reliant, Advantage, Family First, St. Pius, and Xceed Financial. As always you can buy tickets at all area Wegmans Service Desks or online.
Corporate packages will be available from members of Brook-Lea Country Club.

MEDIA CONTACTS:
Local contact: Tournament Chairman Mike Vadala 585-734-2630, vadala@summitfcu.org
LPGA/Symetra Tour contact: Bret Lasky, 386-679-1292, Bret.Lasky@LPGA.com
ABOUT DANIELLE DOWNEY CREDIT UNION CLASSIC:
The Danielle Downey Credit Union Classic is a tournament on the LPGA Symetra Tour. The tournament's name pays tribute to Danielle Downey, a Spencerport native who tragically died at age 34. It's a shared love of golf, community and empowering women to achieve their goals that brings the Symetra Tour together with Rochester and Brook-Lea Country Club.