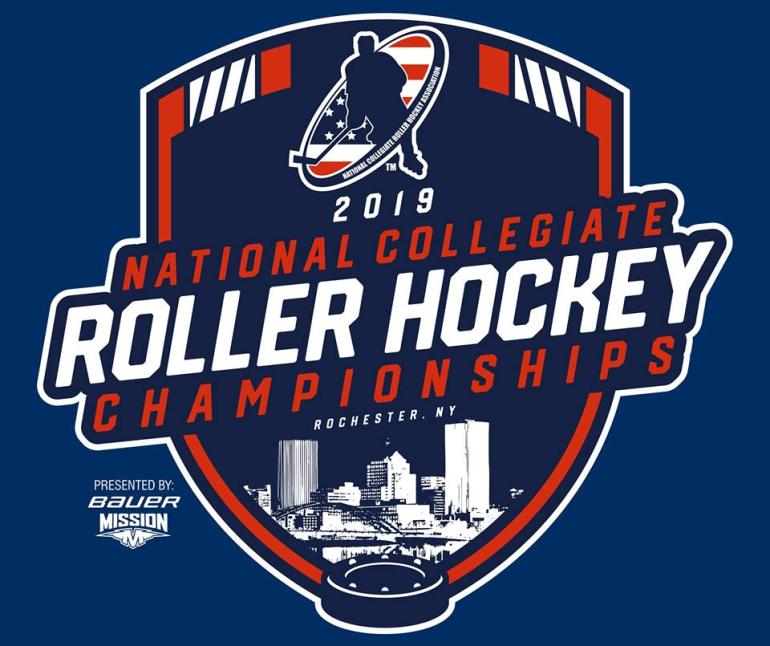 Hundreds of roller hockey athletes will skate into Rochester, NY the week of April 10, 2019. Rochester has been selected to host the National Collegiate Roller Hockey Championships, which will bring more than 55 college roller hockey teams to Rochester for 5 days.
The Championships are expected to bring an estimated 1,200 attendees to Rochester, including athletes, fans and coaches. Athletes and their fans will provide a great boost to Rochester hotels and restaurants. The estimated economic impact of the Championships will total more than $1.2 million, according to Destinations International Economic Impact Calculator.
Games will be played at Bill Gray's Iceplex, one of North America's premier large-scale tournament venues, hosting numerous hockey events throughout the calendar year with teams competing from all over North America.  The event will be presented by NCRHA presenting sponsor, Mission Hockey.
"Our entire team at Bill Gray's Regional Iceplex is thrilled to be hosting this year's National Collegiate Roller Hockey Association's National Championships", said Chris Woodworth, General Manager of the Iceplex.  "Hockey has very deep roots in our community, and we're confident that the entire community will show great support for the organization, but also to the many teams that will be in Rochester competing in this year's event.  Some great hockey will be played over the course of the weekend, with it being unique in that ice will be replaced with a dry-floor, so we urge all local fans of hockey to come out and watch some of the action."
The National Collegiate Roller Hockey National Championships will hold games April 10-14, 2019. Teams will compete by Division. A block schedule for the tournament is available for viewing here.
This is the first time in its history that the National Collegiate Roller Hockey Championships will be held in Rochester. Locally, Rochester Institute of Technology will be competing in the championship, defending their Division 2 championship title.
"We're delighted to welcome the National Collegiate Roller Hockey Championships to the Rochester community," said Don Jeffries, president & CEO, Visit Rochester. "There is no limit to the types of sporting events and groups that we can host here in Rochester. Events like the National Collegiate Roller Hockey Championships bring scores of visitors into our community, benefitting the overall impact of the tourism and hospitality industry in Monroe County."

Event organizers are working closely with the Rochester NY Sports Commission and Visit Rochester to bring this event to Rochester. Visit Rochester's event services team will provide on-site support and an information booth for this event, connecting attendees with all there is to see and do while in Rochester for the National Collegiate Roller Hockey Championships.
ABOUT COLLEGIATE ROLLER HOCKEY
Collegiate roller hockey has been in existence since 1994, when several regional organizations, typically run by a few clubs, were participating.  From 1995 to 1998, these regional organizations came together under various sanction banners, hosting a College Roller Hockey National Championship.
In 1998, 5 such organizations came together to form the Collegiate Roller Hockey League (CRHL).  From 1998 to 2003, the CRHL was the national governing body of collegiate roller hockey, hosting the 1st official national championship tournament in Chicago, IL in April 1999. In 2003, the CRHL announced the formation of the National Collegiate Roller Hockey Association (NCRHA).
ABOUT ROCHESTER NY SPORTS COMMISSION  
The Rochester NY Sports Commission is the sports development arm of Visit Rochester, and works to attract athletic events to Monroe County. The Rochester NY Sports Commission works diligently to promote Monroe County through sports highlighting the important impact athletics have on our community's economic vitality and quality of life. The Rochester NY Sports Commission was recognized by SportsEvents Media Group as a Reader's Choice award winner in 2018.
ABOUT VISIT ROCHESTER
Visit Rochester is the official tourism promotion agency for Greater Rochester and Monroe County. Visit Rochester is a membership organization with over 400 members representing, lodging, retail, restaurants, services, and community organizations. Working together with our members and partners, our mission is to sell and market Greater Rochester as a preferred destination in order to grow and maximize visitor spending and to enhance the economy. The economic impact of the tourism and hospitality industry in Monroe County is more than $1 Billion, and supports nearly 20,000 jobs.
#   #   #