Rochester, N.Y., June 15, 2017– USA Track & Field (USATF) today announced that Rochester will host the 2018 USA Track & Field (USATF) Youth Outdoor Championships on the campus of The College at Brockport, June 26- July 1, 2018. Visit Rochester and the Monroe County Sports Commission teamed up with USATF's Niagara Association for the successful bid.
The event is expected to draw more than 3,000 youth athletes in addition to spectators, families and coaches to Rochester for the six-day event. Organizers expect the Championships to fill 10,000 room nights over the course of the week and generate an estimated economic impact of roughly $4 million. Visitors and competitors arriving from out of town for the USATF Youth Championships will utilize hotels, venues and restaurants across Monroe County.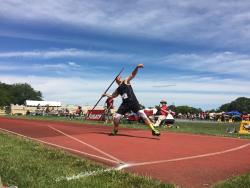 "We are so excited to learn that Rochester has been selected as the site of the 2018 USATF Youth Outdoor Championships," said Visit Rochester President & CEO, Don Jeffries. "Rochester's selection to host this event, following a very competitive bidding process, speaks to this community's strengths as a sports and recreation destination. We couldn't be more excited to welcome the top youth track and field athletes from across the country, along with their families, to Rochester for several fun-filled days in 2018."
"We are thrilled to welcome the USATF Youth Championships to Monroe County. Thousands of young athletes and their families will visit our community in 2018, giving us yet another opportunity to showcase the many attractions that make Monroe County an excellent destination for visitors," said Monroe County Executive Cheryl Dinolfo. "With an estimated $4 million in economic impact in County hotels, restaurants and small businesses during this event, we know our local economy greatly benefits from these kinds of athletic competitions."
All associated championship events will take place on the campus of The College at Brockport.  
"The College at Brockport is honored to serve as the host of the 2018 USA Track & Field Youth Outdoor Championships," said Brockport President Heidi Macpherson. "We look forward to welcoming these youth athletes and their families and showcasing for them all that our campus, the village of Brockport, and the Greater Rochester community has to offer."
Participating athletes range in age from 7-18 and represent some of the most competitive youth track and field athletes in the country. Highlighting a family atmosphere and fun yet high-level competition, the USATF Youth Outdoor Championships is one of USATF's most accessible national championship events – the meet has "qualifying guidelines" but any athlete may compete without going through a qualification process.
"Board Members of the USATF Niagara Association and members of the Local organizing committee are very excited to have this rare opportunity to host a National Youth meet in or area. I've worked many of these meets as an official, and we know youth from all ages in our area will enjoy the chance to compete against peers from all over the country," added Terry Eason, President USATF Niagara.
USATF officials selected Monroe County as the site of the USATF Youth Outdoor Championship following a competitive bid process, thorough site visit and review. The Monroe County Sports Commission played an integral role in securing Rochester as the site of the 2018 event.
"With their successful bid, Rochester and the Niagara Association have stepped forward to provide another top-flight host for our showcase USATF championship events," USATF CEO Max Siegel said. "We look forward to taking the Youth Championships to western New York in 2018."
Events such as the USATF Youth Championships play a key role in contributing to the overall economic impact of the tourism and hospitality industry in Monroe County. Tourism activities in Monroe County generated an economic impact of more than $1 billion in 2015.
About USATF
USA Track & Field (USATF) is the National Governing Body for track and field, long-distance running and race walking in the United States. USATF encompasses the world's oldest organized sports, some of the most-watched events of Olympic broadcasts, the country's No. 1 high school and junior high school participatory sport and more than 30 million adult runners in the United States. For more information on USATF, visit www.usatf.org.
ABOUT VISIT ROCHESTER
Visit Rochester is the official tourism promotion agency for Greater Rochester and Monroe County. Visit Rochester is a membership organization with over 400 members representing, lodging, retail, restaurants, services, and community organizations. Working together with our members and partners, our mission is to sell and market Greater Rochester as a preferred destination in order to grow and maximize visitor spending and to enhance the economy.
ABOUT MONROE COUNTY SPORTS COMMISSION
The Monroe County Sports Commission (MCSC) is a non-profit entity whose goal is to bring organized sporting events of all kinds for all ages to Rochester, New York. MCSC actively solicits amateur championships, sports related clinics and conventions.
#    #    #