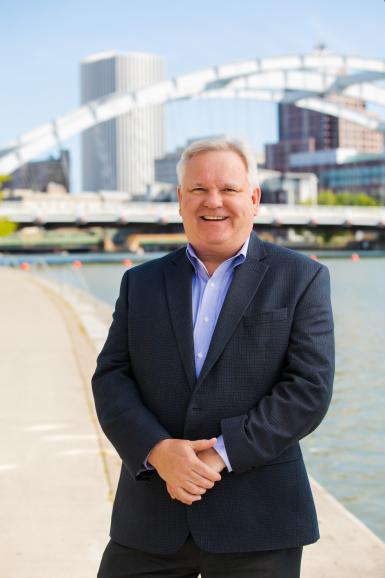 After 41 years, Gregory P. Marshall, Senior Vice President and Director of Marketing, has stepped away from his role at Visit Rochester, the official tourism promotion agency for Monroe County. Marshall's departure comes following a multi-year transition plan, which was first announced to staff in 2018.
During a career that spanned more than four decades, Marshall's contributions to the Greater Rochester tourism and hospitality industries, as well as the Rochester community as a whole, are countless. During his time with Visit Rochester, Marshall helped to shape many different community programs, marketing campaigns, and key initiatives that have helped to consistently grow the tourism and hospitality industry in Monroe County.
Marshall has also acted as an incredible mentor for so many in the tourism industry, not just here in Rochester and the Finger Lakes, but across the country. He will continue to be recognized as a leader in the tourism industry across New York State and on a national level.
When Marshall joined Visit Rochester in September 1978, the tourism landscape looked very different than it does now. The Joseph A. Floreano Rochester Riverside Convention Center had not been built, the Rochester Lilac Festival was a smaller, three-day celebration, and world-renowned events like the Rochester International Jazz Festival and the KeyBank Rochester Fringe Festival were distant pipe dreams.  
Over the course of his career with Visit Rochester, Marshall created several award-winning programs that drove tourism to Rochester, NY. Programs and marketing campaigns implemented in recent years including the Cross Border Showcase, a co-operative program designed to attract Canadian visitors to Rochester and Upstate New York. At one point, Cross Border Showcase was the largest Canadian marketing campaign in New York State. Marshall was also fundamental in creating the successful Wine, Water & Wonders campaign, an itinerary-driven program created to take group and individual international visitors arriving in New York City through Rochester and the Finger Lakes on their way to Niagara Falls.
"On behalf of all current and past employees of Visit Rochester, I would like to sincerely thank Greg Marshall for his many contributions to Visit Rochester and the tourism industry as a whole," said Don Jeffries, president & CEO, Visit Rochester. "Greg is leaving behind an incredible legacy and his work will shape our efforts to promote Rochester as a premiere destination for years to come."
During his 41 years with Visit Rochester, Marshall worked under seven different presidents of the organization, and worked alongside more than 60 different employees. In fact, when Marshall was hired he was just the third employee for the organization at that time.
Marshall will remain in Rochester and will be embarking on new endeavors within the tourism industry, including projects with a focus on national roads and scenic byways, diversity and accessibility in the travel industry among other areas of focus.