Visit Rochester's vice president of convention sales & services, Deidre Wetelainen, has been recognized by the Connect Association as a 2017 40 Under 40 Honoree. The Connect Association is an industry-leading meeting planning organization and association. The Connect 40 Under 40 is a program of Connect Association magazine, a trade publication for the association, professional organization and specialty group meetings industry, delivering intelligence and observations from business, culture and innovation to reimagine today's meetings.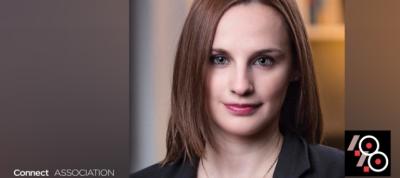 Wetelainen will be recognized as a 40 Under 40 honoree during the Connect Association Marketplace, a major tradeshow in the meetings industry that brings together meeting planners, suppliers and experts in corporate, association, specialty, expo and sports meetings and events. The Connect Marketplace runs August 21-23, 2017 in New Orleans, Louisiana.
 "We're very proud of Deidre for receiving this well-deserved industry recognition," said Don Jeffries, president & CEO, Visit Rochester. "Deidre is constantly thinking outside of the box and putting her creative energy into new ideas and initiatives that will further set Rochester apart and above the competition in the meetings and convention sales industry. She is an ambitious and spirited team leader and we couldn't be more proud of her receiving this recognition."
Wetelainen has been providing strategic leadership in the hospitality industry for 17 years. At Visit Rochester, Deidre oversees the Convention Sales & Services function and helps the leadership team drive Visit Rochester's strategic plan. Having spent her entire career in the hospitality field, Deidre understands that the key to long-term business success is maintaining a sharp focus on satisfying client goals and finding the business before the competition does.
Under Deidre's Leadership, the Visit Rochester Sales Team was recently recognized by Smart Meetings Magazine with the 13th annual Platinum Choice Award for the second year in a row.
To learn more about Wetelainen and her recognition, please visit: https://www.connectyourmeetings.com/feature/40-40-deidre-wetelainen/