One of the Largest Girls' Ice Hockey Tournaments in North America to Visit Rochester 
Between now and the end of the year thousands of youth hockey players from across the country will pass through Rochester competing in one of several hockey tournaments taking place over the next few weeks.
Rochester plays host to numerous hockey tournaments throughout the season. Tournament directors, organizers and coaches appreciate the quality of facilities available to teams competing in Rochester, as well as the variety of lodging, dining and entertainment options for families of players and fans to enjoy during downtime from competition.
One of the first major hockey tournaments to visit Rochester this fall is the mega-tournament Fire on Ice, produced by Legacy Global Sports in partnership with Bauer Hockey. Bauer Fire on Ice is one of the largest girls' ice hockey tournament in North America. During the tournament 99 teams will compete, with athletes traveling from Massachusetts, Pennsylvania, New Jersey, Connecticut, Illinois, North Carolina, Colorado and Canada.
"The athletes and their families who visit Rochester through events like Bauer Fire on Ice and the many other tournaments we host are an important visitor audience for Visit Rochester," said Don Jeffries, president & CEO, Visit Rochester. "By hosting youth athletic tournaments, we are able to reach entire families with information and recommendations on Rochester, our athletic facilities, attractions, restaurants and more. Visiting athletes, their families and tournament organizers directly contribute to the tourism and hospitality industry's economic impact of more than $1 billion in Monroe County."
New in 2017, in conjunction with Bauer Fire on Ice tournament, Rochester will be the site of a National Women's Hockey League (NWHL) game. The defending NWHL Isobel Cup champion Buffalo Beauts will face the New York Riveters on Saturday, Nov. 4 at 7:30 pm at the 2,500-seat Bill Gray's Regional Iceplex.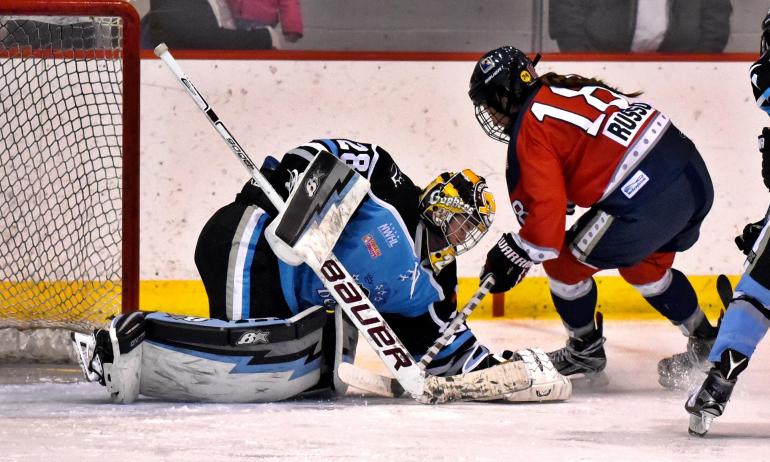 Amanda Leveille of the Buffalo Beauts covers the puck as Rebecca Russo of the New York Riveters crashes the net in search of a rebound. Photo by Troy Parla
"We can't wait to bring the NWHL to Rochester," said NWHL Commissioner Dani Rylan. "To grow the league and promote the women's game, one of our goals is to present NWHL games in different settings. We're proud to showcase our players before the thousands of girls' hockey participants in the Fire on Ice tournament."
Upcoming Hockey Tournaments in Rochester, Fall 2017
Bauer Fire on Ice is one of the first major hockey tournaments in Rochester this winter. There is a tournament scheduled almost every weekend until the end of 2017. Details on upcoming tournaments including dates, location and estimated attendance continues below.
National Junior Prospects Hockey League
November 10-11, Bill Gray's Regional Iceplex
National Junior Prospects is a tournament series created to help players showcase their skills to reach the next level of hockey. This is the third year they have hosted their regional showcase event here in Rochester. The tournament is expected to draw 600 attendees.
Superseries – 2017 November and December Madness
November 16 – 18, 2017, Bill Gray's Regional Iceplex; December 14 – 16, 2017, Bill Gray's Regional Iceplex
Superseries AAA is a national organization that hosts elite level hockey events across the country. In their second year here in Rochester they have increased their presence and brought their bracket madness series to the Bill Gray's Regional Iceplex. Each tournament has an estimated attendance of more than 1,500.
2017 Mites Full Ice
December 8-10, Bill Gray's Regional Iceplex
Legacy Global Sports has continued to grow their tournament series in Rochester and bring more of their high level events to the area, with the goal of continuing to grow the passion for the game. The Mites Full Ice tournament has an estimated attendance of 1,400.
For more information on upcoming tournaments and other sports events, please visit http://www.monroecountysports.org/.  
ABOUT VISIT ROCHESTER
Visit Rochester is the official tourism promotion agency for Greater Rochester and Monroe County. Visit Rochester is a membership organization with over 400 members representing, lodging, retail, restaurants, services, and community organizations. Working together with our members and partners, we strive to provide the best experience to all visitors to our community, including both business and leisure travelers.
ABOUT MONROE COUNTY SPORTS COMMISSION
The Monroe County Sports Commission (MCSC) is a non-profit entity whose goal is to bring organized sporting events of all kinds for all ages to Rochester, New York. MCSC actively solicits amateur championships, sports related clinics and conventions.
#   #   #