The 2017 Explore Greater Rochester Guide, the official visitor's guide to Greater Rochester and Monroe County, is now available. The Explore publication is a partnership between Visit Rochester and the Rochester Business Journal.
The 2017 edition of Explore Greater Rochester highlights the best of local events, entertainment, the arts, food and drink, shopping, sports, parks and recreation, museums and more!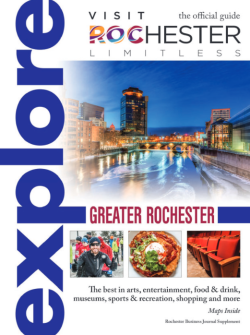 With so much incredible content to cover, it's no wonder this year's visitor's guide contains nearly 100 pages of information and photos highlighting what makes the Greater Rochester region and the Finger Lakes a special place to visit, live and work.
Visit Rochester member organizations are indicated by special markings throughout the guide.
Explore Greater Rochester is used as the primary collateral piece shared with prospective visitors who request information on our area. The visitor's guide is also distributed to meeting and convention delegates visiting the Greater Rochester area. 
Explore Greater Rochester is just as great of a resource for local residents as visitors. The guide connects visitors and residents with the hundreds of events, festivals and entertainment options that exist in Rochester. The 2017 visitor's guide also spotlights new local developments such as the resurgence of downtown living spaces, a local cocktail revolution, new eateries and a special section commemorating the 100th anniversary of woman's suffrage in New York. 
Explore Greater Rochester is available to visitors at local hotels, area attractions, visitor information centers and the Greater Rochester International Airport. Rochester Business Journal subscribers will also receive a complimentary copy of the guide with the April 14 edition of the paper.
The visitor's guide is available for download online. For more information or to request a visitor's guide, please contact Visit Rochester at (585) 279-8300 or (800) 677-7282 or visit our website at visitrochester.com.