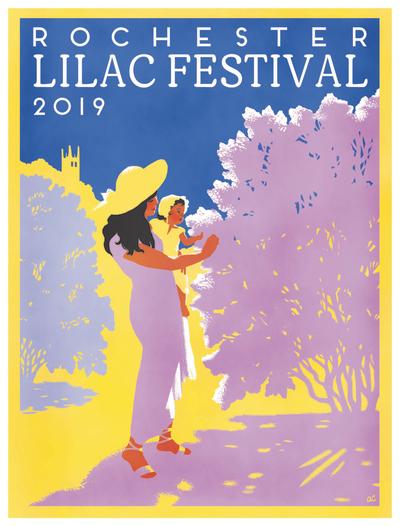 121st ANNUAL ROCHESTER LILAC FESTIVAL POSTER REVEALED
Organizers Announce Opening Day Ceremony partnership with United Way
Today the poster for the 2019 Rochester Lilac Festival presented by Five Star Bank, was revealed. This annual moment in time marks the final count-down to the highly anticipated annual event, which is now less than a month away. This year's poster was commissioned by local artist Alison Coté, who is an award-winning vintage style graphic designer specializing in poster art.
ADDITIONAL ANNOUNCEMENTS
Opening Day Celebration – We are happy to announce that we continue our relationship with United Way of Greater Rochester to make Opening Day memorable. We'll partner with them to help bring awareness to their on-going campaign "Dear Rochester"! You can visit them at the Highland Ave./South Ave. entrance, where they will be showcasing a collage-wall of "Dear Rochester" notes and have a photo booth on-site.
Lilac Flowering Outlook
Mark Quinn, Superintendent of Horticulture for Monroe County Parks, shared his outlook for the 22 acres of lilacs in Highland Park, the largest collection in North America. "Highland Park's lilac collection has fared well through the winter. The shrubs are in excellent condition and with the warming spring temperatures the lilacs are on progress toward blooming. We are looking forward to the lilacs providing a fantastic show of color and fragrance in May!"
With more than 150 acres of gardens at Highland Park there are a variety of flowers, trees, and plants like sweet magnolias, azaleas, and pansies. "It's a park for all seasons and all reasons," said Festival Producer Jeff Springut. 
Local Music Line-up
The Rochester Lilac Festival has a wide variety of free concerts, with more than 80 musical acts during the 10-day Festival. Visitors are sure to find something the whole family can enjoy. In addition to the major music performances previously announced, many local acts will also grace the Sahlen's Center Stage. Local performances include: nobody's marigold, Danielle Ponder and the Tomorrow People, The Medicinals, The Buddahood and many others.
"We are very pleased to serve as presenting sponsor for the Rochester Lilac Festival for the third consecutive year," said Marty Birmingham, Five Star Bank President and CEO. "This is a premier event, showcasing the beauty, history and vibrancy of our city. At Five Star Bank we understand that as an employer, neighbor and steward of the communities where we operate, our responsibilities extend beyond the delivery of banking, insurance and investment solutions. By supporting the Lilac Festival, an event that is free to attend and accessible to all, we are investing in our community by enriching the lives of its residents. We are looking forward with anticipation to another successful event at Highland Park."
"The Lilac Festival is a time-honored tradition that helps to showcase the outstanding quality of life we enjoy here in Monroe County," said Cheryl Dinolfo, Monroe County Executive. "Over 500,000 visitors to the Festival will make an estimated $3 million impact on our local economy, helping to support more jobs for our friends and neighbors. I'm proud to join our partners and sponsors for another year of free admission and family fun at the 121st Lilac Festival. I look forward to seeing everyone at Highland Park!"
"The beauty of Highland Park and its spectacular lilac collection attracts all ages from near and far during this 10-day Rochester tradition, as we live up to our name as 'The Flower City'," Mayor Lovely Warren said. "The event provides our area with an economic boost, which helps us in our mission to create more jobs, safer and more vibrant neighbourhoods and better educational opportunities. I would like to thank everyone who helps to make this event a reality."
"We are excited to welcome thousands of visitors to Rochester and Monroe County for the 121st annual Rochester Lilac Festival. Each year the festival grows larger, and interest in the event from visitors near and far continues to increase," said Don Jeffries, Visit Rochester president & CEO. "We are proud to welcome visitors to the Rochester Lilac Festival and to show off our world-renowned collection of lilacs in Highland Park. Visitors to Rochester for events like the Rochester Lilac Festival contribute to the overall economic impact of tourism in our community through hotel room stays, visits to local restaurants, shopping, entertainment and much more."
About Rochester Lilac Festival 
The Rochester Lilac Festival is presented by Five Star Bank and hosted by the County of Monroe, the City of Rochester and Visit Rochester.