Meet some of the meeting and conferences that chose Rochester, NY as their preferred destination this May.
American Contract Bridge League Upstate Regional Duplicate Bridge Tournament
May 1-7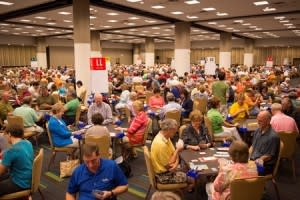 RIT Inn & Conference Center
The ACBL has approximately 3,200 affiliated clubs whose focus is duplicate bridge. Throughout America, a club for that purpose is almost always available to the players of the community. Keen players are always eager to pit their skills against others, which is why the ACBL sanctions more than 1200 tournaments a year. This year the upstate regional tournament will be held in Rochester, NY.
Twitter/Facebook: @ACBLbridge
Harmony, Inc. Area 3 Convention 2017
May 4-7

Hyatt Regency Rochester
Harmony, Inc. is an international, non-profit organization whose purpose is to empower all women through education, friendship and a cappella singing in the barbershop style… Since 1959, the organization has expanded from its Eastern roots to include chapters in the United States and Canada from California to Newfoundland, and from Manitoba to Florida. Contests and conventions are held each year for the purposes of educating members in the performance of the craft, bringing together the membership to see the best perform, to inform the membership of the status and direction of the organization, and to encourage an atmosphere of friendship and camaraderie.
Twitter/Facebook: @HarmonyInc/@Area3HarmonyInc
Young Entrepreneurs Academy 2017 Saunders Scholars Competition
May 4-7

DoubleTree by Hilton – Rochester
The Young Entrepreneurs Academy (YEA!) is a groundbreaking and exciting program that transforms local middle and high school students into real entrepreneurs. Through the year-long program, students in grades 6-12 generate business ideas, conduct market research, write business plans, pitch to a panel of investors, and launch their very own companies… Entrepreneur and philanthropist E. Philip Saunders has provided the Young Entrepreneurs Academy a ten-year, transformational gift to provide young entrepreneurs, inventors, and innovators an opportunity to earn significant college scholarship awards. Mr. Saunders and the Academy believe in aligning passions, interest and skills with higher education. The YEA! Saunders Scholars Competition brings together the top student businesses from each YEA! class around the country to compete to win scholarship dollars, and business start-up prize packages.
Twitter/Facebook: @YEAusa
Toastmasters International District 65 Spring Conference
May 5-7

Radisson Hotel Rochester Riverside
We empower individuals to become more effective communicators and leaders…We provide a supportive and positive learning experience in which district leaders are empowered to develop communication and leadership skills, resulting in greater self-confidence and personal growth.

Twitter/Facebook: @TMDistrict65/@toastmastersd65

Empire United Soccer Academy
2017 Adidas Empire Cup Boys College Showcase
May 6-7
Empire United Soccer Academy 2017 Adidas Empire Cup Girls College Showcase
May 13-14

Batavia Sports Park & Genesee Community College
The Empire Cup College Showcase invites boys and girls teams U13 through U19 to participate in our 15th annual Showcase in Rochester, NY area. Rochester is located in Western New York and is easily accessible by major highways. The Showcase has traditionally drawn teams from throughout New Jersey, Delaware, New York, Pennsylvania, Connecticut, and Canada. The Empire Cup College Showcase is the premier college showcase in the Northeast. It draws nearly 100 coaches each year due to high-level competition, great natural grass facilities, and great atmosphere.
Facebook: Empire United Soccer Academy

American Glass Guild 2017 American Glass Guild Conference
May 17-20

Radisson Hotel Rochester Riverside
The AGG is an inclusive organization that encourages the participation of all people with an interest in stained, leaded and decorative glass and its preservation and restoration… If there's only one conference you can attend this year, make it this one! Our Conference Chair Nancy Gong, a Rochester native, has pulled together a slate of presenters and panelists, demonstrators and workshop instructors that is excellent and extensive.
Twitter/Facebook: @AGG_glass/@AmericanGlassGuild
Flower City Comic-Con 2017
May 19-21

Hyatt Regency Rochester
Our goal is to bring you a unique convention experience with the best of all genres, from Science Fiction and Fantasy, to Cosplay and Gaming, and everything in between.
We believe that not only should you have an amazing selection of guests, vendors, and artists, but you should also have an amazing experience that will bring you back again and again.

Twitter/Facebook: @fc3roc
Women Infants and Children of New York State Annual Conference 2017
May 21-24

Hyatt Regency Rochester
The Annual WIC Association of NYS Conference attracts more than 350 nutritionists, registered dietitians, nurses, lactation counselors, physicians, public health students and other healthcare providers of women, infants, and children. The conference covers a myriad of topics ranging from nutrition and health issues, breastfeeding education, to management issues, and effective participant centered counseling skills. It is our expectation that through plenary sessions, workshops, and exhibits, conference attendees will learn new ways to promote positive, healthy change in themselves, their organizations and the people they serve!
Facebook: @NYCWIC