A (not too serious) guide to the infamous Rochester dish
The "Garbage Plate" is a thing of legend. This notorious local street food has been documented in many articles and news stories around the nation.  Here at Visit Rochester, it is often one of the first things visitors ask about—especially food adventurers. So here is our guide to tell you what you need to know, dispel some myths, and dare you to visit Rochester and taste it for yourself.
What You Need To Know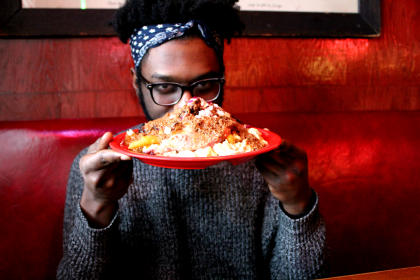 The name "Garbage Plate" is trademarked by Nick Tahou Hots, home of the original Garbage Plate.  Visitors will also find other versions of this dish (and variations on it) on menus all over the Rochester area. From small hamburger joints, to fine dining restaurants and everything in-between. Each restaurant puts their own spin on it—there are some who have created healthy versions, upscale versions and yes, there is even a sushi version. Names also vary, on some menus it is called the "Rochester Plate," a "Trash Plate," or a "Trasher Plate." Other clever names include the "Compost Plate," "the Sticky Icky Plate," and the "Junkyard Plate."
What Is A Plate?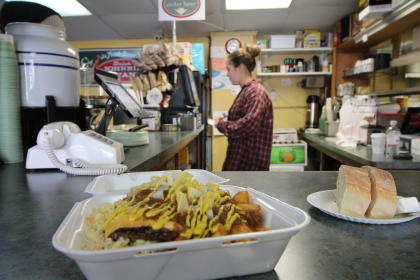 A traditional plate is your choice of cheeseburger, hamburger, Italian sausages, steak, chicken, white or red hots*, served on top of any combination of home fries, french fries, baked beans, and/or macaroni salad. The plate is usually topped with "hot sauce". Rochester hot sauce is a spicy meat sauce.  Optional mustard and onions may be added on top (as a heartburn garnish).  It is usually served with a side of buttered bread. But don't let the description or name deter you, it is not unlike other dishes where food of a similar genre are all piled on top of each other (we're looking at you Taco Bell Border Bowl).
Nick Tahou's And The Legend
Legend has it that Nick Tahou invented the plate late one night when some college students came in to the restaurant and requested a plate with "all the garbage on it". The owner then made his new variation of the combination plate. Over time it grew into a local favorite. Today, Nick Tahou's (celebrating 100 years in business in 2017) stands in the same location in downtown Rochester serving up this heaping meal every day. It is located along (although not part of) the Rochester Heritage trail. Which makes it a convenient stop for visitors on their way to or from the Susan B. Anthony Museum & House.
Rochester And The "Garbage Plate"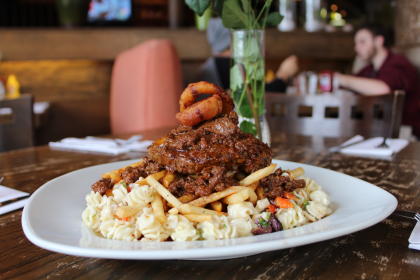 For locals, the "Garbage Plate" is something one either loves or loathes (Read Boomtown Table: The Great Plate Debate). For those who love it, it is a local treasure and they have strong opinions on where to get the best plate. For others...well let's just say, its not the healthiest thing you may ever eat and it is certainly not for the faint of heart. However its fame and notoriety has earned it attention from all over the U.S.  Visiting performers like comedians often make it part of the show (John Stewart, Second City, Jim Gaffigan). It has also been featured in many magazine articles, blogs and other news media (see links below).
Okay, Great...Now Where Do I Get One?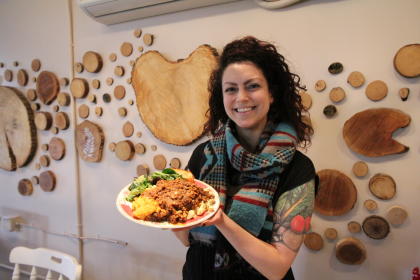 Ah...you are brave aren't you. Very well then, a complete list of plates would be enormous--so here's a "short" list to get you started. Keep in mind, Rochester and the Finger Lakes are so much more than this one gastronomic marvel. Our region is rich in culinary delights that rival larger cities and create memorable experiences for foodies all over the world. (Read: Food, Wine & Beer in Rochester and the Finger Lakes).
Nick Tahou Hots   
Garbage Plate (The Original)
Traditional

Bill Grays    
Great Plates   
Traditional
Junkyard Dog Plate
Traditional
Jeremiah's Tavern
The "1104" Plate
Traditional
The Sticky Icky Plate
BBQ

Marshall Street Bar & Grill    
Volcano Plates 
Traditional
Trasher Plate
Sushi fusion plate
The Cub Room
Prohibition Platter
upscale
Gate Plate 
Upscale
Effortlessly Healthy    
Paleo Plate
Healthy
Genesee Brew House
Genny Plate
Traditional
Compost Plate         
Vegan/Vegetarian
Rochester Red Wings at Frontier Field
The Trash Can
New in 2017
*hots are a Rochester version of hot dogs. These meaty sausages come in two varieties "red" and "white". The most popular hots are made by Zweigles, a local company.