Black Button Distilling, Rochester's first grain-to-glass craft distillery to open since prohibition, will celebrate a decade of crafting high-quality small batch spirits this June. Founder and Master Distiller Jason Barrett sat down with Visit Rochester to talk about some of the things that make Black Button Distilling uniquely Rochester.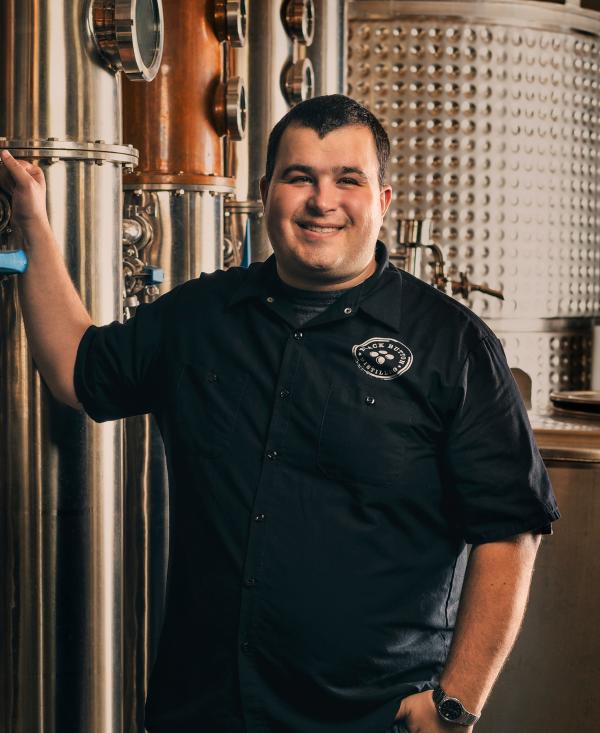 Black Button Founder and Master Distiller Jason Barrett
Q: What makes Black Button Distilling spirits unique?
A: Nobody makes bourbon the way Black Button does - literally. At every step in the process, our spirits are made from the best that the Rochester and Finger Lakes region has to offer. First, the water we use comes from the Genesee Valley aquifer - Hemlock Lake's water filters through limestone. And the grain we use comes from nutrient rich soil at Edgewood Farms which creates uniquely flavorful grains. The Oak barrels we use are stored in fluctuant Northeastern temperatures - cold as well as warm weather, which impacts the flavors. Finally, we use a double pass distillation process, a method that's completely unique to Black Button Distilling. 
Q: The Rochester and Finger Lakes region is known for its abundant agriculture. Do they have an impact on the finished product? 
A: As a New York State Farm Distillery, over 90% of our ingredients are grown or produced in New York State. We say that our spirits are "grain to glass," meaning that they're a hand-crafted product made from the best ingredients from local farms. 
Farms are a vital part of the process. Without farms we'd have no grain. Without grain, we'd have no bourbon. The farms and farmers in the Finger Lakes and Rochester region are some of the hardest working people around and part of a history of the grit and perseverance of Western New Yorkers. Local farmers are also working with great soil and unique weather conditions. We have over 400 feet of topsoil in certain parts of the Genesee Valley. This rich fertile ground is blessed with abundant fresh water and a temperate climate, as it's between, and just west of the Great Lakes. Our summers are warm but not so hot that we scorch the grains as we grow them. In addition to contributing to making the best tasting spirits around, using locally farmed ingredients helps the local economy. We strongly believe that supporting local businesses contributes to the overall health of our region's economy. We're deeply committed to Western New York.
Q: Black Button Distilling is turning ten years old. What's in store for the next decade?
A: When I founded Black Button Distilling, I wanted to apply the same values that my grandfather had to my own business: hard work, entrepreneurship, and community. With those values in mind, we've been able to accomplish more than I had ever imagined. 
Now, ten years in, Black Button spirits are going head-to-head with Kentucky's finest. And, as one of the six founding distilleries of Empire Rye, we're part of a push to bring New York State's unique rye whiskey tradition to the world. Today, this group is committed to the Empire Rye designation and seal of authenticity, which requires the use of local grains and other standards. We look forward to bringing New York State spirits to the forefront nationally - and beyond. 
And we will continue to be an active member in Rochester's business community. There are exciting initiatives on the horizon for Black Button Distilling in Rochester, and we're grateful to the entire Western New York community for their support over the years. We anticipate expanding our production and retail space to accommodate growing demand while continuously improving visitor experience. We will also continue innovating new products like rare and limited release bourbons and gins. We can't wait to share what's next.
Black Button Distilling will celebrate a decade of crafting high-quality small batch spirits with a Cheers to 10 Years Anniversary Party on Thursday, June 2nd from 5-8 p.m. at the Black Button Distilling Tasting Room (85 Railroad St., Rochester). VIP and General Admission Tickets Available.
For additional details and to learn more about Black Button Distilling, visit www.blackbuttondistilling.com.