Each March the top 4 teams in the Atlantic Hockey Conference take to the ice at the Blue Cross Arena in Rochester, N.Y., for the Atlantic Hockey Championship. Fans traveling to Rochester for the Atlantic Hockey finals will find lots of things to see and do, places to stay, places to eat, and much more. 
Where to Stay:
Check into a room at one of four hotels located in downtown Rochester that are steps away from the Blue Cross Area, where the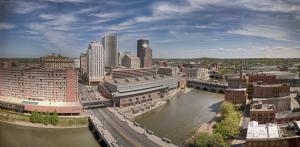 championship games will be played.
Radisson Rochester Riverside – the official host hotel for the Championship
Hyatt Regency Rochester
Hilton Garden Inn Downtown
Holiday Inn Rochester Downtown
Where to Play:
Atlantic Hockey Championship taking place at the Blue Cross Arena.
Tickets will be available at the Blue Cross Arena Box Office – 100 Exchange Blvd., Rochester, NY 14614. Tickets are $14 for adults, $10 for students and $6 for children. Discounted tickets are also available at area Wegmans (25% discount).
Game Times at the Blue Cross Arena: Robert Morris plays Army at 5:05 p.m. on Friday March 18th, and Rochester's own RIT play Air Force at 8:35 p.m., with a chance to advance to the championship game on Saturday, March 19th at 7:05 p.m. with a special pre-game concert sponsored by Blue Point Brewing at 6:00 p.m.
Before the championship game on Saturday, visit a hallmark Rochester museum or attraction
The Strong, National Museum of Play: Come play all day at upstate New York's largest year-round family attraction and the only museum in the world devoted solely to the study of play. More than 150,000 square feet of extraordinary exhibits invite you to step onto Sesame Street, walk down the Yellow Brick Road, run a kids market, attend Super Powers school, play your way through the history of video games, visit the Berenstain Bears, and more.
Rochester Museum and Science Center:  Hands-on educational fun for the entire family, exploring science and technology, the natural environment, and our region's cultural heritage, at the RMSC Museum, Strasenburgh Planetarium and Cumming Nature Center.
George Eastman Museum: National Historic Landmark home and gardens of Kodak founder George Eastman and world-renowned international museum of photography and film. Tour several galleries of photography and cameras, plus enjoy films Tuesday through Sunday evenings in the historic 500-seat Dryden Theatre.
Memorial Art Gallery: The gallery's collection spans 50 centuries of world art and includes masterworks by artists such as Monet, Cézanne, Matisse, Homer and Cassatt.
Susan B. Anthony Museum & House: This National Landmark was once the home of Susan B. Anthony and played a central role in the woman's sufferage movement. Discover the inspirational story of Susan B. Anthony and others who worked tirelessly for the rights of all Americans to vote, have access to education, earn a fair wage and more.
Where to Eat:
Dine at the official championship restaurant partners Legends Sports Bar & Grille and the Brickwood Grill
For a full listing of nearby restaurants, visit LetsEatROC.com, a Rochester restaurant guide.
The Atlantic Hockey Championship rounds in Rochester, features the 4 best teams from tournament play, with 2 semifinal games played on Friday night and the Conference championship game on Saturday night. The overall winner of the Conference Championship receives a bid to the NCAA Tournament and a shot at the National Championship.