Ahhh, traveling with teens (ages 13-18), gone are the days where we can just pack them up in the car and hit the road. Now they have their own thoughts, ideas, and yes… snark.  They grumble at the idea of spending time outdoors with mom and dad.  Fortunately, Rochester and the Finger Lakes area has outdoor appeal for teens, especially if we bribe them with a little ice cream afterwards as reward.
Join us on an itinerary designed for families with teens looking for outdoor adventures in the Rochester area. Where all the lakes, trails, rivers, and roads lead to ice cream…
Erie Canal Trail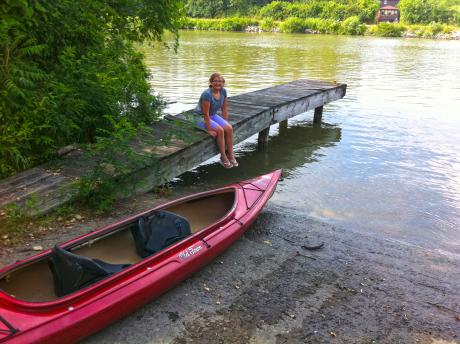 The Erie Canal, they've been singing about it since they were knee high, and there's still a lot of fun to be had on the Erie Canal Trail.  Grab a bike (or rent one for the hour, day, or week at RV&E Bike Rental in Fairport, NY), and pedal along for miles.  Feeling hot? You can also rent kayaks at Fairport's Erie Canal Boat Company, and paddle down the waterway. Be sure to get into plenty of splash battles to cool off.  After burning calories biking along or paddling on the Erie Canal, head to the Pittsford Farms Dairy (right behind Schoen Place) for a scoop of homemade ice cream.
Genesee Riverway Trail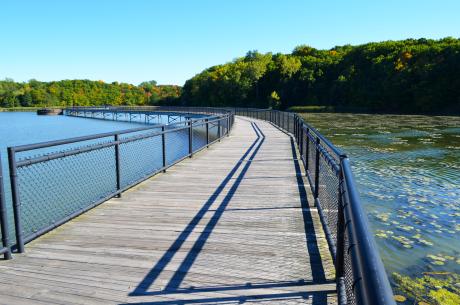 Another favorite trail runs for 13 miles along the Genesee River from Genesee Valley Park all the way to Ontario Beach Park on Lake Ontario.  Along the way you pass through the University of Rochester River Campus and downtown Rochester past Frontier Field and the Kodak Building.  You can easily stop for waterfall views of both High and Lower Falls, and continue along the long serpentine boardwalk stretch over the river at Turning Point Park.  Go slow here and you can find herons, turtles, and maybe even spot a fish.  At the northern most point of the Genesee Riverway Trail is Ontario Beach Park with its pier, boardwalk, and historic carousel.  But our family's favorite is the Abbott's Frozen Custard right across from the park's entrance.
Keuka Lake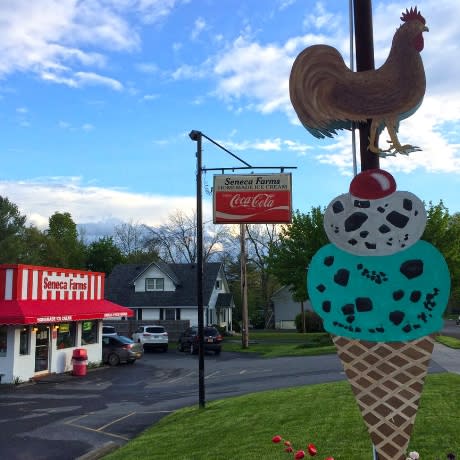 Every family has their happy place, and for us it's Keuka Lake, a little more than an hour southeast of Rochester.  We try to head to Keuka Lake State Park on Memorial Day, Labor Day, and any other nice summer day for swimming in the cool, clear water, picking (and eating) sweet, wild, blackcap raspberries, and scrambling up hillside gorges.  After soaking and sunning for the afternoon, it's off to Seneca Farms in Penn Yan, NY at the tip of one branch of Keuka Lake, and well known for their homemade ice cream.  Because we can't just have ice cream for dinner, we've come to enjoy their battered fried chicken as well.  Mmmmmm, mmmmm, "there's nothing wrong with me a little ice cream can't fix."
More Ice Cream
Looking for something a little more upscale for dinner after your day at the lake?  Stop at the New York Wine & Culinary Center in Canandaigua, NY on the way back to Rochester.  The restaurant has a casual setting overlooking Canandaigua Lake and showcases New York State food and products – there's even a "seasonal ice cream flight" on the dessert menu to satisfy our teens.