Are you bringing your pup to Rochester for a getaway filled with adventures and exploring? You're in luck! There are plenty of dog-friendly spots around Rochester where you can experience the local culture and enjoy it with your dog by your side. Here are some of our best recommendations.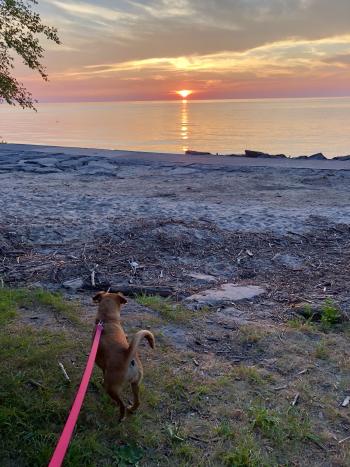 Credit: Emily Hessney Lynch 
Food
Dogtown - Rochesterians adore Dogtown for their cheap eats and delicious hot dogs and Rochester-style trash plates (see our guide to the garbage plate here). Bets of all, you can bring your dog and enjoy the great food out on their patio.
Naan-Tastic - Located in Henrietta, this fast-casual Indian spot is a perfect place to feast on yummy food. Bonus: their patio allows dogs!
Park Ave Neighborhood - Many Park Ave establishments have outdoor seating and welcome your pup to dine by your side! Don't miss the "Yappy Hour" where you can enjoy food and drink with your pup on the patio at The Hideaway on Park Ave. 
Netsin's - Another favorite summertime spot for locals, Netsin's is tucked away in a quaint neighborhood, serves up tasty Perry's ice cream, and is dog-friendly.
Drink
Several breweries and other establishments in Rochester welcome dogs both inside and out. Some of our local favorites include: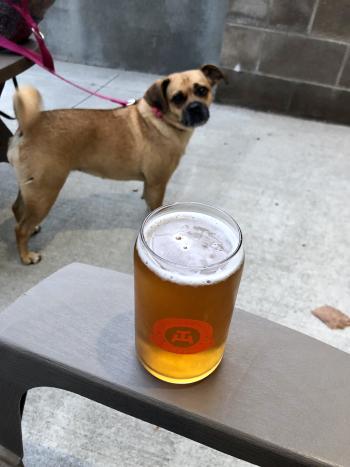 Credit: Emily Hessney Lynch
Triphammer Bierwerks - Head to Fairport to savor some awesome craft beer with your dog at your side. They also serve up popcorn in the tasting room and have plenty of games to play. Make an afternoon of it! Afterwards, you and your dog can stretch your legs with a walk along the Erie Canal.
Fuego Coffee - When you're in need of some caffeine, head to Fuego Coffee for a high-quality coffee drink in a great environment. Dogs are welcome, and you'll be sure to enjoy their eclectic coffee drinks like the French Quarter.
Brindle Haus Brewing - This incredibly dog-friendly brewery is located in Spencerport, a quaint village situated on the Erie Canal! How could a brewery with a dog in its logo not be pet-friendly? Great craft beer in abundance, plus dogs are welcome inside and out.
Three Heads Brewing - A Rochester classic, featuring a top-notch patio with yard games, located right in the heart of the Neighborhood of the Arts. Bring your dog, and make sure you try The Kind!
Hiking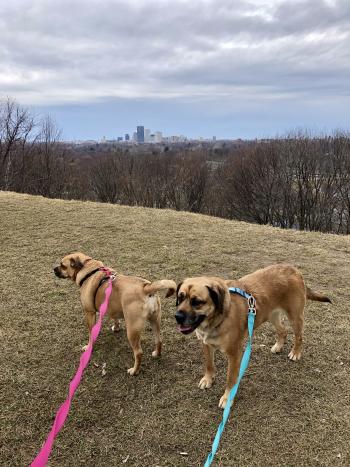 Credit: Emily Hessney Lynch 
Corbett's Glen - Minutes from the city in a nearby suburb you'll find Corbett's Glen, a hidden gem to be sure. It's an easy hike down to a small waterfall and magical-looking tunnel. You can bring your pup and have a picnic by the water.
Cobb's Hill - For a great view of the city skyline, head to Cobb's Hill with your dog! You can walk around the reservoir, explore the wooded Washington Grove area, or just sit and watch the skyline at the scenic overlook.
Lollypop Farm - They have numerous trails for hiking around the property, plus a pet-friendly gift shop right inside!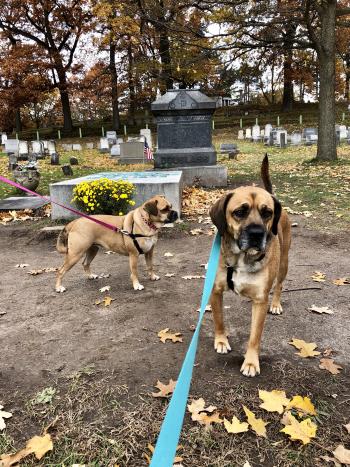 Credit: Emily Hessney Lynch 
Mt. Hope Cemetery - You and your dog can bone up on history by visiting Mt. Hope Cemetery together! It's sprawling and lovely, and you can pay your respects to Frederick Douglass, Susan B. Anthony, and Nathaniel Rochester.
Arts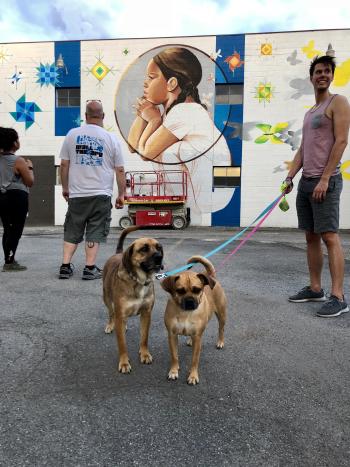 Credit: Emily Hessney Lynch 
Wall Murals and Public Art - Did you know that Rochester boasts a fantastic public art scene? Take your four-legged friends on a tour of Rochester's many murals, including those that are a part of Rochester's WALL\THERAPY project. 
Movies with a Downtown View - Catch an outdoor movie in the heart of downtown! A few times each summer, a local neighborhood organization organizes a movie for the masses. Well-behaved pups are welcome, and you can grab your dinner from a food truck before the movie starts!
Rochester Contemporary Art Center - A dog-friendly art gallery? Yes, it's true! RoCo features a fascinating assortment of rotating exhibits, and admissions is affordable.
Shakespeare in the Park - Each summer at Highland Park, catch the Rochester Community Players performing one of Shakespeare's greatest hits! You can often expect an innovative or quirky twist on the show. But even better: you can bring snacks and your dog to add extra enjoyment to the experience!
We hope you have a fantastic time exploring with your pup. If you find any new dog-friendly spots around town, share them with us using #VisitRoc!