Bring your bike to Rochester, NY, which Bicycling Magazine has previously named "One of the top bike-friendly cities in the U.S." Why? Scenic trails, new bike lanes and well-maintained roadways attract cyclists here from all over world.
As locals and visitors alike seek out safe and socially distant activities this summer, cycling has seen a renewed interest in the Rochester area. 
We connected with the experts at Full Moon Vista to scope out some of the best spots for bicycling in Rochester. I have personally visited several of these spots this summer, and with every mile logged on a different trail, I find myself marveling at how lucky we are to have so many different scenic options for biking in the Rochester area. 
Off-Road and Mountain Biking Trails
As more people are becoming avid bike riders, there is a growing interest right now in Mountain and Trail Biking. Popular trails for mountain biking in Rochester include:
Whiting Road Nature Preserve – The Whiting Road Nature Preserve is located in the Town of Webster, and is roughly 20 minutes from downtown Rochester. The park is popular for novice mountain bikers as it features several well-marked and well-maintained trails.

Irondequoit Bay Park West – This park alongside the west side of Irondequoit Bay features a number of trails designed and constructed by Genesee Regional Off-Road Cyclists volunteers. The trails in the park take riders along a ridge overlooking Irondequoit Bay. The trails are appropriate for varying skill levels. For more information on Irondequoit Bay Park West visit the Monroe County Parks Department here. 

 Dryer Road Park – Located in Victor, NY, Dryer Road Park boasts one of the most diverse multi-use trail systems in the region, including mountain biking. Trails are marked by color to indicate difficulty level. The park features trails from easy to advanced, and everything in between. Get more info on Dryer Road Park here. 
For more information on off-road cycling in Rochester, and recommended trails, check out Genesee Regional Off-Road Cyclists.
Recreational and Easy-Riding Trails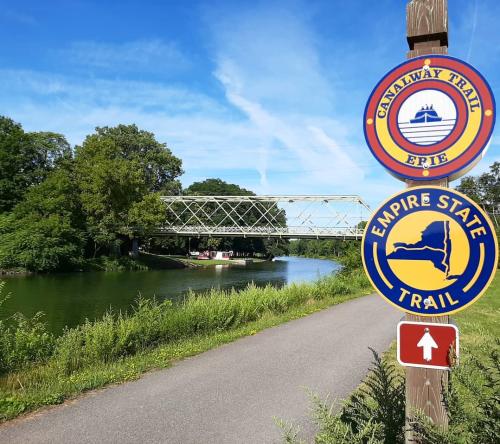 Looking for a flat ride on well-maintained trails? The Rochester area offers many different options for trails that are easy to follow and largely protected from traffic.  
We hope this list of bike trails helps you get out and explore Rochester on two wheels! Whether you're a novice or an advanced cyclist, you are sure to find the right trail for you in Rochester. In the words of Scott Page, owner of Full Moon Vista Bike & Sport, "As long as you're out there enjoying it, that's what matters most." "It's all about enjoying the ride."