The 2016 First Niagara Rochester Fringe Festival opens Thursday, September 15, and runs for 10 days through Saturday, September 24.  With over 500 shows (more than a third of which are free) in 25+ different venues spread across downtown Rochester, Fringe can be a little overwhelming.  Never fear, I fully "embraced the unordinary" last year, stretched my boundaries, and enjoyed many things Rochester Fringe had to offer in our city.  For this 5th year of Fringe, I've come up with five can't miss things for the festival, and click here for even more photos and details of our family's experience on the Fringe in 2015.
Opening Weekend Fri & Sat on the Fringe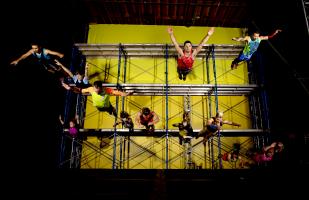 Rochester Fringe always kicks off with a high-flying outdoor spectacle event that's completely FREE.  This year Fringe brings us "STREB Extreme Action Company" founded by Rochester native Elizabeth Streb, and they perform four free shows on opening weekend – bringing us Friday & Saturday on the Fringe September 16 & 17.  Blending dance & sport and accompanied by a live DJ, STREB's new show SEA (Singular Extreme Actions) features action heroes flipping and careening off spinning ladders high off the ground.  Performances take place on Parcel 5 (next to 1 East Avenue) Friday, Sept. 16 at 8 p.m.; and Saturday, Sept. 17 at 5, 7:30 & 10 p.m.  In addition to STREB there will be other free entertainment as well as Rochester Food Trucks.  Don't miss this Fringe kick off!
Spiegeltent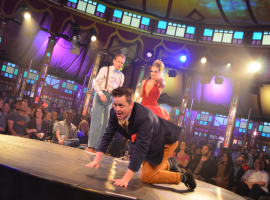 The pièce de résistance of Rochester Fringe is the Spiegeltent, the "Cristal Palace" mirror tent that previously entertained crowds in Belgium and The Netherlands since 1947.  Filled with mirrored walls, rich mahogany woods, and russet-colored canopy, the Spiegeltent appears "bigger on the inside" and houses a number of performances throughout the 10-day run.  We loved last year's "Cabinet of Wonders" show with live music, contortion, aerial acrobatics, juggling, feats of strength & balancing, and even a one-legged tap dancer.  Rochester Fringe brought back "Cabinet of Wonders" creator Matthew Morgan to develop another world-premiere show called Cirque du Fringe: MIRACLE CURE.  If last year's show was any indication, you do not want to miss Cirque du Fringe: MIRACLE CURE.  "What happens in the Spiegeltent, stays in the Spiegeltent."
Remote Rochester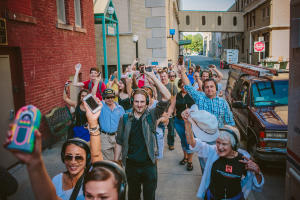 Become a part of the Horde in an interactive street theater performance where the city is the stage and you (as well as everyone around you) are most definitely one of the players.  More than a walking tour, Remote Rochester takes you on a guided winding path through the city all while contemplating the environment around you and your place in it.  The two-hour interactive experience last year altered our perspective of the city and ourselves.
A Taste of College Life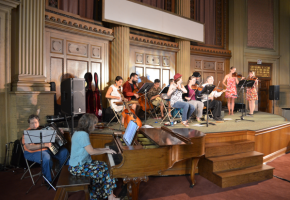 Fringe is a great way to experience the arts of our local colleges.  The University of Rochester, Rochester Institute of Technology, and SUNY Geneseo are all founding higher education partners and sponsor multiple performances over the 10-day run including Bhangra dance teams from all three schools.  The Yellow Jackets – the University of Rochester's oldest a cappella group sings during the Friday on the Fringe kick off.  RIT takes over the Little Café and Little Theatre 1 with over 30 performances and exhibits.  While SUNY Geneseo hosts an entire day of free entertainment on Saturday, September 24 at the Lyric Theatre from 11:30am – 11:00pm including music, dance, improv, artwork, spoken word, and more.  Get a taste of the arts communities from these three area school and learn more about college life or rekindle your college memories.
Closing Weekend on Gibbs Street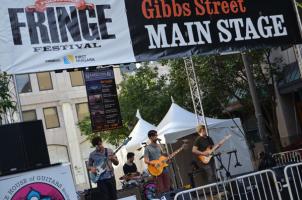 As a bookend to opening weekend's Fri & Sat on the Fringe, the second weekend moves to Gibbs Street where traffic is closed off beside the Eastman School of Music.  Friday, September 23 from 5-11pm and Saturday, September 24 from noon to 11pm are free concerts, Grimms' Mad Tales, performance art, chalk drawing, food trucks, and more.
Those are just five highlights to experience the spectacle that makes up the 2016 First Niagara Rochester Fringe Festival, and it just begins to scratch the surface.  I didn't even mention headliner and recent Emmy nominee Patton Oswalt bringing his one-man comedy show to Kodak Hall at Eastman Theatre on Friday, September 16, or PUSH Physical Theatre, or the Spiegelgarden.  The beauty of Fringe is there are so many different ways to experience it – you can just pick a day, walk up to a venue, and celebrate the creativity.