A Milestone Year For Women's Rights
Join us throughout 2020, as we celebrate Susan B. Anthony's 200th Birthday, the 100th anniversary of the 19th Amendment to the U.S. Constitution (which recognized women's right to vote), and the 75th anniversary of the founding of the Susan B. Anthony Museum & House.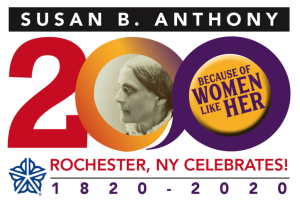 Click to view a full list and calendar of special events at rocsuffrage.org.
Rochester and the Finger Lakes region produced extraordinary women who helped shape this area and the nation for centuries. Most notably, Rochester is the proud home of legendary suffragist, Susan B. Anthony.
Rochester and the surrounding Finger Lakes are home to the women's suffrage movement. The movement began with a women's rights convention in nearby Seneca Falls in 1848, and from that point forward grew into one of the largest social movements of its time. At the Seneca Falls Convention in 1848  attendees signed Declaration of Sentiments, declaring ""We hold these truths to be self-evident: that all men and women are created equal."
Soon afterward, another Women's Rights Convention was held in Rochester. A major, new movement was born.
Rochester has a special role in the women's suffrage movement, as it is the home of legendary suffragist Susan B. Anthony. Today guests can visit Susan B. Anthony's National Historic Landmark Home at the National Susan B. Anthony Museum & House.
The National Susan B. Anthony Museum & House, Rochester's first National Historic Landmark, was home to the legendary suffragist, abolitionist and civil rights leader during her 40 most politically active years. She served as president of the National American Woman Suffrage Association from her home on Madison Street. It was a hub for planning strategies, organizing campaigns, writing speeches, and preparing petitions.  This was Anthony's home base as she made countless trips throughout the United States, to Great Britain, and to Europe to support local suffrage campaigns and organize the International Council of Women. 
Visiting Anthony's home and the visitor center next door is a chance to discover a treasure trove of memorabilia, artifacts, furnishings, and photographs. Walk through rooms where Anthony met often with Elizabeth Cady Stanton and other leaders of the civil rights movement.  Stand in the parlor where Anthony was arrested in 1872 for the "crime" of voting.
It's not hard to imagine Anthony enjoying her talks with the famous orator and abolitionist Frederick Douglass over cups of tea in her parlor. Upstairs in the small bedroom where Anthony died in 1906, visitors can't help feeling some sadness knowing she never had an opportunity to cast a legal ballot. Fourteen years after her death, the 19th "Susan B. Anthony" Amendment was finally ratified and women throughout America were welcome at polling places.
There are a number of other women's history related places in the Rochester area. This includes Mount Hope Cemetery, where both Susan B. Anthony and Frederick Douglass are buried, the Ontario County Courthouse in Canandaigua, NY, which was the site of Susan B. Anthony's trial in 1872 (her crime? Having cast a vote illegally in the election of 1872), and the Women's Rights National Historical Park and National Women's Hall of Fame in Seneca Falls.