Centennial Sculpture Park
Centennial Sculpture Park open free 7 days a week.
Centennial Sculpture Park has recast ten acres of the Gallery's grounds into a showcase of public art and urban space. In the Sculpture Park, you'll find a new kind of 'town square' – a spectacular gathering spot located in the heart of the Neighborhood of the Arts and a destination for Rochesterians and visitors alike.
Four major artists were commissioned to create site specific work for Centennial Sculpture Park. Wendell Castle's Unicorn Family provides an outdoor grouping of chairs, a table, and a lamp for visitors who like to sit and enjoy the passing scene. Jackie Ferrara created Marking Crossways, geometric pathways and cameos leading from the 'quarry' area to the front entrance of MAG. Tom Otterness, known internationally for his engaging installations created Creation Myth, two heroic figures at the corner of Goodman and University Street as well as 17 diminutive bronze muses scattered throughout the Park. Albert Paley installed Soliloquy, a colorful 25-foot stainless steel sculpture at the Goodman Street entrance.
In 2008, mindful of its 2013 Centennial, the Gallery initiated a master planning process for its grounds that would extend its mission, "Connecting People with Art", to include great works of art both inside the building and out. The plan included the removal of sections of the University and Goodman street fence line, to extend a clear message of welcome to the community. The limestone amphitheatre near the Goodman/University corner provides new performance and events space. Even the parking areas have been designed to enhance visitors' aesthetic experience from the moment they arrive on the grounds.Read more on the history of the planning process
Download a PDF of a brochure with latest map of Centennial Sculpture Park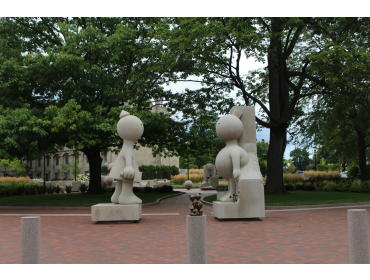 Journey through 5,000 years of human creativity: from the treasures of antiquity to 21st - Century…