Finger Lakes Food Tours | Tours in the Finger Lakes
Open Map
"Come SEE & EAT With Us"
If you have a taste for travel the Finger Lakes Region beckons the most ardent of travelers to become acquainted with the unflawed design and natural beauty of this extraordinary area.  As your food & fun hometown guide Finger Lakes Food Tours | Tours in the Finger Lakes invites you to come see AND eat with us as we explore the dynamic ranges of this distinct locale.   And with so much to see and do, here's a quick breakdown of the tours we offer.  
Stroll through historic Uptown Canandaigua eating…exploring…and enjoying The Chosen Spot.  Our Montezuma National Wildlife Tour Adventure Wildlife affords visitors the opportunity to be led on a guided exploration of a national refuge to observe numerous wildlife in their natural habitat.  Returning to Yesteryear guides us to the exact spot where peace and friendship has been honored since 1794 and continues to this day, while our lakefront and walking food tours provide awe-worthy experiences for even the most discerning cerevisaphile and oenophiles.   
ADVANCE PURCHASE REQUIRED. To book a reservation please visit: https://www.flfoodtours.com or call 888.302.1880
 Enjoy this video that features some of our tours from over the years: https://www.facebook.com/1559988780933327/posts/2602755389989989/?vh=e&d=n
General
Temporarily Closed: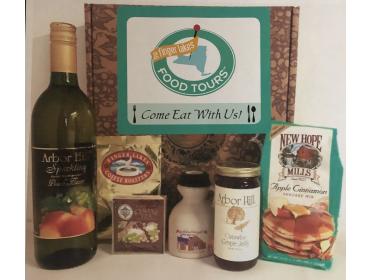 "NEW" FROM FINGER LAKES FOOD TOURS | Tours In The Finger Lakes Introducing: Brunch-In-A-Box TO GO $90 (Includes Free more