Welcome back to Rochester DCA!
Rochester is pleased to welcome Drum Corps Associates World Championships back to Rochester in 2023!
Rochester is a city that prides itself in musical excellence, and we are excited to have your group here. We have populated this site with information about places to explore in Rochester and the Finger Lakes region during your stay. We know you will find fun attractions to visit, a wide variety of dining options and much more to enhance your visit.
Here are some additional resources that may interest you while here for the event:
Looking to dine out as a group? Check out our Rochester Group Meal Guide. 
ROC Foodie Bucket List: A guide to everything & everywhere a food lover must eat in Rochester, NY!  
There's always something happening in Rochester! For a full list of local events during your stay, click here.
While in town, stop by one of our information booths located in the Frederick Douglass Greater Rochester International Airport and at our Visit Rochester office at 45 East Avenue for additional information!
Need help planning your trip to Rochester? Contact us!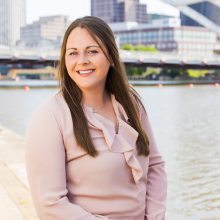 Amanda Fox, CMP

Vice President, Operations & Events