In just one year, Rochester will once again be on an international stage as the host of the 2023 PGA Championship at Oak Hill Country Club. Rochester has a long history of hosting major golf events, most recently hosting the 2019 KitchenAid Senior PGA and the 2013 PGA Championship before that. Rochester is a golf community – and we are thrilled to welcome the 2023 PGA Championship to town in May 15-21, 2023.
To get ready for the Championship, Visit Rochester caught up with 2023 PGA Championship Director Barry Deach. Read on to learn more about Deach's role as the Championship Director, just how much planning goes into hosting a major Championship event and what hosting an event like the PGA Championship means for a city like Rochester.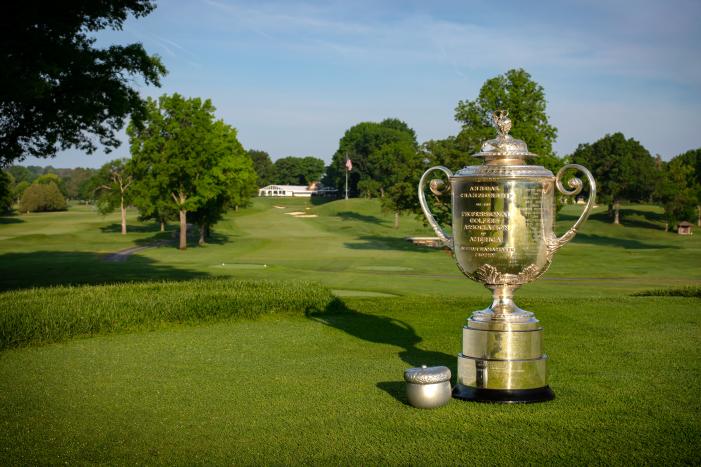 Wanamaker Trophy on the course at Oak Hill Country Club - PGA of America 
Tell us a little bit about your role as Championship Director?
As Championship Director, I serve as the local liaison between the host venue, community and the championship.
We like to think of each event as a sort of a startup business, with great resources. We have about 200+ people who will come from PGA headquarters and section offices to help operate and conduct the event. Our team and I serve as the local managers of the business on site to make sure everything is ready and prepared for the main event. 
We oversee onsite preparations and assist our headquarters colleagues on nearly every aspect of the Championship. The typical pre-championship four pillars of the event are sales and marketing, administration, direct operations and community relations. In these four areas, a team of 5-7 employees working together to help manage these areas in close partnership with the host venue, in this case Oak Hill Country Club members and local area officials, neighbors, and community at large. We balloon to 20-30 further employees in the months leading up to the Championship. We also work with 35 committees – mostly led by Oak Hill members - 3,000+ volunteers and the 150+ companies and corporate partners that support the Championship.
I heard a wonderful analogy when I first started in the business about how the role of the Championship Director is similar to that of a movie producer. We're scouting, creating, operating the business, producing an experience for 7+ days and then wrapping the event.
What goes into making the championship happen? How much preparation goes into creating an event of this size and caliber?
The planning for this event began after the 2013 PGA Championship and the 2019 KitchenAid Senior PGA Championship, both at Oak Hill. When it comes to preparing for the 2023 event, and bringing in the appropriate resources and staff, preparations are taking place anywhere from 24-36 month out, beginning to end. 
Corporate hospitality sales begin 2 years out from the Championship event. Ticket sales and volunteer positions are released one year out. From there we are working on final operations timelines and infrastructure – preparing for all those things that have to get done no matter what.
Our event is unique in that it's not a year-over-year business in that we travel and host it in different locations throughout the U.S. each year, and so there is kind-of a "zero failure rate." No matter what, broadcast partners and TV trucks will arrive and the show will go on live. It's very exciting because every venue is different. Even here in Rochester at Oak Hill, things are going to be different in 2023 than in 2013. Producing Championship events continue to evolve each year, especially with technology.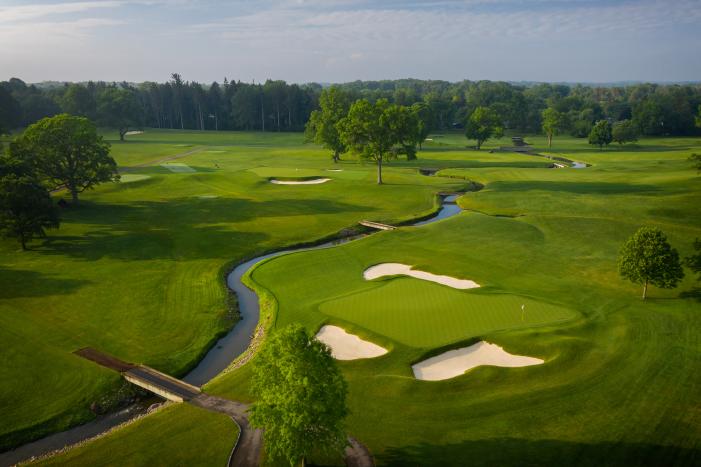 East Course at Oak Hill Country Club 
What does the 2023 PGA Championship mean for the Rochester community?
I think this event in particular is about the future. If you look at the "why" behind Oak Hill undergoing its course restoration and approving a future renovation of the Club House post Championship, having a US amateur come in a few years – it's all about the future.
It is fun for us to create a whole new celebration, especially coming out of the past two years of dealing with the pandemic. It has been two years of extraordinary global heartache, and this is an opportunity to come out and celebrate more within Monroe County and Rochester. This event gives us a reason to come together and celebrate the future.
For example, there will be a whole new generation of younger players who have never played Oak Hill or experienced the Rochester community before – which is exciting.
What is the economic impact of an event like the PGA Championship on a community like Rochester?
Annually, the PGA Championship sees a direct and indirect economic impact of somewhere between $100-$120 million. This does not even include the brand valuation that will be further derived from the championship's global broadcast and digital media exposure for Rochester, Oak Hill and surrounding communities.
The broadcast exposure is incredible. We are going to be filming 100 hours of live television broadcast between ESPN and CBS Sports. From the very first tee shot on Thursday morning of the competition to the final putt on Sunday, it is an extraordinary time to tell stories and provide even more brand value for the event.
What makes Rochester an ideal destination to host an athletic event?
The first thing that comes to mind is the unified vision in the community – there is enthusiasm that is contagious within Rochester. From elected officials to community leaders there is enthusiasm and collaborative spirit.
We recently hosted a series of kickoff meetings with all 35+ of our committees, and when it came to the unified command of all local governmental authorities, more than 40 attendees representing local government, community services and partners were also in attendance–that's extraordinary on the onset! This level of coordination just does not happen everywhere.

How has it been working with Visit Rochester and the Rochester NY Sports Commission?
Having partners like Visit Rochester and the Rochester NY Sports Commission are valuable. The team here is experienced and understands the tenets of what makes a good alliance, but are also flexible and willing to try out new ideas. We are closely coordinating with Visit Rochester and the Sports Commission on everything from bigger picture items to hotel logistics, it is great to be able to work with such an experienced team.
On May 22, 2023 (the day after the Championship) – what do you hope to have accomplished?
For us, it is our goal to put on the largest event for Oak Hill. I'm committed to helping Oak Hill, Rochester, and Monroe County host an incredible PGA Championship so any consideration for future major championships can take place. It is our hope for others in the industry to look at this Championship and say, "That was extraordinary."
Though it's above my pay grade, I would feel very proud on behalf of the team at Oak Hill, Rochester, Monroe County, and the State of New York to have helped in any small way to deliver a future major event to this community.

Thank you to 2023 PGA Championship Director Barry Deach for catching up with us for another Game Makers feature. Mark your calendars for the Championship, May 15-21, 2023.