The craft beverage industry is booming in the Rochester and Finger Lakes region. Breweries, distilleries,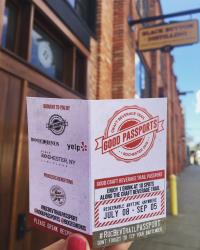 cideries and wineries offer visitors tastes and flavors unique to this area.
Right now is a great time to visit so you can take advantage of a special promotion that will help you experience the ever growing craft beverage industry. Good Passports, BoozeMenus, Yelp Rochester and Visit Rochester have teamed up to present The Craft Beverage Trail Passport, available for purchase now through September 3, 2016.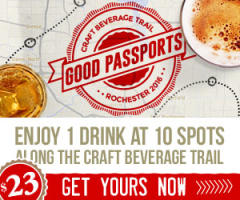 This special Craft Beverage Trail Passport, includes one house made spirit / cocktail, beer, wine or cider at each participating location and will take visitors on a self-guided tour through the region. Passports can be used at any time that the locations are open from July 8, 2016 through September 5, 2016
Participating Locations:
    Black Button Distilling
    Blue Toad Hard Cider – Henrietta
    Blue Toad Hard Cider – Victor
    Casa Larga Vineyards
    Embark Craft Ciderworks
    Honeoye Falls Distillery
    JD Wine Cellars at Long Acre Farms
    Knucklehead Craft Brewing
    Nedloh Brewing Company
    The O'Begley Distillery
Proceeds support the Rochester Craft Beverage Trail, which features even more locations, events and more. No matter when you plan your visit you will discover tasty experiences, meet wonderful people, and find many reasons to return for the Rochester Craft Beverage Trail.
Things To Know Before You Go
Must be 21 years or older with valid ID
1 Passport per person
You may buy 1 additional as a gift
Misplaced Passports cannot be replaced
No refunds will be available after August 8, 2016
Not valid for limo and bus tours