World Long Drive has emerged as one of golf's most popular grass-roots sporting events. With its high octane action, the World Long Drive Association brings together golf's longest hitters from around the globe. The World Long Drive Tour will arrive in Rochester, NY for the inaugural ROC City Rumble at Home Team Sports Park July 21-24, 2019.
Check out five fun facts you should know before you hit the grid to watch the ROC City Rumble finals on Wednesday, July 24.
1. Goal = Crush Golf Balls
Competitors are given eight golf balls in three minutes to try and achieve the longest possible drive. A "qualified drive" must land and come to rest within the grid boundaries. Minimum yardage for qualification is 300 yards (Open/Men's Division); 250 yards (Masters/age 45+ Division); and 200 yards (Women's Division).
2. Not Your Ordinary Golf Tournament 
Date: July 24, 2019
Time: 5:00 pm (Gates)
Location: Home Team Sports Park
1912, 420 Ballantyne Rd
Rochester, NY 14623
Divisions: The Open, Masters, and Women's division titles are up for grabs as well as Official World Long Drive rankings points
Tickets: Register to claim your FREE admission tickets to the ROC City Rumble finals
3. Cheer On The Local Champs
Did you know that Ryan Steenberg, the latest hitter to top the world rankings as No. 1 amongst the Open Division competitors, calls Rochester home? Rochester is also the hometown of Cassandra Meyer. Cassandra is a new and upcoming competitor to World Long Drive.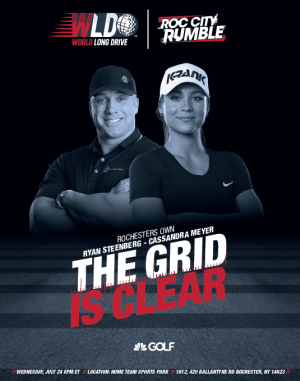 4. High Octane Family Fun
Cheering, food & drinks, and DJ music make ROC City Rumble a golf event like no other!
5. LIVE On The Golf Channel
We will welcome the Golf Channel to Rochester as they will broadcast ROC City Rumble's Open Quarterfinals, Ladies Semifinals, Open Semifinals, Ladies Finals, Open Finals LIVE from 6:00 pm to 8:00 pm on Wednesday, July 24.
Share your ROC City Rumble photos and videos on social media using #wldroccityrumble and #VisitROC.