#VisitROC's Guide To: Rochester Cocktail Revival 2019
Wednesday, May 29, 2019 2:00 PM by Visit Rochester Staff

Get ready for a properly shaken celebration during year 6 of Rochester Cocktail Revival (RCR)--New York State's only weeklong festival celebrating craft cocktail culture. Each year, cocktail bars in the downtown area take part in the RCR to highlight Rochester's booming scene of cocktail bars and top-tier mixology talent through educational seminars, spirited events, and local economic contributions. 
We're sharing everything you need to know about this year's festival that will take place June 3-9, 2019 at various host bars and venues throughout Rochester, NY.
Plan Your Stay
RCR has partnered with The Strathallan Hotel & Spa, A DoubleTree by Hilton, to offer a special rate on accommodations. Click here for additional details and the official RCR booking code.
Getting Around On The RCR Shuttle
A shuttle service is available the evening of Friday, June 7 and Saturday, June 8 and will circulate between a selection of the RCR partner bars, providing FREE rides for travelers who want to experience a variety of events.
The RCR Shuttle will run between:
Day | Evening | Late Events
Choose from 60+ events at 21 host bars including intimate dinner pairings, lively DJ sets, and, of course, the glitz and glamour of the 2019 RCR Gala. Click here to view a full schedule of free and ticketed events!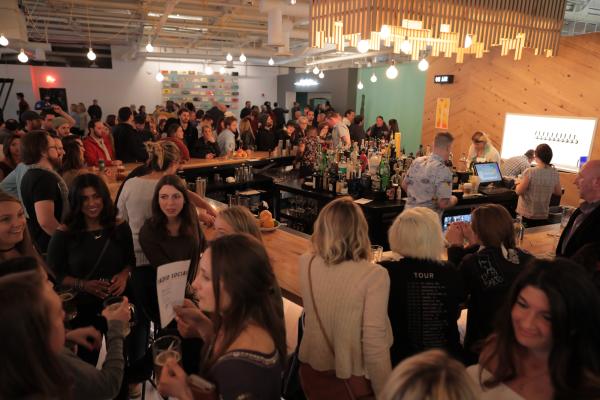 The Curated (Ticketed) Events
RCRts Events are curated events focused on the thriving and progressive arts scene in the Rochester community. Tickets can be purchased here.
Monday, June 3
The Art Of The Mix @ Rochester Contemporary Art Center
RoCo's 8th annual mixology fundraiser will feature signature cocktails & thoughtful amuse bouche pairings from 13 of Rochester's finest establishments.
Wednesday, June 5
Booze & Botany @ George Eastman Museum
The elaborate florals of the George Eastman Museum estate gardens provide a backdrop for attendees to sip botanical cocktail creations, listen to live music, and join guided tours of the gardens.
Thursday, June 6
2019 RCR Gala @ Strasenburgh Planetarium
The Gala will feature multiple bars, hors d'oeuvres, a planetarium show, and other entertainment. Cocktail and black tie attire is strongly encouraged.
Friday, June 7
Nightcap Interactive Theatre @ The Metropolitan Penthouse
Where a cocktail party and a night out at the theatre coincide. Multiple showings of this interactive drama will allow attendees to experience a mid-century modern storyline while sipping period-appropriate cocktails.
Super Sound @ Anthology
Enjoy the bluegrass tunes of Finger Lakes-based Dirty Blanket with The Brothers Blue, with curated whiskey cocktails from Bulleit.
Saturday, June 8
Super Sound @ Anthology
Enjoy the soulful jazz of Vermont-based Kat Wright with special guest Flying Object, with a cocktail bar featuring Jack Daniels and Old Forester whiskeys.
The Cause
Proceeds from the Rochester Cocktail Revival benefit Gilda's Club of Rochester, providing support for men, women, and children living with cancer. Learn more about Gilda's Club of Rochester!
For everything Rochester Cocktail Revival, visit rochestercocktailrevival.com.
Comments